So new study on climate change suggests that the tipping point is approaching fast. This particular study talks about  reduced carbon uptake due to soil moisture anomalies. And This negative trend is expected to continue through the 21st century.
What can act as solution?
गौ माता! Yes, there is nothing exaggeration or sentimental here. Purely scientific. Zebu cattle whom we worship as mother, is strongest against drought and arid regions. Not only that, her dung and urine spreaded across the land as they graze, maintains moisture level of the soil! This is big advantage to sustain against adverse conditions. Moisture maintained due to her presence, can help local land to act as carbon sink! It can increase forests' deceasing capacity to act as carbon sink!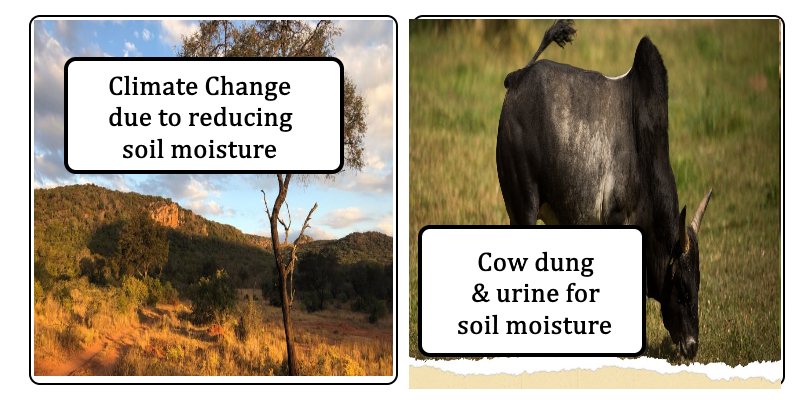 ---
Climate Change Tipping Point Could Be Coming Sooner than We Think
https://engineering.columbia.edu/press-releases/climate-change-tipping-point
---
The researchers used data from four Earth System Models from the GLACE-CMIP5 (Global Land Atmosphere Coupling Experiment—Coupled Model Intercomparison Project) experiments, to run a series of experiments to isolate reductions in NBP that are due strictly to changes in soil moisture. They were able to isolate the effects of changes in long-term soil moisture trends (i.e., drying) as well as short-term variability (i.e., the effects of extreme events such as floods and droughts) on the ability of the land to uptake carbon.
"We saw that the value of NBP, in this instance a net gain of carbon on the land surface, would actually be almost twice as high if it weren't for these changes (variability and trend) in soil moisture," says Green, the paper's lead author. "This is a big deal! If soil moisture continues to reduce NBP at the current rate, and the rate of carbon uptake by the land starts to decrease by the middle of this century—as we found in the models—we could potentially see a large increase in the concentration of atmospheric CO2 and a corresponding rise in the effects of global warming and climate change."
Gentine and Green note that soil-moisture variability notably reduces the present land carbon sink, and their results show that both variability and drying trends reduce it in the future. By quantifying the critical importance of soil-water variability for the terrestrial carbon cycle, and the reduction in carbon uptake due to the effects of these changes in soil moisture, the study findings highlight the necessity of implementing improved modeling of vegetation response to water stress and land–atmosphere coupling in Earth system models to constrain the future terrestrial carbon flux and to better predict future climate.
"Essentially, if there were no droughts and heat waves, if there were not going to be any long-term drying over the next century, then the continents would be able to store almost twice as much carbon as they do now," says Gentine. "Because soil moisture plays such a large role in the carbon cycle, in the ability of the land to uptake carbon, it's essential that processes related to its representation in models become a top research priority."