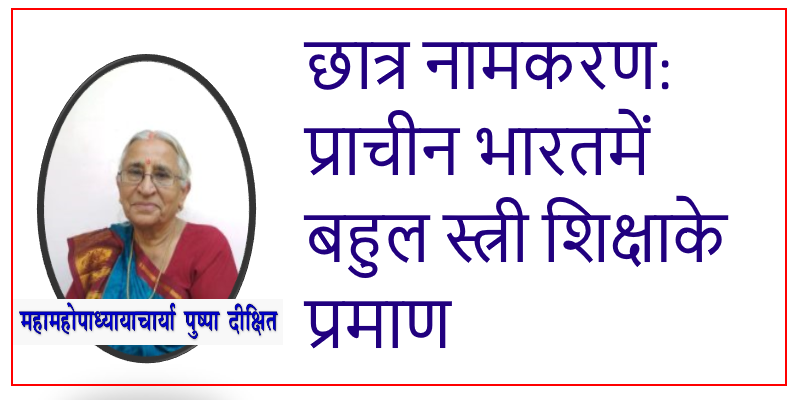 In Ancient India, more than a name, title was used to identify character of a student. And these titles were not limited to male students.For example, those brahman varna females studying आपिशाली व्याकरण were known as आपिशाला ब्राह्मणी.
If we study shatapath brahman bhashya, we get know that complex and deeper subjects like मीमांसा were also studied by females with equal zeal!
For example females engaged in study of काशकृत्स्न् आचार्यके मीमांसा शास्त्र were known as काशकृत्स्ना.

And this learning was not limited to being student! Some of them also became Guru and were doing regular teaching work.
The way titles are discussed in shatpatha brahman bhashya by Patanjali, it was so common to have female teachers as norm.
In one example, Patanjali expressed that female teachers are not just for female educations. Students and Guru relations were gender-neutral. For example, औदमेद्या's students were known as औदमेध्य!
Females studying षष्टिपथ were known as षष्टिपथिकी.
Females studying शतपथ were known as शतपथिकी.
In our times, there is one unparalleled example to cite: Mahāmahopādhyāyāchārya Smt. Dr. Pushpā Dīkshit. Pushpā Dīkshit, who is affectionately referred to as "Mātāji" by her students, is one of the foremost pioneers in the field of Sanskrit grammar and linguistics.

The answer to those who doubt their ability to learn Sanskrit lies in the Paushpi Prakriyā, Mātāji's incredible methodology that decodes Pāṇini's Aṣṭādhyāyī in a way that makes it tremendously easy to comprehend. Traditional approaches to Pāṇinian grammar often require years, even decades to cover the entirety of the Aṣṭādhyāyī, Mātāji's methodology, which she has meticulously developed over the last 40 years, has enabled students to cover the Aṣṭādhyāyī in less than a year!  But hey, don't take my word for it – try it for yourself!
Point we are trying to bring to the table is: Female oppression as it is brought to the landscape of common Indian's mind via text books and media is nothing but propaganda and gas.
We had great female scholars and there was no bias for female education. Don't get trapped in self-hate and start hating your great legacy! May all our daughters have access to true form of education and not something that may destroy their real potential and turn them as corporate slaves.