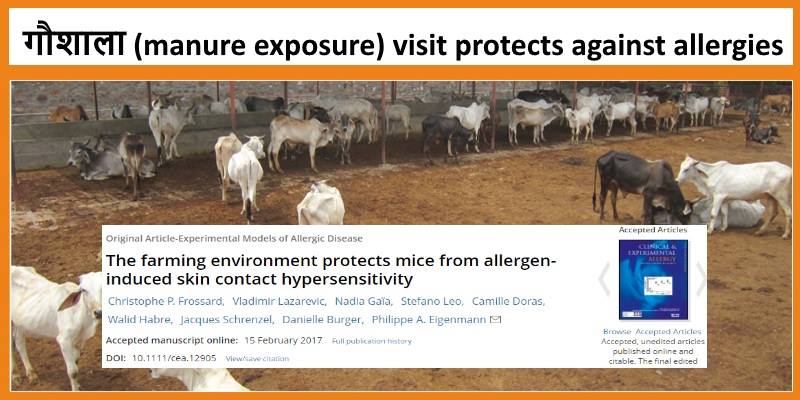 Whenever I suggest my urban friends suffering from Asthama, allergies and immune dysfunctions to visit Gau shala regularly, they either ignore or laugh on me.
How can cow solve allergies? 🙂
Read this research to realize it. Esp when you have child below age 10, you must visit Gau shala regularly if living with cows is not possible!!
Improved hygiene has largely eliminated infectious diseases from everyday life. There is, however, a downside to this progress: the number of allergies is growing steadily. If the immune system is not kept busy by bacteria, viruses and worms, it sometimes overreacts to harmless things like pollen.
Being born and raised in a farm provides a long-lasting protection for allergies. The microbial environment provided by farm animals is crucial to induce this protective effect, although underlying immune mechanisms remain elusive.
The farming environment provides a strong, allergy protective IL-22 stimulus and generates activated CD4+ T cells. Exposure to the farm environment early in their life may also provide a better protection for contact skin allergy. Whether a viral trigger might decisively influence protection for allergies remains to be determined.
Ref: http://dx.doi.org/10.1111/cea.12905