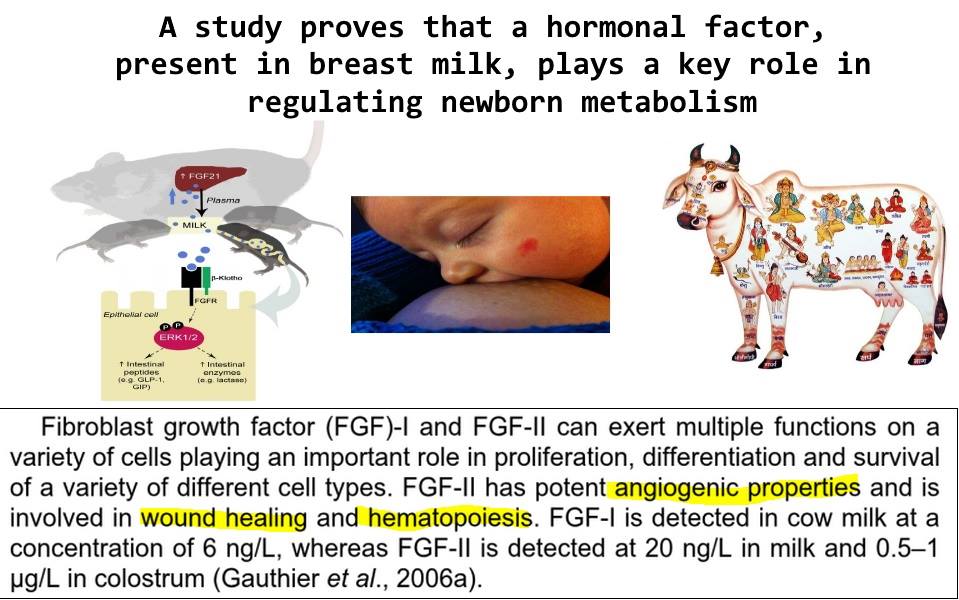 Career-crazy and/or body-conscious and/or lazy women of 21st century avoid breast-feeding or restrict it up to only 2-3 months. Or rather we have turned into society where there is no collective importance of each child's basic right i.e. breast-feeding.
I previously suggested that all lactating mothers should be financially supported by govt/society for 2 years. That is how caste-free, reservation-free strong generation can come up.
Cow milk is not more sacred. Mother is turned into machine. And with that, we lose all medicinal values!
Not only that, we have turned into pseudo-sentimentals. Instead of being part of natural cycles, we ignore cycles for false animal-sentiments. And we stop striving for Gau prasad!
Not only growth, breast-milk or desi-cow-milk supports wound-healing. Speedy recovery of injuries.
As this study proves that a hormonal factor, present in breast milk, plays a key role in regulating newborn metabolism. This is the key reason why milk of Desi cow is medicine for kids, weak, sick and elderly with dysfunctional metabolism.
This important growth factor is missing in all so called vegan milk alternatives.
---
Research
---
A study proves that a hormonal factor, present in breast milk, plays a key role in regulating newborn metabolism
http://www.ub.edu/web/ub/en/menu_eines/noticies/2015/09/019.html
A scientific team led by Francesc Villarroya, professor in the Department of Biochemistry and Molecular Biology at the University of Barcelona (UB), together with the Biomedical Research Networking Centres on Physiopathology of Obesity and Nutrition (CIBERobn) and the Danone Institute, has proved that a compound found in breast milk, named fibroblast growth factor 21 (FGF21), plays a key role in neonatal nutrient absorption and intestinal function. FGF21 also contributes to improve newborn growth and metabolic profile.
This is the main conclusion of the project Estudi de FGF21 com a nou factor present a la llet, implicat en els efectes beneficiosos de la lactància materna, included in the programme of excellent research RecerCaixa, an initiative organised by the Obra Social "la Caixa" together with the Catalan Association of Public Universities (ACUP). The results of the study have been published in the journal Scientific Reports of the Nature Publishing Group.
FGF21 is a hormonal factor produced mainly in the liver. The factor is present in the human body in a natural manner, even if in some people it is more active than in others. To date, it was known that it plays important roles in favouring glucose uptake and energy metabolism, and thus possesses anti-diabetic and anti-obesity properties. The research study led by Dr Villarroya, director of the Institute of Biomedicine of the UB (IBUB), has proved that oral infusion of FGF21 to neonatal gut induces the gene expression of intestinal hormones and increases intestinal lactase activity and lactose absorption.
Animal models indicate that metabolic profile and growth is 25% better in neonates who receive the factor than in those who do not receive it. In order to come to this conclusion, researchers analysed the differences between a group of pups nursed with milk containing FGF21 and another group of pups nursed with milk lacking FGF21.
In a previous study developed together with the Hospital Sant Joan de Déu, the team led by Dr Villarroya found that FGF21 levels are very low in fetuses, but the blood levels of FGF21 rise dramatically after birth and the initiation of suckling. This fact proves the importance of maternal breast feeding.
Recombinant bovine basic fibroblast growth factor accelerates wound healing in patients with burns, donor sites and chronic dermal ulcers.
http://www.ncbi.nlm.nih.gov/pubmed/11775238
rbFGF is effective in shortening the wound healing time and improving the wound healing quality. Accelerating wound healing is of clinical benefit in reducing the length of hospitalization, costs and emotional burden of the patient.
Bovine milk lactoferrin induces synthesis of the angiogenic factors VEGF and FGF2 in osteoblasts via the p44/p42 MAP kinase pathway.
http://www.ncbi.nlm.nih.gov/pubmed/21404021
Lactoferrin (LF) belongs to the transferrin family and is present in several physiological fluids, including milk and colostrum. LF has recently been identified as an anabolic factor for bone. Here we investigated whether bovine LF (bLF) induces synthesis of angiogenic factors by osteoblasts. If so, we examined the underlying mechanism. We found that bLF purified from milk increased the mRNA expression of vascular endothelial growth factor (VEGF) and fibroblast growth factor-2 (FGF2) in murine osteoblast-like MC3T3-E1 cells and primary murine osteoblasts in a time- and dose-dependent manner. Furthermore, bLF increased VEGF and FGF2 protein levels in MC3T3-E1 cells. In addition, treatment of MC3T3-E1 cells with bLF rapidly induced phosphorylation of p44/p42 mitogen-activated protein (MAP) kinase. The bLF-mediated increases in VEGF and FGF2 mRNA and protein were inhibited by U0126, a specific inhibitor of the upstream kinase that activates p44/p42 MAP kinase (MEK). Taken together, our results strongly suggest that bLF induces VEGF and FGF2 synthesis in a p44/p42 MAP kinase-dependent manner in MC3T3-E1 cells.
Lactoferrin is only present in human milk and cow milk.