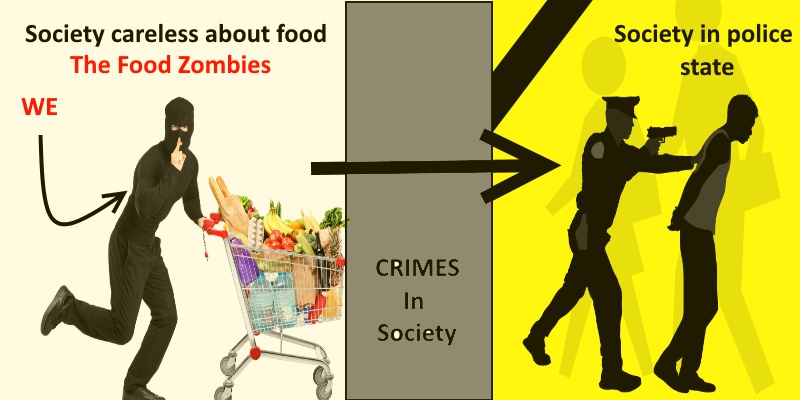 Whenever there is heinous crime in society, demand is raised by candle light brigade to tighten the laws! Well, do you think tight laws will resolve the issue?
US is considered as having strict laws and efficient implementation.
Overwhelming data point towards the fact the US is a police State beyond comparison.
With 7 million people under some kind of correctional supervision – prison, parole or probation.
With 2 million prisoners
Some 3 million employees in US secret services (FBI, CIA, NSA, etc).
1 million civilian police as per FBI data
More than 14 million prosecutions yearly (2002), to keep these 1 million police personnel busy. The US prosecutes more people than the next 45 countries for whom data is available.
=======================
Do we also want similar police state? Is this called matured civilization?
Mentally ill will get terrified by laws and stay away from committing crimes. What about mentally retarded?? They don't mind anything! Don't you see Gun shots regularly in US schools??? Can our laws stop giving birth to mentally retarded? If yes, implement those laws first before strict laws for rapists.
In 2011, New York police stopped about 700,000 people on the road – and nearly half of these people were intrusively searched. One estimate put the total number of such searches in New York alone at 4 million – 40 lakhs, in the past decade.
Police procedures demands that a the crotch is manually felt by hands – and in case of women, even the area between breasts.
Remember these figures are for New York only. National figures will be higher.
All this in a city of eight million – a little larger than Pune. Imagine 2000 body searches every single day in Pune.
=============
Do we want this in India?
My stand: Prevention is better than cure. Laws help as both preventive as well as cure. Supplementary, as a preventive guidelines, in terms of environment, food for body and mind do play role and we cannot ignore it.
Laws and Samskars compliments each other. Cure for National body by laws and individual body by food is urgent need of the hour. Ignore one of them, invite imbalance.
What you eat you become.Majority of Indians are now victim of fancy urban starvation (The Fast Food starvation – You starve because your food is inadequate in nutrition). They are devoid of rich food, for body and mind. Due to this starvation, we increase % of population who is either mentally ill or retarded. Tougher rape laws might inhibit some victims from pressing charges, which is already a problem in India, and increase the rigor of proofs needed for conviction.
Each year US prosecutes more people than the rest of the world put together. US has more secret police, civilian police than any country in the world. So is that our goal?
With stricter laws and efficient judiciary and police, we need system to feed rich way of living to citizens. Two things we can do is, 1) sanitize them from viruses of backward class i.e. BC Bollywood and Cricket, that's where filthy minds originates. 2) Come up with more habitats where we get healthy organic food for all.
---
Facts
---
1) Please read book 'phantoms in the brain' by V S Ramchandran to know link between food – Beliefs/thinking – Crime.
2) RELATION OF CRIME TO NUTRITION, THE NUTRITIONAL BASES OF CRIME, PARTICULARLY VITAMIN DEFICIENCIES AND ALLERGIC REACTIONS TO CERTAIN FOODS, ARE DISCUSSED, ALONG WITH THE PROPER ROLE OF PUNISHMENT AND EFFECTIVE TREATMENT RESPONSES FOR OFFENDERS.
https://www.ncjrs.gov/App/Publications/abstract.aspx?ID=57290
3) Diet and crime: An empirical examination of the value of nutrition in the control and treatment of incarcerated juvenile offenders.
International Journal of Biosocial Research, Vol 4(1), 1983, 25-39.
Conducted a study in which the incidence of antisocial behavior resulting in formal disciplinary actions was lowered 48% using a double-blind design over a 2-yr period with a sample of 276 incarcerated juveniles by reducing the quantity of sugar Ss consumed. The primary dietary revisions involved the replacement of soft drinks and "junk" food with fruit juices and nutritious snacks and the elimination of high sugar content desserts and cereals. The percentage of well-behaved Ss increased 71% and the percentage of chronic offenders decreased 56%. Adding controls for gender, race, age, and type of offender (violent, property, or status) did not diminish the reduction in antisocial behavior. (37 ref) (PsycINFO Database Record (c) 2012 APA, all rights reserved)
4) Poor Nutrition in Childhood Linked to Adult Crime
http://wrytestuff.com/swa550778-Poor-Nutrition-In-Childhood-Linked-To-Adult-Crime.htm
5) Lack of basic nutrition creates generation of criminals; prison system society
Learn more: http://www.naturalnews.com/006194_Nutrition_adolescent.html#ixzz2Fc15fUXI
6) NEW STUDIES SHOW STRONG LINKS BETWEEN DIET, BEHAVIOR
http://www.crimetimes.org/98a/w98ap2.htm
http://www.crimetimes.org/96b/w96bp5.htm
7) Omega-3, junk food and the link between violence and what we eat
Research with British and US offenders suggests nutritional deficiencies may play a key role in aggressive bevaviour
http://www.guardian.co.uk/politics/2006/oct/17/prisonsandprobation.ukcrime