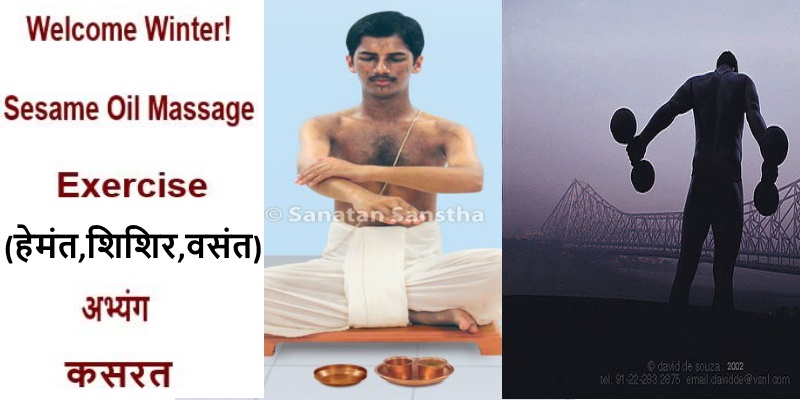 Those who are in sync with their external environment i.e. season change, they alter their life routine based on seasons.
Exercise is one such aspect. Since now many of us prefer isolated insulation called 'Gym' for exercise, we do same exercise 365 days! Even those who perform exercise on ground, don't vary the intensity and type of exercise.
Ideally, we should. Winter is at doorstep. Best season to do heavy exercise, Akhada and oil massage!
Indian Calendar runs on moon's movements. Soon we will observe first day (प्रतिपदा) of कार्तिक month (In western India – those who begin month with shukla paksha प्रतिपदा). Soon, Deva(s) will awake from 4 months hibernation. Active 6 months of the year to begin soon!
Since calendar is governed by Mother Nature, rituals too are governed based on season. From this month onwards, winter is officially started.
Sesame (तिल/તલ) becomes part of diet and routine. Oil massage in this season plays important role in maintaining Vayu movement in body. Those who do daily oil massage followed by exercise and running during winter, stores energy and health for entire year.
If your child is above age 7, this is ideal time to enroll him/her in near by Akhada (If you are lucky to have one in vicinity
🙂 ). If there is no Akhada, play with her/him in the morning so that good muscle toning happens. If there is newborn or infant or toddler at home, do not forget oil massage followed by innocent masti/play with him/her.
Oil massage from Today until end of winter, will keep heart attack, flu, muscle pain, ALS (Yes! It is great preventive care for ALS type symptoms) away.