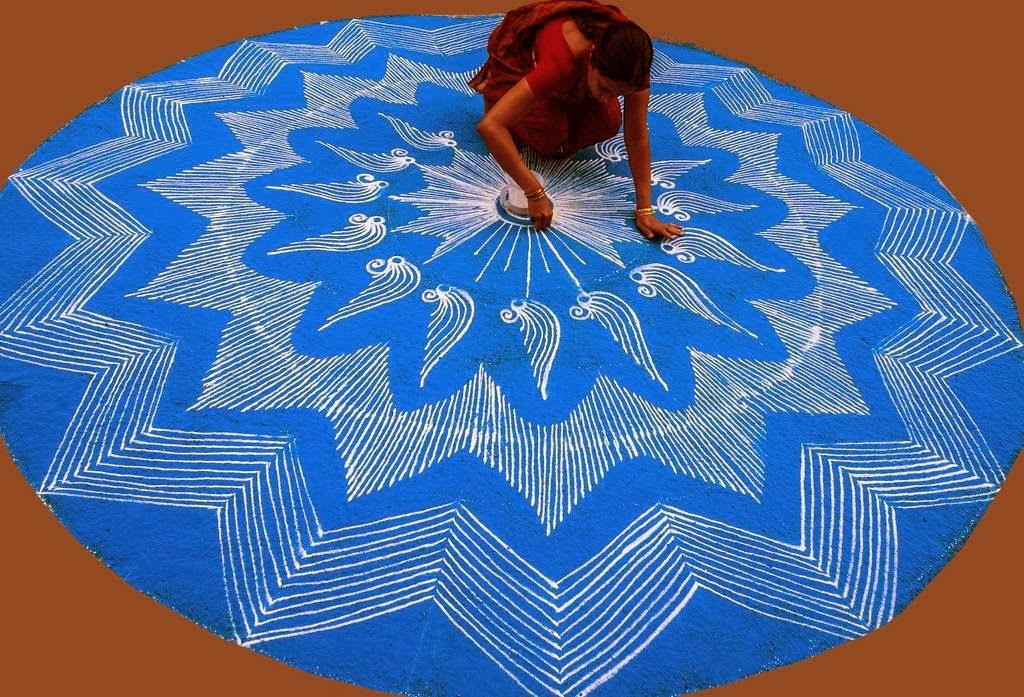 Garba. Rangoli. पूजा अर्चना. All are different instruments to help us to focus.
Focus on what? Focus on self. Focus on the different forms of Mother Nature.
This focus is very much needed after dark and gloomy days of monsoon. Mind under toxic chaos, need clean slate once a while.
Set of उत्सव(s) of हेमंत,शिशिर,वसंत are designed for it!
प्रवृतिमय self-realization! (Opposite to ग्रीष्म,वर्षा,शरद full of व्रत & उपवास)
Since Rangoli is an art instrument like Natya shashtra, one can use it any way they wish (Like Bollywood is misusing Natya shashtra for spreading filth in society). Some portray personalities, some social issues. All fine.
In my humble opinion, the best way is to get engaged in fractals. Order in Chaos. And deities. This way, one can create healthy perceptions for self and the viewers. Portraits, issues are humane. They keep us in same daily chaos. There is no peace. There is no self-progress in self-realization.
This realization came very late but I will stick to it now on. 
🙂
The Nationalist View shares:
———————
उत्साह
उत्पात
उत्सर्ग
उत्कट
उत्फुल्ल
उत्कीर्ण
उल्लास
उल्लेख
उन्नयन
उन्मुक्त
उत्सव
All these words have the prefix " उत् " – which denotes energy.
इन सब में भी उत् उपसर्ग ही है और वही भाव भी। (व्यंजन संधि के कारण उत् का रूप परिवर्तित हो गया है बस)
From Bhangra of Baisakhi to हुडदंग of Holi, to Ganpati puja to Durga puja and Garba and Deepawali wishing more energy for the coming months !!
————-
Tap the infinite flow of energy! Protect her! She is mother. Worship her!! Without her, we are declared dead!!