It is different thing that our traditions are polluted and exploited in modern times to yield good returns for market and present us unhealthy living.
But if we correct our habits and follow traditions, they can act as a boon to our rapidly diminishing life.
For example, habit of eating paan after meal. It is potent end of the meal designed to fight against oxidative stress. But now a days, tobacco chewing has taken over this habit.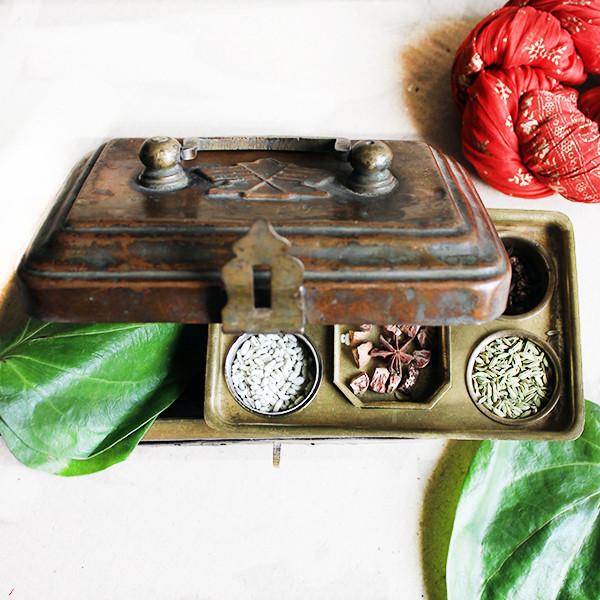 ————————–——
What is oxidative stress?
————————–——
Oxidative stress reflects an imbalance between the systemic manifestation of reactive oxygen species and a biological system's ability to readily detoxify the reactive intermediates or to repair the resulting damage. Disturbances in the normal redox state of cells can cause toxic effects through the production of peroxides and free radicals that damage all components of the cell, including proteins, lipids, and DNA. Further, some reactive oxidative species act as cellular messengers in redox signaling. Thus, oxidative stress can cause disruptions in normal mechanisms of cellular signaling.
In humans, oxidative stress is thought to be involved in the development of cancer, Parkinson's disease, Alzheimer's disease, atherosclerosis, heart failure, myocardial infarction, fragile X syndrome,Sickle Cell Disease,lichen planus,vitiligo,autism, and chronic fatigue syndrome.
————————–———-
Meals and Oxidative stress
————————–———-
Cooking involves fire. It involves various preparations. Metals are also involved. This generates free radicals. Free radicals increases oxidative stress and consumes our body slowly. When we eat, largest assembly of faithful cells act for energy generation and nutrition extraction from food. This generates tremendous oxidative stress.
In short, no matter how pleasant a meal is, eating causes what's known as oxidative stress. As we digest our food, we create sometimes-harmful molecules known as free radicals. This increases toxicity in body.
————————–————–
Antioxidants
————————–————–
Antioxidants — healthful compounds in fruits and vegetables — can help by neutralizing the free radicals. Consuming anti-oxidant rich food during and after meals, reduces oxidative stress associated with eating process.
Traditional Paan is potent Anti-oxidant. If you go to villages, more than young, older will chew paan more often! This is because Paan stops ageing! It keep death away! Among the indgredients of paan, potent activity is observed[1] with the extracts of catechu,rose powder, betel nut and clove.
Embrace your traditions. Feel pride in it. Invest your research time for traditions and bring back corrected and glorious versions of them.
[1] In-vitro antioxidant properties of Indian Traditional paan and its ingredients. J S S College of pharmacy, Tamilnadu