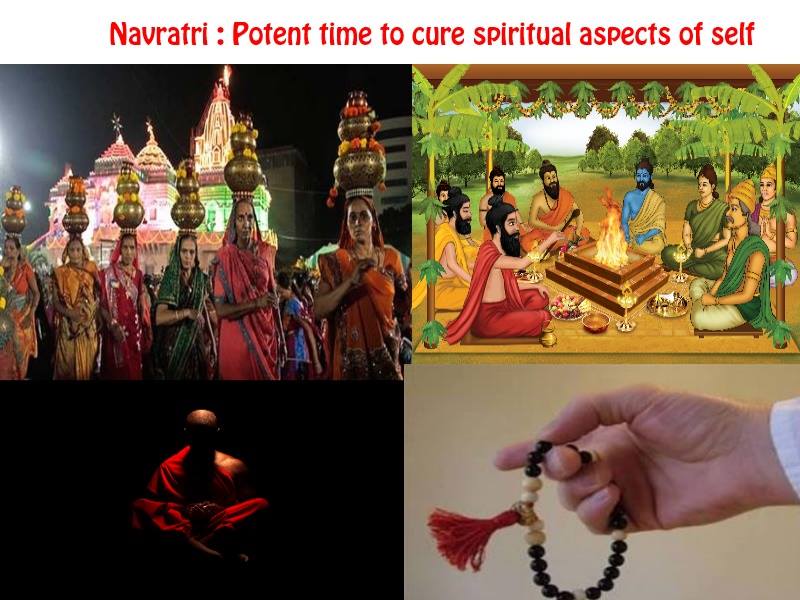 Abuse of nature's law upsets the human system and ends up in disease like cancer. It is again the nature, the foremost physician who brings the cure.
To cure to various layers of the body, different treatments are used in Ayurveda. To cure the shukshma sharir (Google: "Panchkoshiy sharir" to know more), to cure the body layers other than physical body, various spiritual healing ways are prescribed.
Some of them are:
(1) Yagna
(2) Mantra Chanting
(3) Bhakti Yoga
(4) Meditation
(5) Yoga asanas, mudras and pranayamas.
Post-monsoon, to avoid epidemics, it is important to cure all-pervading cosmic consciousness embodied in our body. Above mentioned ways help in it.
Duplicity (A fraudulent or duplicitous representation) of modern Indian is hilarious. Since Yoga is famous in west, they don't mind doing it. Other forms of spiritual healing are not popular so they make fun of them.
In reality, spiritual healing is integrated treatment. Only Yogic exercise or breathing exercise does not work. Mass level healing by bhajans, garba, mantra jap is also needed.
But there is no remedy for foolishness and ignorance of our age. So let the arrogant foolish Indians live in la la land(delusion). For slaves and fools, there is no alternative – they suffer and can never enjoy life fully…May God bless them.
Those who have faith and are ready surrender self to mighty mother nature, will in return have healthy life. They should engage in mass healing during Navratri time.
One such way is Yagna. Navratri is a potent time to perform Yagna. Our PM talks about Jan Andolan about Swacch Bharat (स्वच्छ भारत). Performing Yagna in this season purifies environment from नर्कासुर(s) grown in monsoon. It is biggest social duty one must follow during Navratri time. Yagna/Homam purifies both Atma/Self and environment.
But where is youth busy? In voyeur sessions at Garba ground – annual ogling season. Don't tell me that all of you at garba ground are for Bhakti! 😀 (Though I appreciate those who genuinely are doing garba as spiritual sadhna)
स्वच्छ भारत does not only mean brooming the streets for selfie 😀.
Who will clean the Air? Who will clean and make environment spiritually healthy?
Must see this PPT by Subodh Kumar ji
अ‍ॅग्निहोत्र /होम भारतवर्ष की वेदों द्वारा विश्व को सब से उत्तम और महत्वपूर्ण विज्ञान के अनुसंधान की देन है.
पाश्चात्य विद्या के प्रभाव से बहुत से आधुनिक युवा अग्निहोत्र की उपलब्धियों को अंध विश्वास मानने लगे हैं |इस दिशा में आधुनिक काल में अक्कलकोट के ऋषि परांजपे द्वारा होमा का जो प्रचार और अनुसंधान कर के विश्व भर में सब पाश्चात्य देशों में जो अग्निहोत्र का सफल प्रचार किया है, वह अतुलनीय है. वेदों में अग्निहोत्र की सब उपलब्धियों को एक ही स्थान पर बड़े उत्तम ढंग से कैसे दिया है, आप स्वयं पढ़े | यहां यह भी बताना आवश्यक हो जाता है कि आधुनिक विज्ञान के अनुसंधान के अनुसार यह सब अग्निहोत्र के लाभ पूर्णतया विज्ञान सम्मत पाए गए हैं |
https://www.facebook.com/video.php?v=10204570445278290&permPage=1