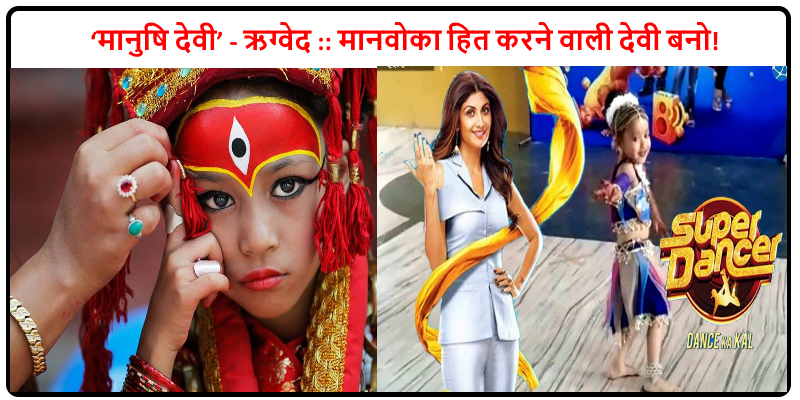 What ideal do you present to your daughter?
To become like an actress, dancing on chaotic music and wooing men?
Or to become a warrior like Laxmi bai and lead the society?
Bitter truth is, our daughters are right now groomed under toxic influence of TV, Bollywood and male-domination propaganda spread by movies, serials and songs. It is in their best interest to keep them isolated from these mental toxins. At least in growing age, up to 10-12.
'मानुषि देवी' – ऋग्वेद
मानवोका हित करने वाली देवी बनो!
Without your support, care and contribution, no man can succeed, be it personal front or national front.
Are you a woman, that believe in ordinary life,wooing a man, gossiping and imitating नट और नटी
or
मानुषि that is always engaged in progressive causes?
Quick test:
Do you inspire, support and contribute for a national cause apart from family duties ? or you are too modern and doesn't believe in duties and responsibilities?
Answer decides your state, as a woman or मानुषि (or महिला).
Another hint is : पुरन्धिर्योषा