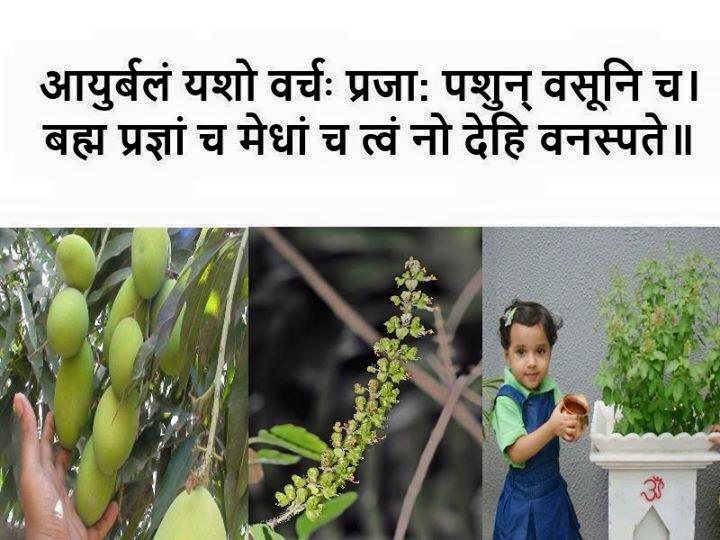 There is age-old argument by meat consumers. Plants also have life.
Yes, true. They too are living beings. So, it is important to treat them like living beings.
Pluck not the growing flower or a fruit at the beginning of growth. And never destroy or uproot them ever like you kill animals.
Pluck the dead ones or almost on death-bed. And before plucking, get a permission from Vanaspti devata.
A truly devout Hindu would never ever heedlessly injure the slightest object that had life. Slaughter is a distant reality. A tree is as much a manifestation of the divine wisdom as the man himself is. Devas engaged equally in the creation process of a flower, fruits and other parts of the trees.
When we through thoughtlessness or ignorance or arrogance of being superior organism, injures these divine works, incurs anger and the ill-will of elemental workers (Devas).
Therefore, a Hindu (=Dharmik) in plucking a flower or cutting a twig, prays to the supreme and asks the permission of the industrious devata(s) who have manifested divine wisdom in different forms. He does not only recognize divine labour and appreciate their work but also asks for goodwill and blessings.
आयुर्बलं यशो वर्चः प्रजा: पशुन् वसूनि च।
बह्म प्रज्ञां च मेधां च त्वं नो देहि वनस्पते॥
"O' Forest Lord! Give us long life, strength, fame, with Brahma, lustre, progeny, cattle and riches too. Give us O' lord supreme! Wisdom, divine and intelligence!"
Every morning begins by chanting this during teeth cleaning using twig.
Habits changed with time. Twig was replaced by dead toothpaste and plastic brush. Chanting forgotten. With time progression, due to disconnect from mother nature, we became insensitive at core.
Result? Rampant killings, of both humans and animals. Least we consider plants and trees here. There is no scope for prayer and respect in animal slaughter or cutting trees. Yes, uprooting jungles is same as animal slaughter for me. Living animal and live tree – both are wealth generators. When dead, they are curse to repay for many births.
There is a solution. Bring back old habits back in routine. Teach your kids to recite above mantra before plucking anything from plants and trees. Use twigs for teeth cleaning. Recite this mantra.
Get connected with mother.