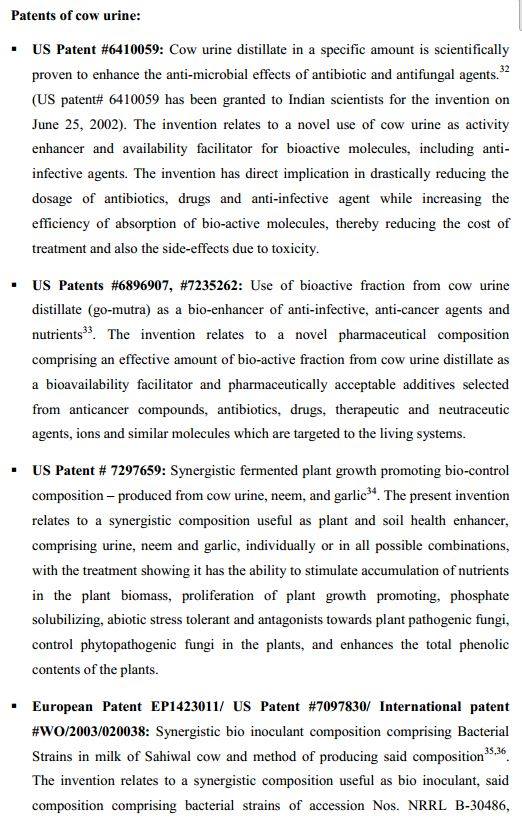 5 patents for cow urine. But colonial mindset of Indian physicians won't allow to use this harmless medicine. Govt policies will never re-educate farmers to save Gau and seek her blessings for farming. It is now job of awakened citizens to reach out to farmer community, educate them and support them!
This is just a urine. All her blessings are super boons for society (Gobar, milk, ghee, dahi, butter milk)
Disappointed to see new govt's dismal attention for such a critical issue i.e. conservation of Bos Indicus i.e. Indian Cow breeds i.e. Gau mata.
Here is the lab analysis of Gau mutra collected as per standard procedure (i.e. Desi pure breed, stress free living, enough grazing, good sleep)
Some papers :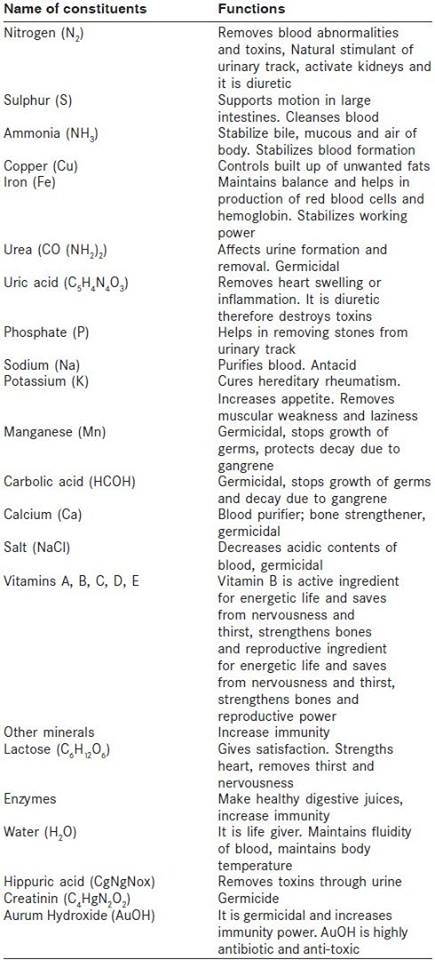 1 ) Effect of treatment of cow's urine "Gomutra" and antioxidants in alleviating the lindane-induced oxidative stress in kidney of Swiss mice (Mus musculus).
http://www.ncbi.nlm.nih.gov/pubmed/24430296
2) Analysis on the Natural Remedies to Cure Dandruff/Skin Disease-causing Fungus – Malassezia furfur
http://www.advancedbiotech.in/628.pdf
3) IN VITRO ANTIMICROBIAL SCREENING OF COW URINE-A POTENTIAL NATURAL ANTIMICROBIAL AGENT
http://www.academia.edu/2514791/IN_VITRO_ANTIMICROBIAL_SCREENING_OF_COW_URINE-A_POTENTIAL_NATURAL_ANTIMICROBIAL_AGENT?login=nisargjoshi%40gmail.com&email_was_taken=true
Gau urine (GU) is live medicine unlike dead and dumb antibiotics. GU helps human-friendly bacteria to colonize and kills/controls pathogens.
This is only possible when Gau is of pure desi breed and is kept in healthy conditions.
It has multiple usages. At home, we use it as handwash, floor cleaner, medicine. Fresh urine as medicine, rest for other purposes.
When organic farming includes Gau in the formula, there is no worry for toxicity or E-coli outbreak as it happens in European organic produce and as stated by researchers recently.
This is just about Gau mutra. Gobar too is wonder prasad by mother.