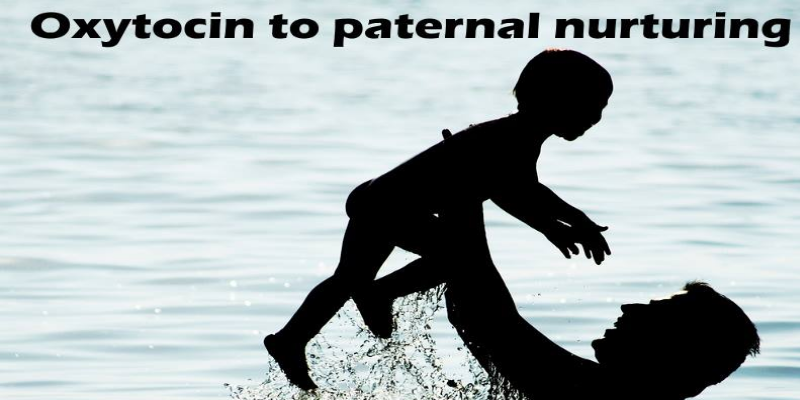 Fathers are now industrial slaves. They are also entertainment and personal gratification slaves. Hardly get time to gel with kids. Forget about bonding. So oxytocin is always in scarce in blood.
For men, oxytocin function is less important, but it does have a role to play in moving sperm. It also appears to affect the production of testosterone in the testes.
A recent oxytocin study found that it is an important chemical messenger that controls some human behaviors and social interaction. It is oxytocin that triggers the bond between a mother and an infant, and it may also play a role in recognition, sexual arousal, trust and anxiety. Some research shows that the hormone may affect addiction and stress as well.
No wonder why so many teens now display anti-social behaviour. Autism or autism like symptoms are rampant.
First 5-7 years are very critical. If you want your child to grow as sensible citizen, shower your love, as much as possible.
---
Research
---
Intranasal oxytocin, but not vasopressin, augments neural responses to toddlers in human fathers
Fathers given boosts of the hormone oxytocin show increased activity in brain regions associated with reward and empathy when viewing photos of their toddlers, an Emory University study finds.
"Our findings add to the evidence that fathers, and not just mothers, undergo hormonal changes that are likely to facilitate increased empathy and motivation to care for their children," says lead author James Rilling, an Emory anthropologist and director of the Laboratory for Darwinian Neuroscience. "They also suggest that oxytocin, known to play a role in social bonding, might someday be used to normalize deficits in paternal motivation, such as in men suffering from post-partum depression."
The journal Hormones and Behavior published the results of the study, the first to look at the influence of both oxytocin and vasopressin — another hormone linked to social bonding — on brain function in human fathers.
A growing body of literature shows that paternal involvement plays a role in reducing child mortality and morbidity, and improving social, psychological and educational outcomes. But not every father takes a "hands-on" approach to caring for his children.
https://www.sciencedirect.com/science/article/pii/S0018506X16304457