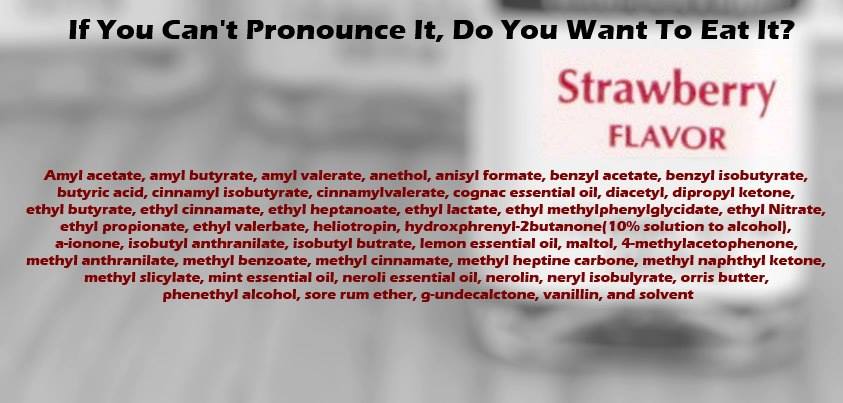 If you can't pronounce It, Do you still want to eat It? 😀
This is called कलियुगी माया! 🙂 Toxic influence of toxins!
The problem is, most processed foods have a laundry list of ingredients similar to that of a can of paint. It's not as simple as adding a little sugar to canned bisque or lemon juice to a scone mix.
Take a look at the list of ingredients from the strawberry flavoring of a milkshake served at a zip-through restaurant:
Amyl acetate, amyl butyrate, amyl valerate, anethol, anisyl formate, benzyl acetate, benzyl isobutyrate, butyric acid, cinnamyl isobutyrate, cinnamylvalerate, cognac essential oil, diacetyl, dipropyl ketone, ethyl butyrate, ethyl cinnamate, ethyl heptanoate, ethyl lactate, ethyl methylphenylglycidate, ethyl Nitrate, ethyl propionate, ethyl valerbate, heliotropin, hydroxphrenyl-2butanone(10% solution to alcohol), a-ionone, isobutyl anthranilate, isobutyl butrate, lemon essential oil, maltol, 4-methylacetophenone, methyl anthranilate, methyl benzoate, methyl cinnamate, methyl heptine carbone, methyl naphthyl ketone, methyl slicylate, mint essential oil, neroli essential oil, nerolin, neryl isobulyrate, orris butter, phenethyl alcohol, sore rum ether, g-undecalctone, vanillin, and solvent[1]
[1] Schiosser E. :Fast Food Nation: The Dark Side of the All-American Meal, New
York, NY: Houghton Mifflin, 2001