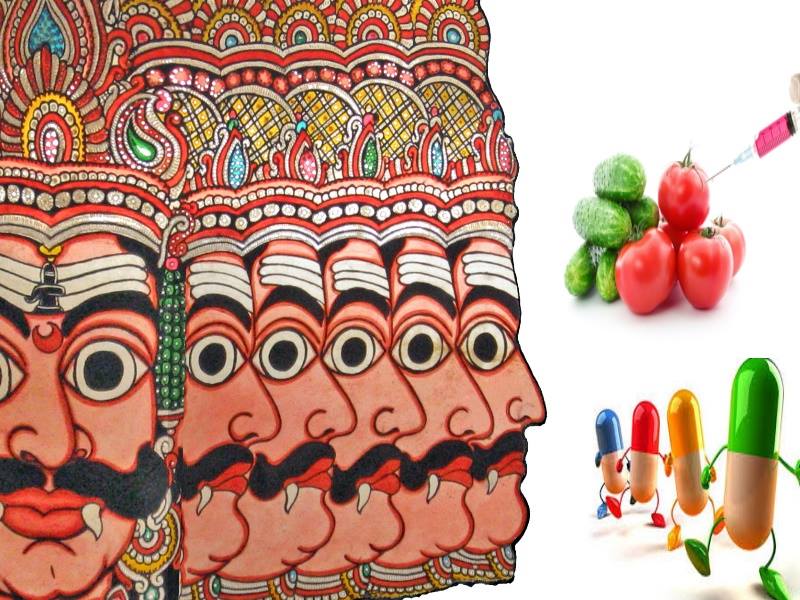 In all ages, we need Ravana to rise so that we realize value of Rama (Life force in us). The faithful Vanar Sena (Microbial world who is known as मरुत गण (सेना) in Sanskrit and their leader मरुतनंदन or मारुतिनंदन हनुमान) of Rama, make sure that Rama wins over Ravana in all ages and times.
वानरसेना or मरुत गण helps Rama to re-establish life force in Lanka (Gut in our body) so that life can survive.
Antibiotics, pesticides, hormones, X-ray, CT-Scan, Irradiation of food for long shelf life, GM food are 10 faces of modern Ravana of our times. It has helped us to re-establish value of Rama and वानरसेना in our life. You see people talking about probiotic food often now in social circles (online and real life)
This is important time when we re-establish Rama Rajya in our body by wiping out Ravana (Antibiotics and alike toxins) with the help of वानरसेना (Microbes).
So it is our critical duty of train वानरसेना and help them realize their real potential.
How?
By avoiding anti-microbe food. By taking pro-microbe food. By using Pro-microbe methods to grow food.
Who can help?
Gau mata -> Gobar, Ghee, Dahi, Milk, Urine = All are full of healthy microbes and potential breeding ground for microbes.
Almost all communities in India have some festival around the spring season that revolves around "stale food". This overnight stale food is purposely kept at room temperature and often gets sour, but the custom is not to reheat the stale food and eat it for all meals the next day (शीतला सातम/શીતળા સાતમ in Gujarat). This has been a great way to introduce the body to the coming season's probiotic as well as pathogenic microbes through overnight food. The probiotic bacteria help build good immunity, boosting gut flora, and the inoculation with pathogenic bacteria in small numbers prepares the immune system for seasonal illnesses by switching on the Immunoglobulin M protein, a basic antibody, as the first immune response.
Notably, this overnight meal is eaten on a day called Sheetalshashthi by Bengalis and around the same time of the year, by Marathis and Sindhis as well. It is supposed to bring immunity from small pox infections. MaaSheetala is considered the goddess who treats small pox and this ritualistic consumption of fermented food is interesting in this regard.
Sindhis call this festival Satam around the shrawan month and the stale food is called kanbo and includes fried fritters of the sweet and savoury variety. Mithila Brahmins also eat overnight stale daalpoori, kheer, sattu, badiyan (dried lentil cakes) and drink the extract of a herb called chirata, which is an immunity boosting agent. The association of this ritual in different communities with immunity is also notable.
Apart from the ritualistic consumption of probiotic foods, almost all communities in the country have something cooked or prepared regularly that helps build up probiotic flora. These are mostly the foods that are fermented with the expertise handed down through generations, involving recipes that are woven around the availability of some fresh produce, scarcity of some other in a particular geographic location.
The popular breakfast dish of puffed rice (murmura) or poha is good probiotic food too. The rice products are made after parboiling paddy and sun drying it for a few hours before either beating it flat to make poha or roasting it in sand to get puffed rice. The rice ferments partially after parboiling and retains the microbial flora, getting superior food value as well as partially digested proteins and carbohydrates.
At the end of monsoon season, we celebrate victory of Rama over Ravana on Dashera (meaning: You survived entire year as healthy being with the help of वानरसेना or Microbial world . Now it is easy for you realize value of your festivals. Such a great epic poem which can give these hints about life! Should we not teach this to kids at school? Ramayana and Mahabharat are not for one religion. They are books of humanity. Real Indian, irrespective of religion, should read Ramayana and Mahabhrara to their kids.
To celebrate real Dashera, we must stop anti-microbe practices in society. Stop antibiotics. Stop floor cleaners. Stop Coca cola. Stop chemically processed food. Stop GM seeds. Stop pesticides. Protect Gau mata. Promote Gau-prasad (Gobar,Urine, Dahi, milk, ghee) based farming. Include live pro-biotic food in diet. Enjoy Dashera with really healthy life force (Rama), by killing Ravana in environment, within body and in universe.
Read this further:
http://www.downtoearth.org.in/news/ferment-food-for-the-gut-45574