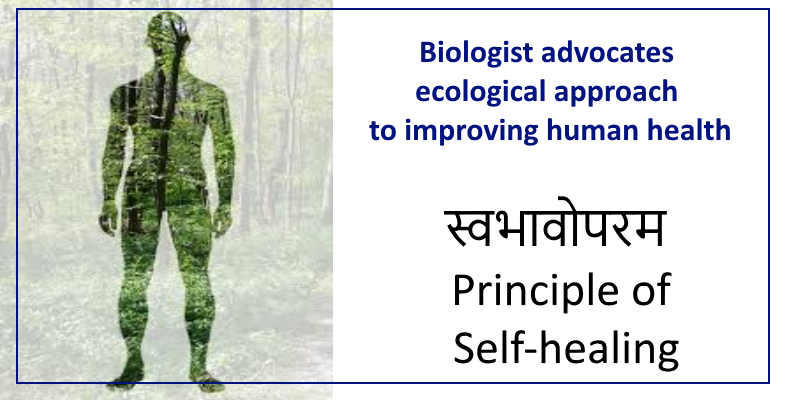 Body is not only ecology system. Like our mother earth, it also has self-healing attribute!
If we talk about Svabhavaparam-स्वभावोपरम principle of Ayurveda, educated arrogant Indians see it as DESI and inferior guess-work. But when a western university scientist talk about it with modern terminology, it is cool, trendy and perfect!
To return to stable state is not only nature of the human body but our mother earth and all her children. What we need to administer is nothing but a support for speedy recovery.
Chronic diseases of modern times are result of torture, be it mental or physical. We see body as machine and ignore it for first 30 years. And when it is in aging route, we start feeling different issues! Body also tries to restore normal state but since aging and torture, both are at work, we often see premature deaths.
Here is the interesting paper and perspective. Hope we learn from it.
---
Research
---
OSU biologist advocates ecological approach to improving human health
Chronic diseases like cancer, autoimmune disorders and obesity may ultimately vanquish the efforts of medical intervention unless people change their diet, an Oregon State University biologist argues in a paper published this week.
http://today.oregonstate.edu/news/osu-biologist-advocates-ecological-approach-improving-human-health
"I was diagnosed with Crohn's disease and put on a monoclonal antibody inhibitor for life," he said. "Except that I cleaned up my diet, stopped getting the gut irritation, cut out the monoclonal antibody inhibitor, and my symptoms are gone. Two doctors overturned the Crohn's diagnosis in writing.
"All of that inspired me to think about ways that my knowledge of restoration ecology might help to guide physicians away from treating and misdiagnosing other people the way that they had treated and misdiagnosed me."
Gut microbes perform a wide range of beneficial functions. Among other things, they produce nutrients in the form of short-chain fatty acids and vitamins, control blood sugar and weight, reduce inflammation and even improve mental health and psychological well-being.
And as with natural habitats, where successful restoration techniques will vary from year to year and place to place depending on individual circumstances, gut restoration requires a similar approach – one toward personalized medicine given that no two gut sets of gut microbiota are identical.
Except for that they're all essential to the person's health and all subject to disturbances, including the food people eat and the medicine they take.
"Nineteenth-century research identified microbes as agents of disease and set the stage for 20th-century breakthroughs in antibiotic therapies," Orr said. "But antibiotic resistance is now a global crisis, and we're also now aware that antimicrobials can harm beneficial species too."