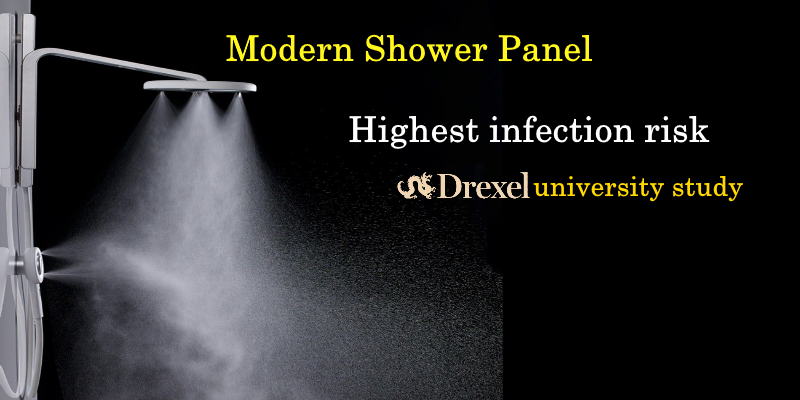 Water is indeed a carrier for Prana. It can transport the prana. Microbes are nothing but manifestation of prana. Not only infection, water can also spread the positive prana.
In all Hindu rituals, sprinkling water is common ritual. Using water to spread the positive vibes, good prana and protecting the ritual/persons from the negative vibes/microbes.
On the other hand, Shower is where people spend significant time with water. Water particles in air. This is potent medium to spread the microbes. Most of the times, they are non-compatible prana or sickness causing microbes.
Shower is not the only place to get the infection. Toilet spray, Car-wash shops, paint shops are other places where water particles in air can affect the health of people with low immunity.
---
Research
Drexel and Arizona State Researchers Look at Risk of Infection From Water in the Air at Home
https://drexel.edu/now/archive/2019/January/indoor-breathing-water/
---
Researchers at Drexel and Arizona State created a framework for understanding risk of inhaling Legionella bacteria from the water spray of showers, faucets and toilets.
"Don't drink the water" might be good enough advice to keep you from getting sick in some places, but according to researchers from Arizona State and Drexel University, the admonition should probably be expanded to "…try not to breathe the water either." In research recently published in the journal Environmental Science & Technology, the group takes a closer look at how the spray from showers, sinks and toilets can expose us to the bacteria responsible for the most waterborne disease outbreaks in the country.
"Most people in the United States think we have a handle on our water quality problems and drinking water isn't something we need to worry about anymore. If anything, the recent water crisis in Flint, Michigan, and frequent Legionnaires' disease outbreaks across the nation have demonstrated that's not the case," said Kerry Hamilton, PhD, an assistant professor in the Ira A. Fulton Schools of Engineering at Arizona State University and former doctoral researcher at Drexel, who led the investigation into how the Legionella pneumophila bacteria can grow and spread in indoor water supplies.
Legionella, the bacteria that causes pneumonia-like Legionnaire's disease, has been responsible for a  number of recent outbreaks and can be fatal in 10-25 percent of infections, according to the Centers for Disease Control and Prevention. While it is considered one of the deadliest waterborne diseases in the United States, it is actually contracted via inhalation or aspiration. This means to accurately understand environments that could increase one's risk of exposure, researchers need to examine places where people are exposed to water in the air.
"To protect people from infections, we first need to understand the risks," Hamilton said. "If we can better model and predict how water quality degrades under different circumstances, we can more efficiently target resources and prevent disease outbreaks."