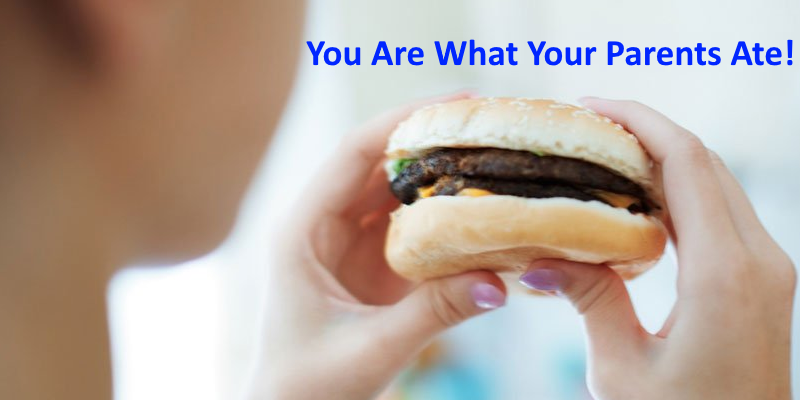 "You are what your parents Ate"
Eating = Consuming = Food + Water + Air + Thoughts + Environment + whatever we as a human can digest as self from non-self ingestion.
Getting married is no joke. It is not mere for pleasure. It is great societal duty. To pass the flame to the next generation so that they can sustain this place and achieve highest goals of life.
---
Research
---
You Are What Your Parents Ate!
Scientists at Helmholtz Zentrum München, in collaboration with researchers from Technical University of Munich and the German Center for Diabetes Research (DZD), have shown that diet-induced obesity and diabetes can be epigenetically* inherited by the offspring via both the oocytes and the sperm. The results were recently published in the journal 'Nature Genetics'.
For its studies, the team of the Institute of Experimental Genetics (IEG) used mice that had become obese and had developed type 2 diabetes due to a high-fat diet. Their offspring were obtained solely through in vitro fertilization (IVF) from isolated oocytes and sperm, so that changes in the offspring could only be passed on via these cells. The offspring were carried and born by healthy surrogate mothers. This enabled the researchers to rule out additional factors such as the behavior of the parents and influences of the mother during pregnancy and lactation.
"The results showed that both oocytes and sperm passed on epigenetic information, which particularly in the female offspring led to severe obesity," said Prof. Johannes Beckers, who directed the study. In the male offspring, by contrast, the blood glucose level was more affected than in the female siblings. The data also show that – like in humans – the maternal contribution to the change in metabolism in the offspring is greater than the paternal contribution
http://www.helmholtz-muenchen.de/en/news/latest-news/press-information-news/article/32833/index.html