==============================================
भारतीय इतिहास 101 – When Kings were elected by Citizens (प्रजा आधीन राजा) – Part 2
Right to elect-Right to Recall in Ramayana, true essence of Raam-rajya
==============================================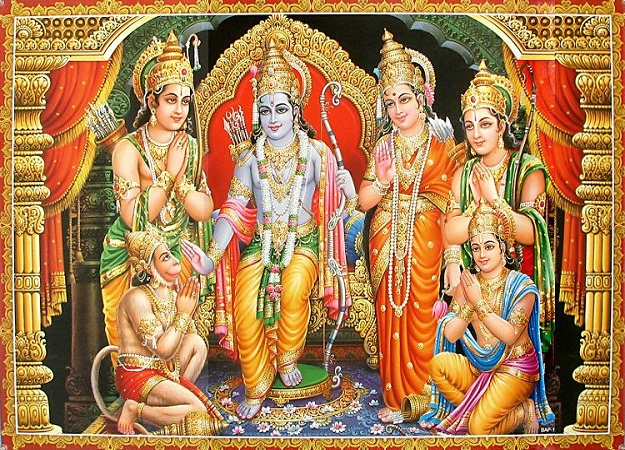 If you say, you love Raam, it is your prime duty to become responsible citizen and take part in Citizen welfare actively (By designing,supporting and implementing laws required for present time for welfare of mass).
If you just chant Raam, it is pretty selfish act for false personal peace(illusion/delusion) when world around you is passing through chaotic times.
Remember, true peace comes when you and your environment is at peace at same time. Take care of both. Spend time for inner peace as well as outer peace(By designing,supporting and implementing laws required for present time for welfare of mass).
There is a remarkable passage in Ramayana which shows that the popular voice was a powerful element in the selection of leader of the Nation at all levels.
In Ayodhya Kanda, when King Dasratha intended to ordain Raam as the Crown Prince, he called the chiefs of all Cities and Villages in his assembly.
नानानगरवास्तव्यान पृथग्जानपदान अपि
समानिनाय मेदिन्याः परधानान पृथिवीपतिः || 2.1.45
"Dasaratha called for other kings and officers staying in various cities and villages in his kingdom separately."
What was common characteristic of those who were assembled?
All were 'राजानो लोकसंमताः' i.e. those who were duly liked by their people. [2.1.48]
What gazette was presented by Dasratha in assembly?
यदीदम् मेऽनुरूपार्धं मया साधु सुमन्त्रितम् |
भवन्तो मेऽनुमन्यन्तां कथं वा करवाण्यहम् || २-२-१५
यद्यप्येषा मम प्रीतिर्हितमन्यद्विचिन्त्यताम् |
अन्या मद्यस्थचिन्ता हि विमर्दाभ्यधिकोदया || २-२-१६
"I am telling this after lot of thinking. Give consent to me if you feel this to be good and befitting. How else shall I do it?"
"This is my desire. Yet, let there be thinking on any other beneficial way. Thinking by impartial neutral people will be distinctive and well developed through grinding of opposing views."
[Marut: Please note Dasratha's proposal regarding Raam as King and his desire in impartial people's voice.]
Who were लोकसंमताः? And what did they reply in assembly?
तस्य धर्मार्थविदुषो भावमाज्ञाय सर्वशः |
ब्राह्मणा जनमुख्याश्च पौरजानपदैः सह || २-२-१९
समेत्य मन्त्रयित्वा तु समतागतबुद्धयः |
ऊचुश्च मनसा ज्ञात्वा वृद्धं दशरथं नृपम् || २-२-२०
अनेकवर्षसाहस्रो वृद्धस्त्त्वमसि पार्थिव |
स रामं युवराजानमभिषिञ्चस्व पार्थिवम् || २-२-२१
After understanding the opinion of King Dasaratha, who knew the holy and worldly matters, the Brahmans, important people, urban and rural citizens came to a consensus after discussing together and told the aged king as follows.
"Oh king! You are an elderly person with thousands of years of age. Hence, inaugurate Rama as the ruling prince."
[Marut: Please note the age criteria. If King/Leader is old enough, he must resign from the post. Unlike our present breed of leaders.]
After listening this, Dasratha replied
कथं नु मयि धर्मेण पृथिवीमनुशासति |
भवन्तो द्रष्टुमिच्छन्ति युवराजं ममात्मजम् || २-२-२५
"Why do you desire to see my son as the prince, when I am ruling this earth with righteousness?"
People representatives replied:
गुणान् गुणवतो देव देवकल्पस्य धीमतः |
प्रियानानन्ददान् कृत्स्नान् प्रवक्ष्यामोऽद्यतान् शृणु || २-२-२७
"Oh king! We shall tell you now the various virtues of your wise son, listen to them. His qualities are equal to those of celestials. They are liked by all. They give happiness to all."
And they explained reasons why Raam is best suited for King's post.
Dasratha wants to remain as King but People desired Raam as King (This is because, at the age of 16, Raam was ordained to start his nationwide Tirth Yatra, and by that he met and lived with people of all states and became popular leader by his able-bodied characteristics as King)
In this example from our history, it is clear that King left the final decision of the question to the assembly, and even authorized it to suggest new measures, if his own proved little worth.
He also forewarned them not to decide based on sentiments associated with Dasratha's family prestige but according to real welfare of the Kingdom.
Further in the epic, when Dasratha died, very same assembly suggested that someone from इक्ष्वाकू family line should become King (out of their sheer sentiments followed by tragic death). Cheif Preist, Vashistha replied, unaffected by emotions and sentiments:
"Since Bharat is selected by us, in absence of Raam, let him drive the Nation and not any one else from इक्ष्वाकू family line, just because Bharat is not here right now and we have good sentiments associated with Family."
– Dasratha's proposal
– People's voice to recall Dasrath on age criteria
– People's voice to elect Raam, not by sentiments but by valid reasons backed by
– Raam's Nationwide work during this Tirth-Yatra.
Above historical (ऐतिहासिक) account furnishes a striking instance of the constitutional power exercised by People to select their future King.