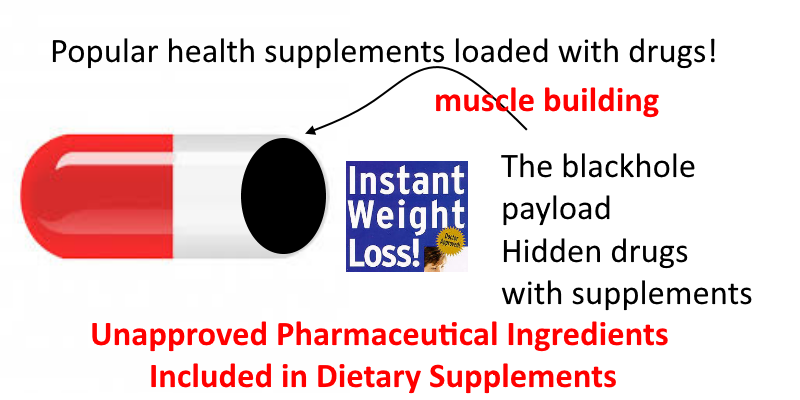 In US, several generations grew up eating supplements. And the same trend is now common in India. When I shared how calcium supplements cause heart attack, friends still doubted and ignored.
This is something you can't ignore.
---
Research
---
Unapproved Pharmaceutical Ingredients Included in Dietary Supplements Associated With US Food and Drug Administration Warnings
https://jamanetwork.com/journals/jamanetworkopen/fullarticle/2706496
Findings  In this quality improvement study, analysis of the US Food and Drug Administration warnings from 2007 through 2016 showed that unapproved pharmaceutical ingredients were identified in 776 dietary supplements, and these products were commonly marketed for sexual enhancement, weight loss, or muscle building. The most common adulterants were sildenafil for sexual enhancement supplements, sibutramine for weight loss supplements, and synthetic steroids or steroid-like ingredients for muscle building supplements, with 157 products (20.2%) containing more than 1 unapproved ingredient.
Meaning  Potentially harmful active pharmaceuticals continue to be identified in over-the-counter dietary supplements.
In the United States, more than 50% of adults consume dietary supplements, fueling a $35 billion industry.1,2 Dietary supplements include vitamins, minerals, botanicals, amino acids, and enzymes that according to the US Food and Drug Administration (FDA) are not intended to treat or prevent disease.3,4 Under the 1994 Dietary Supplement Health and Education Act, dietary supplements were classified as a category of food and are not subject to the premarket safety and effectiveness testing required by the FDA for drugs.5
To identify products that are unsafe or adulterated (contain unapproved ingredients), the FDA relies on postmarket surveillance efforts including review of adverse event reports and consumer complaints, inspection of dietary supplement firms, and screening of imported products.6 Additionally, a dietary supplement firm is obligated to report events that require medical intervention to prevent death, hospitalization, or birth defect to the FDA.6 When a product has the potential to cause serious adverse health consequences, the FDA can issue a class I recall and take it off the market.7
One study found that dietary supplement use was associated with 23 000 emergency department visits and 2000 hospitalizations in the United States each year.8 Serious adverse events reported with the use of dietary supplements include stroke, acute liver injury, kidney failure, pulmonary embolisms, and death.9 Identifying adverse events through postmarket surveillance efforts poses some challenges, mainly owing to difficulties in asserting causality and underreporting. A US Government Accountability Office report found that, of adverse event reports received by the FDA, most do not initiate consumer protection actions like inspections or warning letters.6 Additionally, many consumers and physicians may not attribute symptoms to use of a dietary supplement or know to report to the FDA or the associated dietary supplement firm.6,10 In fact, poison control centers received over 1000 more reports of adverse events associated with dietary supplement use than the FDA did over a 3-year period.6
To increase transparency and public knowledge, the FDA's Center for Drug Evaluation and Research maintains the Tainted Products Marketed as Dietary Supplements_CDER database (Tainted Supplements database) on its website as a resource to lower risk for consumers.11,12 This study analyzes data from the Tainted Supplements database for adulterated dietary supplements associated with a warning by the FDA from 2007 through 2016 in order to summarize trends.