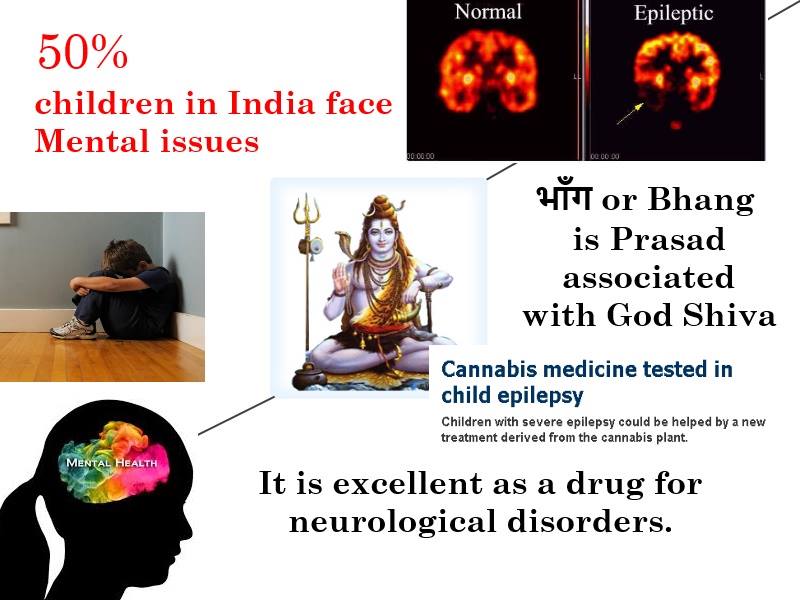 Prasad is an outcome of the ritual. When you take some vow and complete it successfully, you nourish body with the gesture of fullness by prasad. Prasad changes based on ritual, deity and season.
भाँग or Bhang is well known ritual prasad during Shiv Ratri. Take it only in small quantity as Prasad and it will act as miracle for you. Unfortunately, half-baked knowledge and media influence, भाँग is now taken for addiction. It is replaced by alchohol. You don't take Prasad as meal. It must be consumed in limited quantity.
Bhang or cannabis is an excellent drug for neurological disorders. But officially, it is banned in India and in many other countries. (To serve the vested interests of pharma companies.)
Instead, to cure the intractable childhood epilepsy and other neurological disorders, modern doctors use Steroids and other drugs with severe and unknown side effects.
Now the studies are appreciating role of Cannabis. Life is a full circle. You come to the point again where you left. You are lucky to be born in India where healthy practices are part of culture. Embrace them and remain happy forever! Even if you don't understand the purpose, follow them!
I can go on writing about benefits of Bhang but have limited time. Will write more on it someday.
Happy Shiva ratri to all!
PS 1: Bhang has to be prepared using all fresh sources. Milk has to be from desi gau. It has to be ethically procured. There is should be no chemical adulteration. Have it only when you know how to prepare it at home. Or else avoid bhang sold in market.
PS 2: Do not take it for enjoyment. You do not take medicines for fun. Those who take, face the dire results. It is for cure or spiritual sadhana only. If taken for fun, face the consequences :). Do fast and eat only shiva ratri prescribed food when you are planning to take Bhang as prasad.
——————-
Research
——————-
Over 50 Per Cent of Kids in India Face Mental Health Issues
http://www.newindianexpress.com/cities/bengaluru/2015/feb/14/Over-50-Per-Cent-of-Kids-in-India-Face-Mental-Health-Issues-717186.html
Cannabis medicine tested in child epilepsy
Children with severe epilepsy could be helped by a new treatment derived from the cannabis plant.
http://www.ed.ac.uk/news/2014/cbdtrial-171214