Imagine if we expose kids to such infinite loops! Their majority growth period will be occupied in solving forced confusion and chaos due to chemically induced loops of craving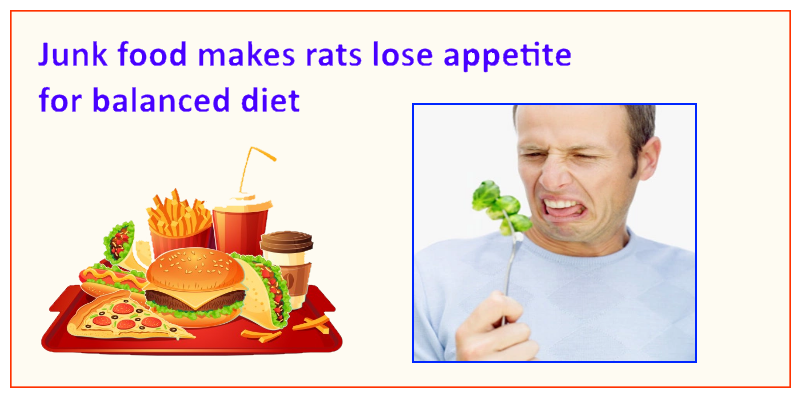 ========================
About infinite craving loops
========================
Food sold in bazaar also change with time. What you ate in 80s is drastically altered in 2015.
Original ingredients are replaced with chemicals. Not ordinary chemicals but the one that can generated infinite craving loops. You love the food once and become permanent customer
🙂
More than that, you lose interest in home cooked normal food.
🙂
"A diet of junk food not only makes rats fat, but also reduces their appetite for novel foods, a preference that normally drives them to seek a balanced diet, reports a study."
"The interesting thing about this finding is that if the same thing happens in humans, eating junk food may change our responses to signals associated with food rewards," says UNSW Professor Morris. "It's like you've just had ice cream for lunch, yet you still go and eat more when you hear the ice cream van come by."
Imagine if we expose kids to such infinite loops! Their majority growth period will be occupied in solving forced confusion and chaos due to chemically induced loops of craving.
---
Research
---
Junk food makes rats lose appetite for balanced diet
https://www.eurekalert.org/pub_releases/2014-08/f-jfm082514.php
A diet of junk food not only makes rats fat, but also reduces their appetite for novel foods, a preference that normally drives them to seek a balanced diet, reports a study published in the open-access journal Frontiers in Psychology.
The study helps to explain how excessive consumption of junk food can change behavior, weaken self-control and lead to overeating and obesity.
The team of researchers, led by Professor Margaret Morris, Head of Pharmacology from the School of Medical Sciences, UNSW Australia, taught young male rats to associate each of two different sound cues with a particular flavor of sugar water – cherry and grape.
Healthy rats, raised on a healthy diet, stopped responding to cues linked to a flavor in which they have recently overindulged. This inborn mechanism, widespread in animals, protects against overeating and promotes a healthy, balanced diet.
But after 2 weeks on a diet that included daily access to cafeteria foods, including pie, dumplings, cookies, and cake – with 150% more calories – the rats' weight increased by 10% and their behavior changed dramatically. They became indifferent in their food choices and no longer avoided the sound advertising the overfamiliar taste. This indicated that they had lost their natural preference for novelty. The change even lasted for some time after the rats returned to a healthy diet.
Cafeteria diet impairs expression of sensory-specific satiety and stimulus-outcome learning
https://www.frontiersin.org/articles/10.3389/fpsyg.2014.00852/full
A range of animal and human data demonstrates that excessive consumption of palatable food leads to neuroadaptive responses in brain circuits underlying reward. Unrestrained consumption of palatable food has been shown to increase the reinforcing value of food and weaken inhibitory control; however, whether it impacts upon the sensory representations of palatable solutions has not been formally tested. These experiments sought to determine whether exposure to a cafeteria diet consisting of palatable high fat foods impacts upon the ability of rats to learn about food-associated cues and the sensory properties of ingested foods. We found that rats fed a cafeteria diet for 2 weeks were impaired in the control of Pavlovian responding in accordance to the incentive value of palatable outcomes associated with auditory cues following devaluation by sensory-specific satiety. Sensory-specific satiety is one mechanism by which a diet containing different foods increases ingestion relative to one lacking variety. Hence, choosing to consume greater quantities of a range of foods may contribute to the current prevalence of obesity. We observed that rats fed a cafeteria diet for 2 weeks showed impaired sensory-specific satiety following consumption of a high calorie solution. The deficit in expression of sensory-specific satiety was also present 1 week following the withdrawal of cafeteria foods. Thus, exposure to obesogenic diets may impact upon neurocircuitry involved in motivated control of behavior.