==========================
GUT Microbes, VAgus Nerve and YAgnopavit
==========================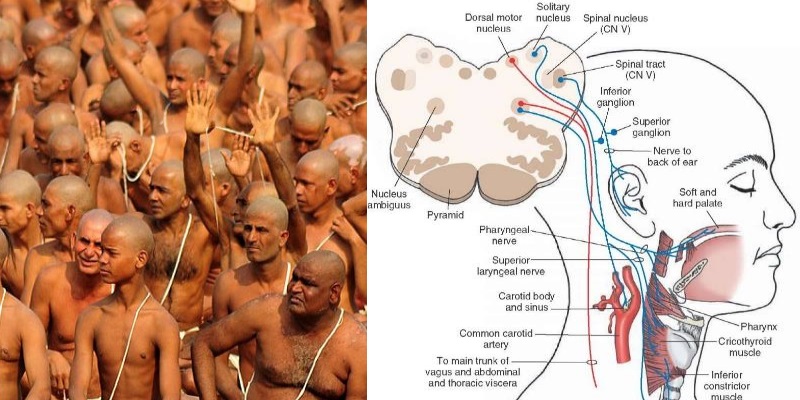 We discussed this last week. We are guest and they are host. They control our lives and we facilitate.
How could they send messages -> Using vagus nerve.
How do you control messages? By controlling vagus nerve.
What can help to control vagus nerve so that you are always in good mood? Yagnopavit (जनेऊ). When we encircle ear during urination or passing stool, we control Vagus nerve. And by that we control internal movement of GUT so no excess Apana Vayu is exchanged with environment.
"Microbes have the capacity to manipulate behavior and mood through altering the neural signals in the vagus nerve, changing taste receptors, producing toxins to make us feel bad, and releasing chemical rewards to make us feel good,"
=================
About VAgus nerve
=================
The vagus nerve supplies motor parasympathetic fibers to all the organs except the suprarenal (adrenal) glands, from the neck down to the second segment of the transverse colon. The vagus also controls a few skeletal muscles, notable ones being:
Cricothyroid muscle
Levator veli palatini muscle
Salpingopharyngeus muscle
Palatoglossus muscle
Palatopharyngeus muscle
Superior, middle and inferior pharyngeal constrictors
Muscles of the larynx (speech).
This means that the vagus nerve is responsible for such varied tasks as heart rate, gastrointestinal peristalsis, sweating, and quite a few muscle movements in the mouth, including speech (via the recurrent laryngeal nerve). It also has some afferent fibers that innervate the inner (canal) portion of the outer ear (via the auricular branch, also known as Alderman's nerve) and part of the meninges. This explains why a person may cough when tickled on the ear, such as when trying to remove ear wax with a cotton swab.
---
Research
---
http://www.ucsf.edu/news/2014/08/116526/do-gut-bacteria-rule-our-minds
Do Gut Bacteria Rule Our Minds?
In an Ecosystem Within Us, Microbes Evolved to Sway Food Choices
The Connection Between Digestive Tract and Brain
Research suggests that gut bacteria may be affecting our eating decisions in part by acting through the vagus nerve, which connects 100 million nerve cells from the digestive tract to the base of the brain.
"Microbes have the capacity to manipulate behavior and mood through altering the neural signals in the vagus nerve, changing taste receptors, producing toxins to make us feel bad, and releasing chemical rewards to make us feel good," said Aktipis, who is currently in the Arizona State University Department of Psychology.
In mice, certain strains of bacteria increase anxious behavior. In humans, one clinical trial found that drinking a probiotic containing Lactobacillus casei improved mood in those who were feeling the lowest.
Maley, Aktipis and first author Joe Alcock, MD, from the Department of Emergency Medicine at the University of New Mexico, proposed further research to test the sway microbes hold over us. For example, would transplantation into the gut of the bacteria requiring a nutrient from seaweed lead the human host to eat more seaweed?
The speed with which the microbiome can change may be encouraging to those who seek to improve health by altering microbial populations. This may be accomplished through food and supplement choices, by ingesting specific bacterial species in the form of probiotics, or by killing targeted species with antibiotics. Optimizing the balance of power among bacterial species in our gut might allow us to lead less obese and healthier lives, according to the authors.
"Because microbiota are easily manipulatable by prebiotics, probiotics, antibiotics, fecal transplants, and dietary changes, altering our microbiota offers a tractable approach to otherwise intractable problems of obesity and unhealthy eating," the authors wrote.
Implications for Obesity, Diabetes and even Cancer
The authors met and first discussed the ideas in the BioEssays paper at a summer school conference on evolutionary medicine two years ago.
Aktipis, who is an evolutionary biologist and a psychologist, was drawn to the opportunity to investigate the complex interaction of the different fitness interests of microbes and their hosts and how those play out in our daily lives. Maley, a computer scientist and evolutionary biologist, had established a career studying how tumor cells arise from normal cells and evolve over time through natural selection within the body as cancer progresses.
In fact, the evolution of tumors and of bacterial communities are linked, points out Aktipis, who said some of the bacteria that normally live within us cause stomach cancer and perhaps other cancers.
"Targeting the microbiome could open up possibilities for preventing a variety of disease from obesity and diabetes to cancers of the gastro-intestinal tract. We are only beginning to scratch the surface of the importance of the microbiome for human health," she said.
The co-authors' BioEssays study was funded by the National Institutes of Health, the American Cancer Society, the Bonnie D. Addario Lung Cancer Foundation and the Institute for Advanced Study, in Berlin.
UC San Francisco (UCSF), now celebrating the 150th anniversary of its founding, is a leading university dedicated to promoting health worldwide through advanced biomedical research, graduate-level education in the life sciences and health professions, and excellence in patient care. It includes top-ranked graduate schools of dentistry, medicine, nursing and pharmacy, a graduate division with nationally renowned programs in basic, biomedical, translational and population sciences, as well as a preeminent biomedical research enterprise and two top-ranked hospitals, UCSF Medical Center and UCSF Benioff Children's Hospital San Francisco.