Since there is so much large scale climate altering activities going on, it is very easy to brainwash locals. And so Diwali becomes Green Diwali!
The Green Diwali syndrome is actually making us sick and weak. Killing local rituals and vibrancy – so that they can become consumerist slaves.
So weak that we never question large scale devastation but easily kill local innocent traditions in name of saving environment.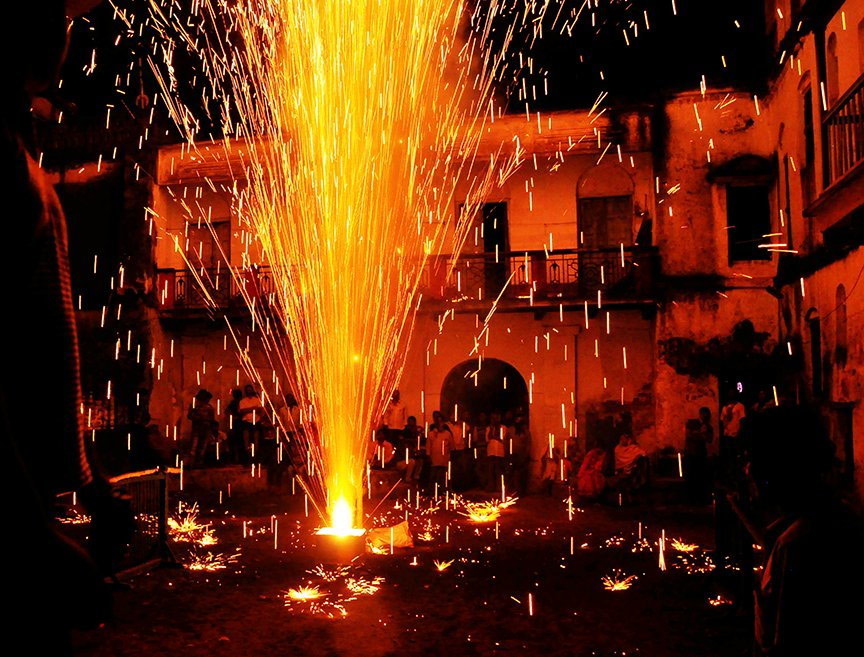 ————————-
Via Madhushree Mukerjee
"Firework-making is indeed a long-standing tradition in India. An old Santal man told me that when he was a kid he used to make fireworks by using mohua, the distilled adivasi alcohol that is pure enough to burn. To celebrate his wedding, his friends made fireworks that they let loose on the surface of a pond that evening, so that they swirled around like a flock of glowing swans, a lovely image if you think about it. My father, who also used to make fireworks as a child, said that one can also make fireworks that glow under water, and move around as if alive, by using phosphorus. This kind of firework is now banned because it is very dangerous if handled inexpertly."
Almost every year, for as long as anyone can remember, the Purbannapara community of Makardah village in Howrah, West Bengal, has held a Tubri protijogita or competition for making the brightest, biggest, and longest-lasting tubri. A kind of firework, the tubri looks rather like a Christmas tree and can loosely be called a Roman candle, but there is no real equivalent in the western world. In Bengal, those village men who are experts in the craft teach their nephews and other boys to make a tubri, along with other types of fireworks, around the time of Kali Pujo, the local version of Diwali. The competition is typically held a week or two after Diwali, as an extension of the Festival of Lights.
Read more here:
The Purbannapara community of Makardah village in West Bengal holds an annual 'protijogita' for making the brightest and biggest 'tubri' or firework-candle
https://www.youtube.com/watch?v=XucLISjbrn8
——————–
Like Savarkundla in Amreli district, Bhuj in Kutch district also has a novel Diwali tradition: people of all communities gather at local Hamisar lake to fire crackers from 6 in the morning.
Residents of the two villages would gather on their side of the river every Diwali and hurl fire-crackers at each other as if they were fighting a war. Of course, it was all make-believe and no one was ever hurt.
Not only this. Even today, Savarkundla villagers do not buy firecrackers from the market as they make them at home. The homemade firecrackers are called Ingoriya and Kokdi. When lit, both burn like small flowerpots.
"Ingoriya is the fruit of a tree that grows in the wild. Everything inside the fruit is removed and the hollow shell is filled with potash, coal powder and other inflammables. Kokdi is also made of wood derived from wild bamboo," said Sahkti Rathod, a local resident who has been participating in the Diwali celebrations for the last one decade.
Nobody in the town actually knows exactly when the unique Diwali celebrations began. "All that we know is that the Maharaja of Bhavnagar started this as an event so that all could celebrate Diwali. Now, it is a ritual. Around 100 people from each side of the river take part," Rathod said.
In Bhuj, Diwali is celebrated not so much as a religious festival, but as an festival to bring the community together. Dhanteras, the first day of Diwali, is marked by an early morning aarti at Hatkeshwar temple situated near the Hamirsar Lake in Bhuj. It begins at around 5:50 am. A community known as Vadnagra Nagar — believed to be descendants of Saint Narsinh Mehta — participates in the aarti in a big way.
As soon as the aarti is over, participants gather at Mahadev Naka near Hamirsar Lake and fire crackers. "This tradition is very old. It was started by the Nagars but now people of all communities participate in it. Firing crackers near Hamirsar is now a ritual for all communities," said Atul Mehta, president of Vadnagra Nagar Vyavasthapak Mandal.
He said that from 6:00am in the morning, elders, youths and children gather near Hamisar to fire crackers on all the three days of the festival —Dhanteras, Kali Chaudas and Diwali itself," said Mehta. Savarkundla residents fight mock war on Diwali.
https://www.youtube.com/watch?v=s8xs4fYw7QY
https://www.youtube.com/watch?v=7xD6UVum1yA