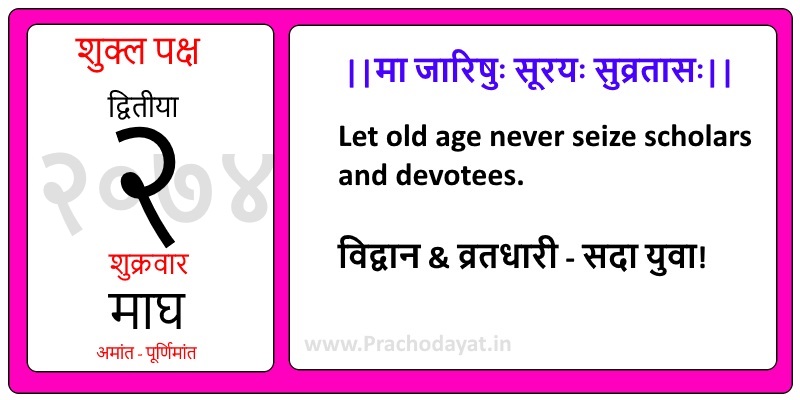 Being young is precondition for being scholar and devotee. Without mental and physical toughness, one cannot justify being scholar or devotee. And if you are striving to be one, you will actually stay young forever!
इदं ते चारु सञ्जातं यौवनं व्यतिवर्तते।
यदतीतं पुनर्नैति स्रोतः शीघ्रमपामिव।|
"Your charming youth should not pass away (uselessly). A past event does not come back like a current of stream."
May we remain young forever, may we don't waste our youngness!
सनातन युवा 'Sanaatan Yuvaa' !
| | | | |
| --- | --- | --- | --- |
| शक सम्वत: | १९३९ हेमलम्बी | चन्द्रमास: | माघ – अमांत |
| विक्रम सम्वत: | २०७४ साधारण | | माघ – पूर्णिमांत |
| गुजराती सम्वत: | २०७४ | पक्ष: | शुक्ल पक्ष |
| तिथि: | द्वितीया – १२:२२ तक |  शिशिर ऋतू |  शुक्रवार |