"Recent studies indicate that stress and emotions can be 'contagious'. Whether this has lasting consequences for the brain is not known."
Emotions are contagious and they spread like viral infection epidemics. This is the reason, we not only care for our mental stability but societal mental stability. We are continuously receiving stress signals from family members, friends and co-workers. And when the time is not right, we too fall into psychological trap.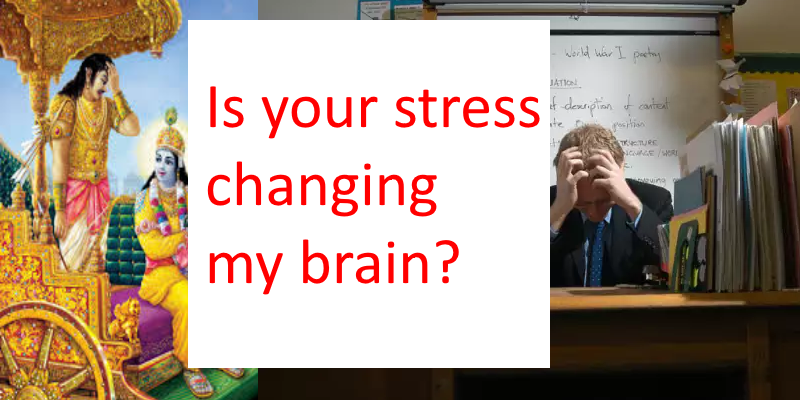 After reading this research, do ponder upon certain questions raised here:
Can low-paid teachers provide your kids a healthy mental environment? [1]
Why teacher/Guru obsessed with money won't be ideal for your child
If teacher-student are not living in residential setup, they are prone to societal stress. Such stress will hinder growth and knowledge learning. Forget about self-realization
At work-place, why we must strive for stress-free environment?
At home, even minor stress in family member is dangerous for kids' brain and emotional development
"We readily communicate our stress to others, sometimes without even knowing it. There is even evidence that some symptoms of stress can persist in family and loved ones of individuals who suffer from PTSD. On the flip side, the ability to sense another's emotional state is a key part of creating and building social bonds."
विषाद योग : First chapter of Bhagwad gita is known for Arjun's विषाद. Even mighty Arjuna fall into the emotional trap.
My rational friend: "There is nothing much in "अर्जुन विषाद योग". One can very well skip first chapter of Gita."
"My dear friend, you are saying that observing seeds is not important in raising a tree/plant?
विषाद is the reason, we got Gita and you want to ignore it?
It was Dhritrashtra's विषाद that led to war and it was Arjun's विषाद that led to Gita followed by win by Pandava. And you want to ignore?
Arjun's stress was due to Dhritrashtra's stress, via Sanjaya's psychological warfare. धृतराष्ट्र tried everything to blackmail पांडव using धार्मिक-diplomacy of संजय (उद्योग पर्व – २२ से ३२)
So deep that even warrior like Arjuna forgot स्वधर्म!
Beware!~ Psychological warfare! Learn! Learn!Learn!
Now, let us understand what the modern research has to say!
[1] https://www.npr.org/sections/ed/2016/12/30/505432203/teachers-are-stressed-and-that-should-stress-us-all

We all experience stress at work, no matter the job. But for teachers, the work seems to be getting harder and the stress harder to shake.

A new report out this month pulls together some stark numbers on this:

Forty-six percent of teachers say they feel high daily stress. That's on par with nurses and physicians. And roughly half of teachers agree with this statement: "The stress and disappointments involved in teaching at this school aren't really worth it."

It's a problem for all of us — not just these unhappy teachers.
---
Research
---
Social transmission and buffering of synaptic changes after stress
This research from the Bains lab indicates that stress and social interactions are intricately linked. The consequences of these interactions can be long-lasting and may influence behaviours at a later time.
The team discovered that the activation of these CRH neurons causes the release of a chemical signal, an 'alarm pheromone', from the mouse that alerts the partner. The partner who detects the signal can in turn alert additional members of the group. This propagation of stress signals reveals a key mechanism for transmission of information that may be critical in the formation of social networks in various species.
Another advantage of social networks is their ability to buffer the effects of adverse events. The Bains team also found evidence for buffering of stress, but this was selective. They noticed that in females the residual effects of stress on CRH neurons were cut almost in half following time with unstressed partners. The same was not true for males.
Bains suggests that these findings may also be present in humans. "We readily communicate our stress to others, sometimes without even knowing it. There is even evidence that some symptoms of stress can persist in family and loved ones of individuals who suffer from PTSD. On the flip side, the ability to sense another's emotional state is a key part of creating and building social bonds."
https://www.nature.com/articles/s41593-017-0044-6