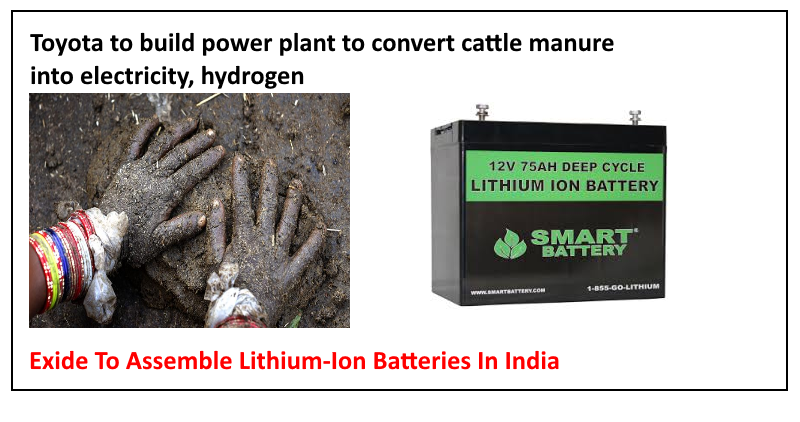 When your leaders are  not aligned with real potential of cattle, they prepare for mass destruction by promoting cow slaughter and beef export.
There is a great potential in cow-dung. We have discussed  many time the value of cow dung in sustainable economy. From food production to energy, mother cow is really Kamadhenu!
Old posts on cow-dung
Japanese automobile giant Toyota is making some exciting moves in the realm of renewable, clean energy. They realized the value of manure and taking bold steps. Unlike present Indian companies and govt.
I hope Indian govt realize the realize untapped potential of cow dung and invest heavily in it instead of wasting same money behind toxic electric batteries production.
---
News
---
Toyota to build power plant to convert cattle manure into electricity, hydrogen
https://www.usatoday.com/story/money/cars/2017/11/30/toyota-cattle-manure/909405001/
Toyota's New Power Plant Will Create Clean Energy from Manure
Toyota plans to build a power plant in California that captures methane gas from dairy cattle manure to generate water, electricity and hydrogen.
"We understand the tremendous potential to reduce emissions and improve society," said Doug Murtha, Toyota's North America group vice president for strategic planning.
The company announced the project Thursday at the Los Angeles auto show. The Tri-Gen Project at the Port of Long Beach, Calif., will be the world's first commercial-scale 100% renewable power and hydrogen generation plant. Toyota is betting heavily on fuel-cell technology, especially in Japan.
When it comes online around 2020, Tri-Gen will produce enough energy to power the equivalent of about 2,350 average-sized homes and meet the daily driving needs of nearly 1,500 vehicles — approximately 2.35 megawatts of electricity and 1.2 tons of hydrogen per day, according to Toyota.
In addition, the hydrogen fueling station will support the automaker's operations at the port.
"Tri-Gen is a major step forward for sustainable mobility and a key accomplishment of our 2050 environmental challenge to achieve net zero CO2 emissions from our operations," Murtha said.