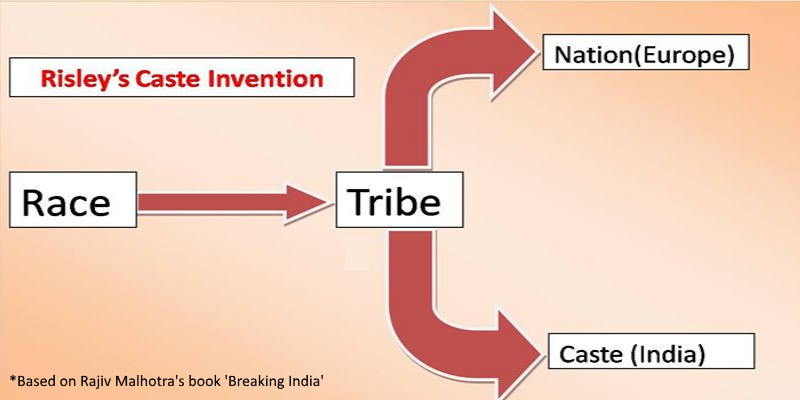 There is common notion among us that Caste is inherrent nature of us. Our education sytem is poorest of possible and never differentiate difference between Jati vs Varna vs Caste and hence we become easy prey for invaders. Invaders can easily exploit us by our own scriptures (by nonsensical translations) and own people (Rulers and bureocrates). Majority of educated Indians, at the time of independence, believed in Racial pseudo-science propogated by British masters. They started believing that there are indeed racial difference between them and poor Indian brothers. What a shame!

Rural India society was never vertically stratified as it was taught by colonial masters but its structures were more horizontally organized. Society was used to be oceanic circle than western pyramid model.
Dharmpal's writings have already debunked the myth that  Dalits had no place in the indigenous system of education till Britishers introduced education system designed by McCauley.[0]
When the British began to conquer India, the majority of the rajas in different parts of India had also been from amongst such castes which have been placed in the sudra varna.[0] (Example : Solanki and Chauhan are considered Sudra in Gujarat while they were prominent rulers(kshtriya) before Muslim invasion)
Yet it can, perhaps also be argued that the existence of caste has added to the tenacity of Indian society, to its capacity to survive and after lying low to be able to stand up again.  The British demonized caste because it stood in the way of their breaking Indian society, hindered the process of atomization, and made the task of conquest and governance more difficult. Today's backward classes or Sudras cultural and economic backwardness is post 1800 due to impact of British economic policies.• Madras Presidency 1822 survey showed sudras and castes below formed 70 per cent to 80 per cent of the total students in the Tamil speaking areas. • Some of today's Bihar's notified tribes were whose ancestors were warriors and gave unceasing battle to the British till they got exhausted and succumbed to the overwhelming British power. Besides being warriors, their main occupations are said to have been of ironsmith (Iuhar) etc. Agriculture• In 1804 according to The Edinburgh Review wages of the Indian agricultural laborer were also much more than British counter part. • There is a paper by Capt. Halcott on the drill plough employed in south India. He has said that he never imagined a drill plough considered as a modern European invention, at work in remote village in India• High Yields were on account of the variety of seeds available to the Indian peasant, the sophistication and simplicity of his tools, and the extreme care and labor he expended in tending to his fields and crops.
List is endless. Do read books by Dharmapal for more details. Let us explore how Britishers invented Caste system by devilish census and legalized it.
Race Science invention
In 18th century, European scholars invented 'Race Science'
Colonial administrators were quick to recognize the potential of this emerging field and utilized it as an effective governing tool by employing imaginary racial categories on vague biblical references.
They imposed these baseless racial categories like signposts on top of the many distinctive regional and linguistic communities in Bharat.
These imported classification led to greater fragmentation and conflicts within country.
Max Muller's ill-fashioned interpretation of Vedas
Max Muller played vital role in this classifications. William Jones, Max Muller and other Indologists of their times were impressed by Bharatiya scriptures and society's prosperity dedicated to scriptures. This is popular story. Real story: British East India Company and Majority MPs(Including Churchil) in British parliament were paid agents of Jews bankers. William Jones, and Max Muller were both Jews! William Jones, and Max Muller were not controlled by the Vatican, they control the Vatican! Aryan Invasion theory was created by Jews Indologists like Max Muller. Indologists appointed by East India Company and British govt, just danced to the tune of Zionist financier Rothschild(s) who financed East India Company. Sustaining India business was very critical for their investments.
Max Muller's Rig Veda interpretation is based on Aryan Invasion Theory hypothesis (Which is false theory, proved now) and he interpreted War Hymns in Rig veda as clash between two racial groups i.e. Aryans and Non-aryans. So he sought physical features of Aryans and non-aryans and voila! He found nose-length as one such differentiating feature!
Max Muller's interpretation claimed that only three Varnas are Aryans while the fourth, shudra is not Aryan.
This enough for other colonial scholars to exploit the theory for their prejudice against Indians.
Max Muller was largely responsible for promoting race science to study Jatis in Bharat to serve his evangical motive. Max Muller would display great affection for Indian scriptures but in his closed Christian group, his motive was clear i.e. By hook or crook, convert India to Christianity. Jati fragmentation based on Race was vital tool for it![1]
Max Muller's private letter to Herbert Risley is also evidence for their motives of exploiting Jatis.
Herbert Hope Risley anthropometry and Race Science
Major caste based discrimination of our time is reflected in caste based reservation protests. This natural evidence that legalization of Jati(s) played vital role in aggravation of discrimination.
Chor Herbert Hope Risley was powerful was a powerful colonial bureaucrat. He developed Nasal-Index to separate Aryan communities in India from the non-aryan communities based on stupid invasion theory (which many Educated Indians still believe true! And this hidden false believe is prime reason for caste discrimination!)
His massive documentation of Indian Jatis was enough to convince gullible English-system educated Indians  and British masters, which froze dynamic quality and mobility found in Jati system within Varna Matrix.
Following him, various colonial studies, transformed Jatis into racial categories rather than identities based on occupation. Stupid NASAL INDEX not only separated Jatis into Aryan vs Non-Aryan but also classified non-aryans by physical traits from mainstream Hindu society. He compared, black worked in America to so called non-Aryans in India and had sown seeds for Afro-Dalit movement which is major factor in Christian conversion in southern Indian states.
Risley was not knowing Sanskrit. He never read Vedas but he further distorted Muller's Rig Veda interpretation. He falsely stated that Vedas has frequent references to the Nasal Index.
Risley created mutually exclusive ethnic categories out of flexible and cohesive Jati structure and using census assigned them legal significance.
Even he classified Tribes as NON-HINDUS! This is how tribes were officially institutionalized!
Further Dasa and Dasyu mentioned in Vedas were translated to dark-skinned scavengers, who actually were gift of Muslim rulers [2].
He gave lucid theory that tribes in Europe became Nations while Tribes (Aryans) in India, intermixing with local Dravidians, contaminated the living and invented castes! What a nonsence! Irony is, his classification is still being used in India for legal procedures for identifying castes on false racial origins!
He was considered as social Darwin for his caste design in India!
He considered Dharma shashtra(s) of various times as mere 'Racial sentiments'!
These are prime seeds sown which became Dalit movements and Anti-brahmin movements in India after independence.
Dr. Ambedkar demolishes this stupid nasal-index science. He used Risley's own data to disapprove his nonsensical theory. [3]
Solutions:
Individual level:
1) Plan trips to tribal areas. Live with them. Understand their culture. Invite them to your home in cities.
2) Sponsor and monitor progress of tribal students education (Do not rely on NGOs. Do it yourself!)
3) Do not blame each other for descrimination (Shudra blaming Brahmans, Brahmans blaming reservation etc), instead try to find solutions for this menace.
Administration level:
Laws to reduce casteism- Transparent Complaint Procedure, ability to recall corrupt administrative officers. More power to villages for laws and orders.
References:
[0] For more info, read books by Dharmapal. Results of app 1820 survey in South India showed large number of schools, sudras lower castes were 70% of students, large nos of Muslim girls went to school in Malabar.
[1] Forrester on Christian Ethics and Practical Theology: Collected Writings on Christianity, India, and the Social Order by Duncan B. Forrester [https://docs.google.com/open?id=0B7R8KcZtJUs3bnVJc0ZVRDkxMlk]
[2] http://prachodayat.in/scavenging-invention-scavenger-caste-harijan/
[3] The untouchables by Dr. ambedkar Chapter 6
Bibiliography:
Breaking India by Rajiv Malhotra
The untouchables by Dr. Ambedkar