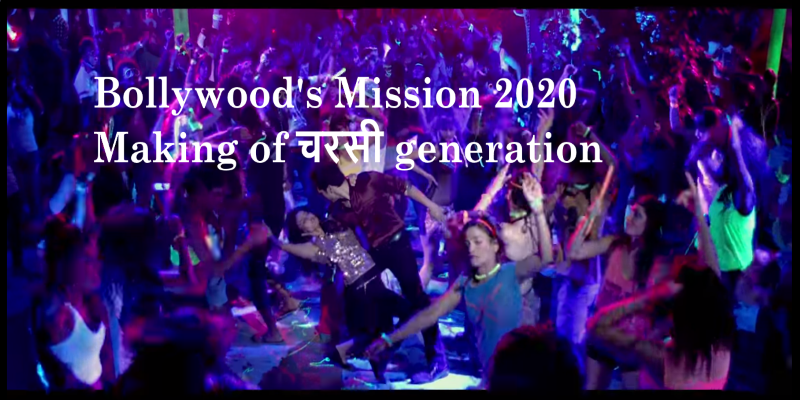 What Bollywood's (or its fund raisers, who also fund media, online media and social media) mission for 2020?
Mission Drug Usage Normalisation.
It is India where youth is still not taking enough drugs compare to world [1]. And since it is biggest population with demographic dividend, it is great business hub for drugs.
Look at the movies produced in last 2 years. All of them show drug as new status symbol. New IN thing.
One of the most important questions regarding media effects concerns the extent to which people may be immune to influence when they are aware that portrayals are fictional. This becomes very critical in case of children as for them, even real world is like fantasy. It becomes very critical when the content presented is explicit as it sex is a domain of imagination and fantasy. So when they are exposed to explicit content more often, they develop a version of psyche where there is hardly chance to distinguish real from virtual.
More exposure of TV (or any medium that blurs their lines of virtual vs. Real) to children, more chances of them becoming perverted adults. Degree of perversion vary with how positive environment is provided to them to counter and extinguish such negative experiences.
In the era of Internet and communication, you really don't need to do much. Just coin new level of pervert idea, be it about drugs or alcohol or sex and then add it as joke in Bollywood movie or FMCG ad. That is it.
The next level of spread is by You-tubers and Whatsapp marketers. They will create more artefacts based on original idea.
Within 2-3 months, it will be normalised. Like how Condom and social drinking/smoking is new normal in college going students, drug and pedophilia are next missions for Bollywood.
Punjab is already succumbed to Drug menace. Other border states like Gujarat and Rajasthan, are also observing it.[2]
Enjoy the outcomes of विकास. Don't complain when your school going teen boy or girl come home guilty of unimagined act(s). We as a society sow the seeds.
"It costs one-twentieth the price of cocaine, is not banned and can be home delivered. No wonder then that mephedrone or 'meow meow' is wreaking havoc in the lives of city youth, who are increasingly getting addicted to this latest entrant into the party drugs scene"
This is not scare you or spread fear but to warn and remain vigilant about food.
If you have college going youth at home or in neighbor, I advice you to instruct him/her to stop eating food in college canteen (Not hostel mess where one can have close control and observations) and near by hotels.
A friend's brother got sudden tightening of muscles. Only thing he included in routine was to eat bataka-paua at canteen. He stopped it and things became normal within a month.
As per information I got, possible usage of steroids or similar additives is found. Take care.
Eating home food or preparing food for self or eating only at known trusted places. Take care.
[1] https://www.globaldrugsurvey.com/the-global-drug-survey-2015-findings/
[2] https://www.mid-day.com/articles/dangerous-new-drug-meow-meow-haunts-mumbai-youth/15228056