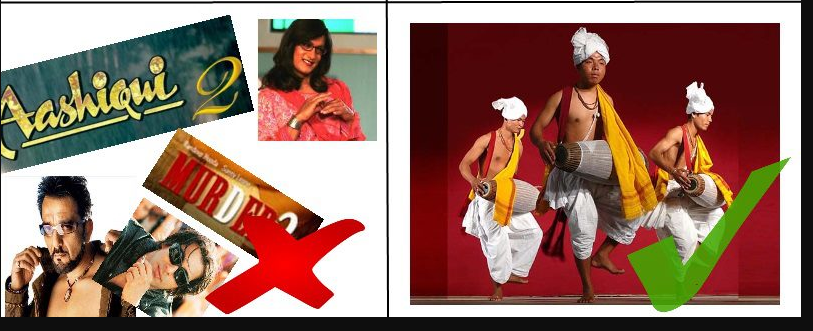 Original Note: https://www.facebook.com/photo.php?fbid=232350906889825&set=a.104143259710591.4473.100003447535584&type=3
To install Nature's reflection in our otherwise mundane life, Art is necessity. Deva(s) (Senses) get nurtured best when life's different aspects are pursued artistically. That includes food, clothes, ornaments, home, city, vehicles, literature. Aesthetics is need of fulfilled life. But when ART becomes symbol of amusement and dalliance, it loses all her benefits. And so Art which brings death to life by amusements and indulgence must be desisted, at individual level as well as at societal level. And so we must boycott Bollywood and allied perverted branches of Art.
If you wish to see धर्म संस्थापनाय in reality, start now. Boycott Bollywood and their pervert ideas.
===========
न रूपं पापवृतये – Kalidasa (Kumarasambhava)
Beauty/Art is necessity but not with indoctrination of wickedness
PS: While Kalidasa correctly conveys what form of art is appreciable, many modern Artists propagates their pervertedness by comparing their cheap art with Kalidasa! How shameful!
Real art is born of divine spark and is hence touch our reality which is soul and not mind.
"That which merely entertains and shocks cannot be art. However, boycotting may not be the solution as long as audience too prefers to dwell in the senses, since they have not yet had even a glimpse of divinity within."
"Yes, boycotting is reactive solution. Not ultimate. May by boycott, there will be enough space and time in our lives to spend for divinity glimpse."