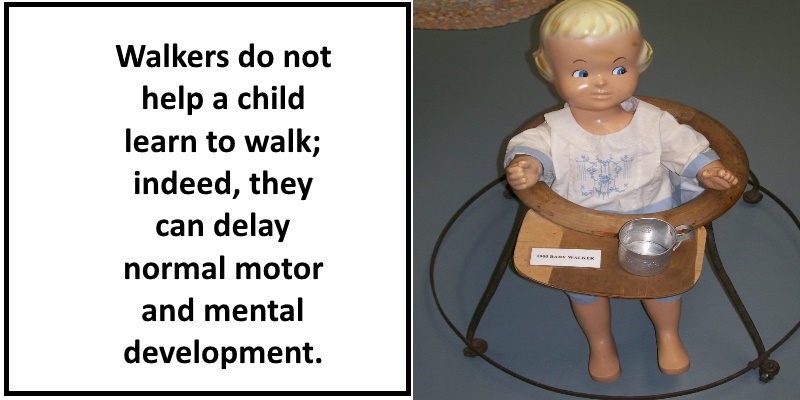 Two things are happening in India that controls parenting actions. 1) Increasing middle income group 2) Cheap toys dumping by China
On top of it, thanks to communication revolution (TV, Media, Mobile, Internet), majority are now connected to global world and hence there is continuous mimicry going on to ape the western world.
One such blind choice parents make is : Present walker to infant.
During infancy, kid has infinite learning assignments. Their uncontrolled energy is exploring world beyond womb. It is the time when mind is developing with this fresh new body.
We usually think our mind is in control and telling our body what to do. But there is a lot of scientific evidence that shows the chatter between mind and body goes two ways, and the body is an integral part of how we think.
For infants, it is body under the control of mother nature, shaping mind!
University of Chicago Professor Sian Beilock, a leading expert on the brain science behind human performance, believes the body-mind connection starts early.
"Movement matters with everyone, but it is especially important for babies and young children," said Beilock. "Mobile kids hit cognitive milestones faster." She said that simple steps like allowing babies to run around naked — when appropriate — can help them explore their worlds. Beilock said wearing diapers and using baby walkers can limit a baby's ability to interact with the world and hinder the process of learning how to walk. The more quickly children learn how to walk and explore, the faster their cognitive development.
Beilock said wearing diapers and using baby walkers can limit a baby's ability to interact with the world and hinder the process of learning how to walk.
Initial years of childhood is the time of play, and as mammals, we are actually designed to learn through play, which is how we gather information. Let your child enjoy care-free world of learning.
This is not limited infant age.
Incorporating physical activity into more subjects can help kids learn in school, according to Beilock.
"We can't just keep students confined to their chairs — we have to get them up, out and moving," Beilock said. "When the subjects are math or physics, getting students to actually physically experience some of the concepts they're learning about changes how their brains process the information and can lead to better performance on a test." Movement also helps explain the connection between music and math. Why do kids tend to excel in both? It's because the brain areas controlling finger dexterity and number largely overlap. Beilock unpacks the latest research showing that when kids exercise their fingers through regular piano play, their grasp of numbers improves.
Exercise can aid mental health as well as academic achievement, according to Beilock. "The research shows that getting kids moving is important not only for their physical well-being, but for their mental well-being, too." She said schools need to emphasize "the "4 Rs" — reading, (w)riting, (a)rithmetic and recess. Boys' academic achievement may especially benefit from recess, she added. [1]
Now again back to topic of walkers.
In 2001, American Association of pediatrics published a statement on walkers. Here are some numbers
In 1999, an estimated 8800 children younger than 15 months were treated in hospital emergency departments in the United States for injuries associated with infant walkers.
Thirty-four infant walker-related deaths were reported from 1973 through 1998. The vast majority of injuries occur from falls down stairs, and head injuries are common.
Walkers do not help a child learn to walk; indeed, they can delay normal motor and mental development. 
Because data indicate a considerable risk of major and minor injury and even death from the use of infant walkers, and because there is no clear benefit from their use, the American Academy of Pediatrics recommends a ban on the manufacture and sale of mobile infant walkers. 
Please don't act like a villain for your kid. Let it be in free-flow of life!
If you really wish to aid your kid about walking skills, below is the better option. It is designed to serve the real purpoe i.e. free flow learning.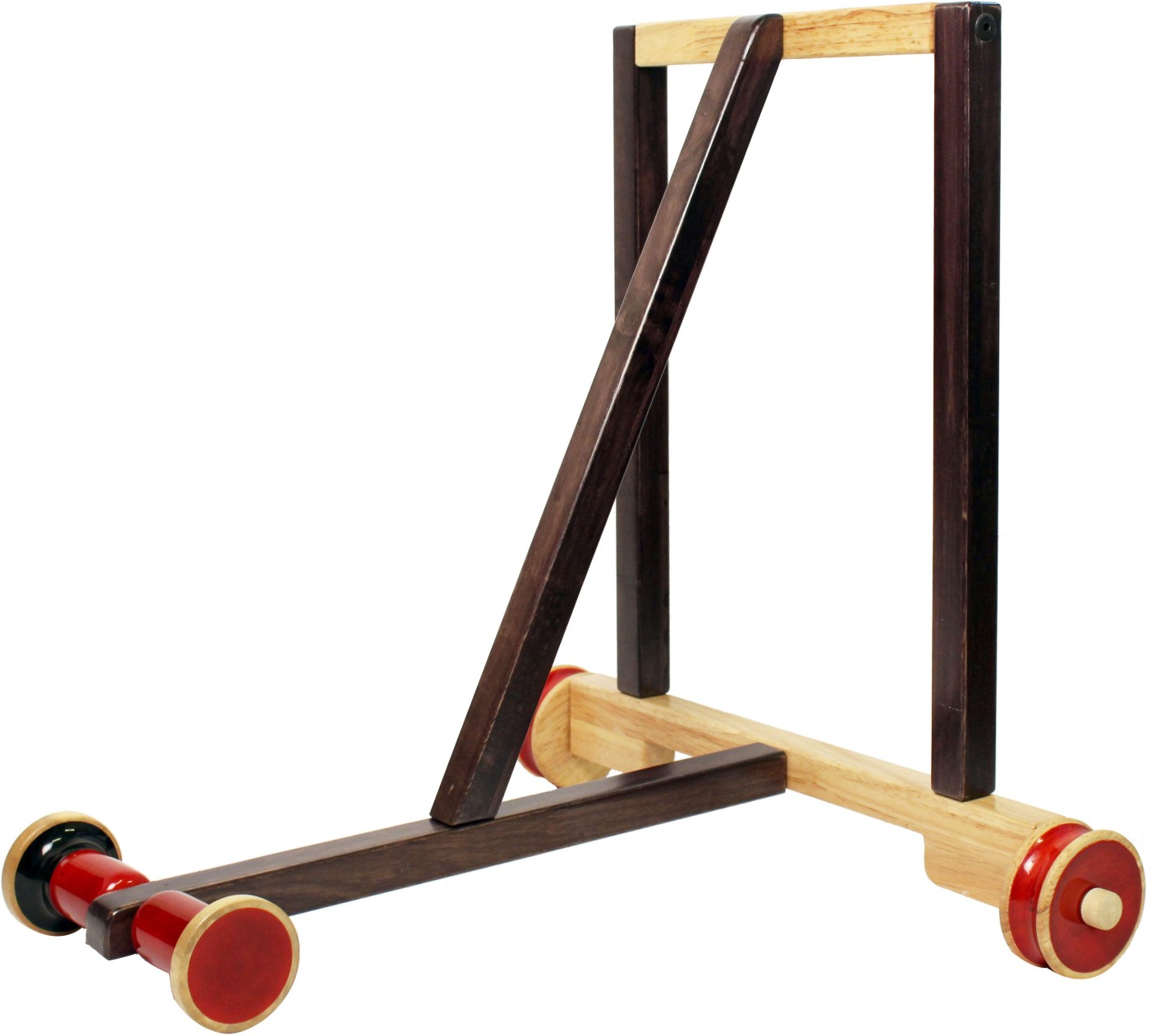 ---
Research
---
[1] Mind-body connection not a one-way street
New book shares science on how the body can influence the mind
https://news.uchicago.edu/article/2015/01/07/mind-body-connection-not-one-way-street
How the Body Knows Its Mind provides many tips on how to use one's body, actions or surroundings to stimulate the mind and to influence those around you. She offered a few suggestions to improve the body-mind connection:
Take active breaks from work or vexing problems to give your brain a chance to regroup and reboot. Physically walking away from the problem for a few minutes may help you solve it.
Your body's posture and expressions are not just reflections of your mind—they can influence your mood. Stand tall to help give yourself confidence and to send a signal to those around you that you have brought your "A" game to the table. And be mindful of your facial expressions. Your brain uses your expressions as cues to feel emotions. Smiling can actually make you feel happier.
Practice in the real conditions under which you will have to perform—whether it's public speaking, a test or an important match. It's also good to practice in front of others so when all eyes are on you, it's nothing new.
Write it out. Journaling can help you deal with the stress of a test or your worries in daily life. Physically downloading worries from your mind (by putting pen to paper) has positive performance outcomes and reducing that stress affects your health in good ways, too.
Spend time in nature as often as you can, and find time to meditate. New science shows that a walk in the woods rejuvenates our minds and improves our ability to pay attention and focus. Meditation for even a few minutes a day can help alleviate anxiety and chronic pain. It also can help with self-control that may be helpful for working to break bad habits, like smoking.
[2] Injuries Associated With Infant Walkers