This post is purely compilations of references. I am not fit enough to interpret them. But for me, it is enough evidence that connects Sikhism to main-stream Sanatana dharma as one branch.
One of my favorite reference:
घड़ीआ सभे गोपीआ पहर कंन्ह गोपाल ॥
All the hours are the milk-maids, and the quarters of the day are the Krishnas.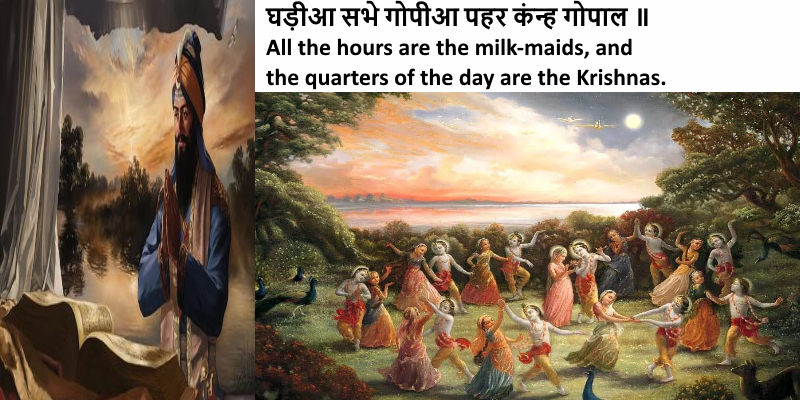 ---
Page 6, Line 1
ਆਖਹਿ ਗੋਪੀ ਤੈ ਗੋਵਿੰਦ ॥
आखहि गोपी तै गोविंद ॥
Ākẖahi gopī ṯai govinḏ.
The Gopis and Krishna speak.
Guru Nanak Dev – view Shabad/Paurhi/Salok
Page 7, Line 15
ਕੇਤੇ ਪਵਣ ਪਾਣੀ ਵੈਸੰਤਰ ਕੇਤੇ ਕਾਨ ਮਹੇਸ ॥
केते पवण पाणी वैसंतर केते कान महेस ॥
Keṯe pavaṇ pāṇī vaisanṯar keṯe kān mahes.
So many winds, waters and fires; so many Krishnas and Shivas.
Guru Nanak Dev – view Shabad/Paurhi/Salok
Page 73, Line 3
ਗੋਪੀ ਨੈ ਗੋਆਲੀਆ ॥
गोपी नै गोआलीआ ॥
Gopī nai go▫ālī▫ā.
You are the Gopis, the milk-maids of Krishna; You are the sacred river Jamunaa; You are Krishna, the herdsman.
Guru Nanak Dev – view Shabad/Paurhi/Salok
Page 75, Line 2
ਹਥੋ ਹਥਿ ਨਚਾਈਐ ਵਣਜਾਰਿਆ ਮਿਤ੍ਰਾ ਜਿਉ ਜਸੁਦਾ ਘਰਿ ਕਾਨੁ ॥
हथो हथि नचाईऐ वणजारिआ मित्रा जिउ जसुदा घरि कानु ॥
Hatho hath nacẖā▫ī▫ai vaṇjāri▫ā miṯrā ji▫o jasuḏā gẖar kān.
From hand to hand, you are passed around, O my merchant friend, like Krishna in the house of Yashoda.
Guru Nanak Dev – view Shabad/Paurhi/Salok
Page 98, Line 9
ਗੁਰਮੁਖਿ ਸੰਗੀ ਕ੍ਰਿਸਨ ਮੁਰਾਰੇ ॥
गुरमुखि संगी क्रिसन मुरारे ॥
Gurmukẖ sangī krisan murāre.
The Lord Krishna becomes the Gurmukh's Companion.
Guru Arjan Dev – view Shabad/Paurhi/Salok
Page 165, Line 6
ਕ੍ਰਿਸਨੁ ਬਲਭਦ੍ਰੁ ਗੁਰ ਪਗ ਲਗਿ ਧਿਆਵੈ ॥
क्रिसनु बलभद्रु गुर पग लगि धिआवै ॥
Krisan balbẖaḏaro gur pag lag ḏẖi▫āvai.
Even Krishna and Balbhadar meditated on the Lord, falling at the Guru's Feet.
Guru Ram Das – view Shabad/Paurhi/Salok
Page 174, Line 10
ਹਰਿ ਆਪੇ ਕਾਨ੍ਹ੍ਹੁ ਉਪਾਇਦਾ ਮੇਰੇ ਗੋਵਿਦਾ ਹਰਿ ਆਪੇ ਗੋਪੀ ਖੋਜੀ ਜੀਉ ॥
हरि आपे कान्हु उपाइदा मेरे गोविदा हरि आपे गोपी खोजी जीउ ॥
Har āpe kānĥ upā▫iḏā mere goviḏā har āpe gopī kẖojī jī▫o.
The Lord Himself created Krishna, O my Lord of the Universe; the Lord Himself is the milkmaids who seek Him.
Guru Ram Das – view Shabad/Paurhi/Salok
Page 338, Line 5
ਬਿੰਦ੍ਰਾਬਨ ਮਨ ਹਰਨ ਮਨੋਹਰ ਕ੍ਰਿਸਨ ਚਰਾਵਤ ਗਾਊ ਰੇ ॥
बिंद्राबन मन हरन मनोहर क्रिसन चरावत गाऊ रे ॥
Binḏrāban man haran manohar krisan cẖarāvaṯ gā▫ū re.
In Brindaaban, where Krishna grazes his cows, he entices and fascinates my mind.
Devotee Kabir – view Shabad/Paurhi/Salok
Page 338, Line 17
ਲਖ ਚਉਰਾਸੀਹ ਜੀਅ ਜੋਨਿ ਮਹਿ ਭ੍ਰਮਤ ਨੰਦੁ ਬਹੁ ਥਾਕੋ ਰੇ ॥
लख चउरासीह जीअ जोनि महि भ्रमत नंदु बहु थाको रे ॥
Lakẖ cẖa▫orāsīh jī▫a jon mėh bẖarmaṯ nanḏ baho thāko re.
Wandering through 8.4 million incarnations, Krishna's father Nand was totally exhausted.
Devotee Kabir – view Shabad/Paurhi/Salok
Page 338, Line 17
ਭਗਤਿ ਹੇਤਿ ਅਵਤਾਰੁ ਲੀਓ ਹੈ ਭਾਗੁ ਬਡੋ ਬਪੁਰਾ ਕੋ ਰੇ ॥੧॥
भगति हेति अवतारु लीओ है भागु बडो बपुरा को रे ॥१॥
Bẖagaṯ heṯ avṯār lī▫o hai bẖāg bado bapurā ko re. ||1||
Because of his devotion, Krishna was incarnated in his home; how great was the good fortune of this poor man! ||1||
Devotee Kabir – view Shabad/Paurhi/Salok
Page 338, Line 18
ਤੁਮ੍ਹ੍ਹ ਜੁ ਕਹਤ ਹਉ ਨੰਦ ਕੋ ਨੰਦਨੁ ਨੰਦ ਸੁ ਨੰਦਨੁ ਕਾ ਕੋ ਰੇ ॥
तुम्ह जु कहत हउ नंद को नंदनु नंद सु नंदनु का को रे ॥
Ŧumĥ jo kahaṯ ha▫o nanḏ ko nanḏan nanḏ so nanḏan kā ko re.
You say that Krishna was Nand's son, but whose son was Nand himself?
Devotee Kabir – view Shabad/Paurhi/Salok
Page 345, Line 4
ਚਰਨ ਬਧਿਕ ਜਨ ਤੇਊ ਮੁਕਤਿ ਭਏ ॥
चरन बधिक जन तेऊ मुकति भए ॥
Cẖaran baḏẖik jan ṯe▫ū mukaṯ bẖa▫e.
The hunter who shot Krishna in the foot – even he was liberated.
Devotee Namdev – view Shabad/Paurhi/Salok
Page 350, Line 16
ਜੀਅ ਉਪਾਇ ਜੁਗਤਿ ਹਥਿ ਕੀਨੀ ਕਾਲੀ ਨਥਿ ਕਿਆ ਵਡਾ ਭਇਆ ॥
जीअ उपाइ जुगति हथि कीनी काली नथि किआ वडा भइआ ॥
Jī▫a upā▫e jugaṯ hath kīnī kālī nath ki▫ā vadā bẖa▫i▫ā.
You created all beings, and You hold the world in Your Hands; what greatness is it to put a ring in the nose of the black cobra, as Krishna did?
Guru Nanak Dev – view Shabad/Paurhi/Salok
Page 445, Line 15
ਜੁਗੁ ਦੁਆਪੁਰੁ ਆਇਆ ਭਰਮਿ ਭਰਮਾਇਆ ਹਰਿ ਗੋਪੀ ਕਾਨ੍ਹ੍ਹੁ ਉਪਾਇ ਜੀਉ ॥
जुगु दुआपुरु आइआ भरमि भरमाइआ हरि गोपी कान्हु उपाइ जीउ ॥
Jug ḏu▫āpur ā▫i▫ā bẖaram bẖarmā▫i▫ā har gopī kānĥ upā▫e jī▫o.
The Brass Age of Dwaapar Yuga came, and people wandered in doubt. The Lord created the Gopis and Krishna.
Guru Ram Das – view Shabad/Paurhi/Salok
Page 445, Line 19
ਜੁਗੁ ਦੁਆਪੁਰੁ ਆਇਆ ਭਰਮਿ ਭਰਮਾਇਆ ਹਰਿ ਗੋਪੀ ਕਾਨ੍ਹ੍ਹੁ ਉਪਾਇ ਜੀਉ ॥੩॥
जुगु दुआपुरु आइआ भरमि भरमाइआ हरि गोपी कान्हु उपाइ जीउ ॥३॥
Jug ḏu▫āpur ā▫i▫ā bẖaram bẖarmā▫i▫ā har gopī kānĥ upā▫e jī▫o. ||3||
The Brass Age of Dwaapar Yuga came, and the people wandered in doubt. The Lord created the Gopis and Krishna. ||3||
Guru Ram Das – view Shabad/Paurhi/Salok
Page 464, Line 17
ਕੇਤੀਆ ਕੰਨ੍ਹ੍ਹ ਕਹਾਣੀਆ ਕੇਤੇ ਬੇਦ ਬੀਚਾਰ ॥
केतीआ कंन्ह कहाणीआ केते बेद बीचार ॥
Keṯī▫ā kanĥ kahāṇī▫ā keṯe beḏ bīcẖār.
There are so many stories of Krishna, so many who reflect over the Vedas.
Guru Nanak Dev – view Shabad/Paurhi/Salok
Page 465, Line 5
ਘੜੀਆ ਸਭੇ ਗੋਪੀਆ ਪਹਰ ਕੰਨ੍ਹ੍ਹ ਗੋਪਾਲ ॥
घड़ीआ सभे गोपीआ पहर कंन्ह गोपाल ॥
Gẖaṛī▫ā sabẖe gopī▫ā pahar kanĥ gopāl.
All the hours are the milk-maids, and the quarters of the day are the Krishnas.
Guru Nanak Dev – view Shabad/Paurhi/Salok
Page 465, Line 9
ਗਾਵਨਿ ਗੋਪੀਆ ਗਾਵਨਿ ਕਾਨ੍ਹ੍ਹ ॥
गावनि गोपीआ गावनि कान्ह ॥
Gāvan gopī▫ā gāvan kānĥ.
They sing of the milk-maids, they sing of the Krishnas.
Guru Nanak Dev – view Shabad/Paurhi/Salok
Page 469, Line 15
ਏਕ ਕ੍ਰਿਸਨੰ ਸਰਬ ਦੇਵਾ ਦੇਵ ਦੇਵਾ ਤ ਆਤਮਾ ॥
एक क्रिसनं सरब देवा देव देवा त आतमा ॥
Ėk krisan'n sarab ḏevā ḏev ḏevā ṯa āṯmā.
The One Lord Krishna is the Divine Lord of all; He is the Divinity of the individual soul.
Guru Angad Dev – view Shabad/Paurhi/Salok
Page 470, Line 6
ਜੁਜ ਮਹਿ ਜੋਰਿ ਛਲੀ ਚੰਦ੍ਰਾਵਲਿ ਕਾਨ੍ਹ੍ਹ ਕ੍ਰਿਸਨੁ ਜਾਦਮੁ ਭਇਆ ॥
जुज महि जोरि छली चंद्रावलि कान्ह क्रिसनु जादमु भइआ ॥
Juj mėh jor cẖẖalī cẖanḏrāval kānĥ krisan jāḏam bẖa▫i▫ā.
In the Jujar Veda, Kaan Krishna of the Yaadva tribe seduced Chandraavali by force.
Guru Nanak Dev – view Shabad/Paurhi/Salok
Page 567, Line 10
ਸੋਵੰਨ ਢਾਲਾ ਕ੍ਰਿਸਨ ਮਾਲਾ ਜਪਹੁ ਤੁਸੀ ਸਹੇਲੀਹੋ ॥
सोवंन ढाला क्रिसन माला जपहु तुसी सहेलीहो ॥
Sovann dẖālā krisan mālā japahu ṯusī sahelīho.
His body is cast in gold, and He wears Krishna's mala; meditate on Him, O sisters.
Guru Nanak Dev – view Shabad/Paurhi/Salok
Page 606, Line 16
ਆਪੇ ਗੋਪੀ ਕਾਨੁ ਹੈ ਪਿਆਰਾ ਬਨਿ ਆਪੇ ਗਊ ਚਰਾਹਾ ॥
आपे गोपी कानु है पिआरा बनि आपे गऊ चराहा ॥
Āpe gopī kān hai pi▫ārā ban āpe ga▫ū cẖarāhā.
The Beloved Himself is the milk-maid and Krishna; He Himself herds the cows in the woods.
Guru Ram Das – view Shabad/Paurhi/Salok
Page 693, Line 17
ਕ੍ਰਿਸ੍ਨਾ ਤੇ ਜਾਨਊ ਹਰਿ ਹਰਿ ਨਾਚੰਤੀ ਨਾਚਨਾ ॥੧॥
क्रिस्ना ते जानऊ हरि हरि नाचंती नाचना ॥१॥
Krisnā ṯe jān▫ū har har nācẖanṯī nācẖnā. ||1||
Know that, through Krishna, the Lord, Har, Har, the dance of creation dances. ||1||
Devotee Namdev – view Shabad/Paurhi/Salok
Page 695, Line 3
ਕੁਲ ਜਨ ਮਧੇ ਮਿਲ੍ਯ੍ਯਿੋ ਸਾਰਗ ਪਾਨ ਰੇ ॥
कुल जन मधे मिल्यिो सारग पान रे ॥
Kul jan maḏẖe mili▫yo sārag pān re.
Among the men of the moon's family, Krishna was born;
Devotee Trilochan – view Shabad/Paurhi/Salok
Page 718, Line 19
ਸੰਤਾਂ ਮਧੇ ਗੋਬਿੰਦੁ ਆਛੈ ਗੋਕਲ ਮਧੇ ਸਿਆਮ ਗੋ ॥
संतां मधे गोबिंदु आछै गोकल मधे सिआम गो ॥
Sanṯā'n maḏẖe gobinḏ ācẖẖai gokal maḏẖe si▫ām go.
The Lord of the Universe, Govind, is within His Saints; Krishna, Shyaam, is in Gokal.
Devotee Namdev – view Shabad/Paurhi/Salok
Page 727, Line 10
ਹਕੁ ਸਚੁ ਖਾਲਕੁ ਖਲਕ ਮਿਆਨੇ ਸਿਆਮ ਮੂਰਤਿ ਨਾਹਿ ॥੨॥
हकु सचु खालकु खलक मिआने सिआम मूरति नाहि ॥२॥
Hak sacẖ kẖālak kẖalak mi▫āne si▫ām mūraṯ nāhi. ||2||
The True Creator Lord is diffused into His creation; He is not just the dark-skinned Krishna of legends. ||2||
Devotee Kabir – view Shabad/Paurhi/Salok
Page 727, Line 18
ਹਮ ਚਿਨੀ ਪਾਤਿਸਾਹ ਸਾਂਵਲੇ ਬਰਨਾਂ ॥੩॥
हम चिनी पातिसाह सांवले बरनां ॥३॥
Ham cẖinī pāṯisāh sā'nvle barnā'n. ||3||
You are my Lord King, like the dark-skinned Krishna. ||3||
Devotee Namdev – view Shabad/Paurhi/Salok
Page 733, Line 7
ਪੂਛਹੁ ਬਿਦਰ ਦਾਸੀ ਸੁਤੈ ਕਿਸਨੁ ਉਤਰਿਆ ਘਰਿ ਜਿਸੁ ਜਾਇ ॥੧॥
पूछहु बिदर दासी सुतै किसनु उतरिआ घरि जिसु जाइ ॥१॥
Pūcẖẖahu biḏar ḏāsī suṯai kisan uṯri▫ā gẖar jis jā▫e. ||1||
Go and ask Bidar, the son of a maid; Krishna himself stayed in his house. ||1||
Guru Ram Das – view Shabad/Paurhi/Salok
Page 981, Line 14
ਪਰਸ ਨਪਰਸ ਭਏ ਕੁਬਿਜਾ ਕਉ ਲੈ ਬੈਕੁੰਠਿ ਸਿਧਾਰੇ ॥੧॥
परस नपरस भए कुबिजा कउ लै बैकुंठि सिधारे ॥१॥
Paras napras bẖa▫e kubijā ka▫o lai baikunṯẖ siḏẖāre. ||1||
Krishna was pleased, and so he touched the hunch-back Kubija, and she was transported to the heavens. ||1||
Guru Ram Das – view Shabad/Paurhi/Salok
Page 988, Line 11
ਧਨਿ ਧਨਿ ਕ੍ਰਿਸਨ ਓਢੈ ਕਾਂਬਲੀ ॥੧॥
धनि धनि क्रिसन ओढै कांबली ॥१॥
Ḏẖan ḏẖan krisan odẖai kā'nblī. ||1||
blessed, blessed is the blanket worn by Krishna. ||1||
Devotee Namdev – view Shabad/Paurhi/Salok
Page 1022, Line 1
ਗੰਗਾ ਜਮੁਨਾ ਕੇਲ ਕੇਦਾਰਾ ॥
गंगा जमुना केल केदारा ॥
Gangā jamunā kel keḏārā.
The Ganges, the Jamunaa where Krishna played, Kaydar Naat'h,
Guru Nanak Dev – view Shabad/Paurhi/Salok
Page 1035, Line 17
ਗੋਪੀ ਕਾਨੁ ਨ ਗਊ ਗੋੁਆਲਾ ॥
गोपी कानु न गऊ गोआला ॥
Gopī kān na ga▫ū go▫ālā.
There were no Gopis, no Krishna, no cows or cowherds.
Guru Nanak Dev – view Shabad/Paurhi/Salok
Page 1041, Line 6
ਗੁਰਮਤਿ ਕ੍ਰਿਸਨਿ ਗੋਵਰਧਨ ਧਾਰੇ ॥
गुरमति क्रिसनि गोवरधन धारे ॥
Gurmaṯ krisan govarḏẖan ḏẖāre.
Through the Guru's Teachings, Krishna lifted up the mountain of Govardhan.
Guru Nanak Dev – view Shabad/Paurhi/Salok
Page 1082, Line 7
ਮੋਹਨ ਮਾਧਵ ਕ੍ਰਿਸ੍ਨ ਮੁਰਾਰੇ ॥
मोहन माधव क्रिस्न मुरारे ॥
Mohan māḏẖav krisan murāre.
The Enticer of Hearts, the Lord of wealth, Krishna, the Enemy of ego.
Guru Arjan Dev – view Shabad/Paurhi/Salok
Page 1082, Line 16
ਸਾਵਲ ਸੁੰਦਰ ਰੂਪ ਬਣਾਵਹਿ ਬੇਣੁ ਸੁਨਤ ਸਭ ਮੋਹੈਗਾ ॥੯॥
सावल सुंदर रूप बणावहि बेणु सुनत सभ मोहैगा ॥९॥
Sāval sunḏar rūp baṇāvėh beṇ sunaṯ sabẖ mohaigā. ||9||
He assumed the beautiful form of the blue-skinned Krishna; hearing His flute, all are fascinated and enticed. ||9||
Guru Arjan Dev – view Shabad/Paurhi/Salok
Page 1083, Line 4
ਆਪੇ ਗੋਪੀ ਆਪੇ ਕਾਨਾ ॥
आपे गोपी आपे काना ॥
Āpe gopī āpe kānā.
He Himself is the milk-maid, and He Himself is Krishna.
Guru Arjan Dev – view Shabad/Paurhi/Salok
Page 1124, Line 16
ਸੁਆਨ ਸਤ੍ਰੁ ਅਜਾਤੁ ਸਭ ਤੇ ਕ੍ਰਿਸ੍ਨ ਲਾਵੈ ਹੇਤੁ ॥
सुआन सत्रु अजातु सभ ते क्रिस्न लावै हेतु ॥
Su▫ān saṯar ajāṯ sabẖ ṯe krisan lāvai heṯ.
The killer of dogs, the lowest of all, was lovingly embraced by Krishna.
Devotee Ravidas – view Shabad/Paurhi/Salok
Page 1191, Line 14
ਦੀਨਾ ਦੀਨ ਦਇਆਲ ਭਏ ਹੈ ਜਿਉ ਕ੍ਰਿਸਨੁ ਬਿਦਰ ਘਰਿ ਆਇਆ ॥
दीना दीन दइआल भए है जिउ क्रिसनु बिदर घरि आइआ ॥
Ḏīnā ḏīn ḏa▫i▫āl bẖa▫e hai ji▫o krisan biḏar gẖar ā▫i▫ā.
God is Merciful to the meekest of the meek; Krishna came to the house of Bidar, a devotee of low social status.
Guru Ram Das – view Shabad/Paurhi/Salok
Page 1192, Line 6
ਬਧਿਕੁ ਉਧਾਰਿਓ ਖਮਿ ਪ੍ਰਹਾਰ ॥
बधिकु उधारिओ खमि प्रहार ॥
Baḏẖik uḏẖāri▫o kẖam par▫hār.
Even the hunter who shot an arrow at Krishna was saved.
Guru Arjan Dev – view Shabad/Paurhi/Salok
Page 1236, Line 3
ਅਨਿਕ ਪਾਰਜਾਤ ਅਨਿਕ ਮੁਖਿ ਬੇਨ ॥
अनिक पारजात अनिक मुखि बेन ॥
Anik pārjāṯ anik mukẖ ben.
Many miraculous Elysian trees, many Krishnas playing the flute.
Guru Arjan Dev – view Shabad/Paurhi/Salok
Page 1263, Line 8
ਕਾਂਸੀ ਕ੍ਰਿਸਨੁ ਚਰਾਵਤ ਗਾਊ ਮਿਲਿ ਹਰਿ ਜਨ ਸੋਭਾ ਪਾਈ ॥੨॥
कांसी क्रिसनु चरावत गाऊ मिलि हरि जन सोभा पाई ॥२॥
Kā'nsī krisan cẖarāvaṯ gā▫ū mil har jan sobẖā pā▫ī. ||2||
Krishna grazed cows in Kaashi; through the humble servant of the Lord, these places became famous. ||2||
Guru Ram Das – view Shabad/Paurhi/Salok
Page 1309, Line 14
ਬਿਦਰ ਦਾਸੀ ਸੁਤੁ ਛੋਕ ਛੋਹਰਾ ਕ੍ਰਿਸਨੁ ਅੰਕਿ ਗਲਿ ਲਾਵੈਗੋ ॥੨॥
बिदर दासी सुतु छोक छोहरा क्रिसनु अंकि गलि लावैगो ॥२॥
Biḏar ḏāsī suṯ cẖẖok cẖẖohrā krisan ank gal lāvaigo. ||2||
Bidur, the son of a slave-girl, was an untouchable, but Krishna hugged him close in His Embrace. ||2||
Guru Ram Das – view Shabad/Paurhi/Salok
Page 1390, Line 8
ਦੁਆਪੁਰਿ ਕ੍ਰਿਸਨ ਮੁਰਾਰਿ ਕੰਸੁ ਕਿਰਤਾਰਥੁ ਕੀਓ ॥
दुआपुरि क्रिसन मुरारि कंसु किरतारथु कीओ ॥
Ḏu▫āpur krisan murār kans kirṯārath kī▫o.
In the Brass Age of Dwaapur Yuga, You were Krishna; You killed Mur the demon and saved Kans.
Bard Kal-sahar – view Shabad/Paurhi/Salok
Page 1402, Line 12
ਕਵਲ ਨੈਨ ਮਧੁਰ ਬੈਨ ਕੋਟਿ ਸੈਨ ਸੰਗ ਸੋਭ ਕਹਤ ਮਾ ਜਸੋਦ ਜਿਸਹਿ ਦਹੀ ਭਾਤੁ ਖਾਹਿ ਜੀਉ ॥
कवल नैन मधुर बैन कोटि सैन संग सोभ कहत मा जसोद जिसहि दही भातु खाहि जीउ ॥
Kaval nain maḏẖur bain kot sain sang sobẖ kahaṯ mā jasoḏ jisahi ḏahī bẖāṯ kẖāhi jī▫o.
You are lotus-eyed, with sweet speech, exalted and embellished with millions of companions. Mother Yashoda invited You as Krishna to eat the sweet rice.
Bard Ga-yand – view Shabad/Paurhi/Salok
Page 1402, Line 19
ਪੀਤ ਬਸਨ ਕੁੰਦ ਦਸਨ ਪ੍ਰਿਆ ਸਹਿਤ ਕੰਠ ਮਾਲ ਮੁਕਟੁ ਸੀਸਿ ਮੋਰ ਪੰਖ ਚਾਹਿ ਜੀਉ ॥
पीत बसन कुंद दसन प्रिआ सहित कंठ माल मुकटु सीसि मोर पंख चाहि जीउ ॥
Pīṯ basan kunḏ ḏasan pari▫a sahiṯ kanṯẖ māl mukat sīs mor pankẖ cẖāhi jī▫o.
As Krishna, You wear yellow robes, with teeth like jasmine flowers; You dwell with Your lovers, with Your mala around Your neck, and You joyfully adorn Your head with the crow of peacock feathers.
Bard Ga-yand – view Shabad/Paurhi/Salok
Page 1403, Line 4
ਬਲਿਹਿ ਛਲਨ ਸਬਲ ਮਲਨ ਭਗ੍ਤਿ ਫਲਨ ਕਾਨ੍ਹ੍ਹ ਕੁਅਰ ਨਿਹਕਲੰਕ ਬਜੀ ਡੰਕ ਚੜ੍ਹੂ ਦਲ ਰਵਿੰਦ ਜੀਉ ॥
बलिहि छलन सबल मलन भग्ति फलन कान्ह कुअर निहकलंक बजी डंक चड़्हू दल रविंद जीउ ॥
Balihi cẖẖalan sabal malan bẖagaṯ falan kānĥ ku▫ar nihklank bajī dank cẖaṛhū ḏal ravinḏ jī▫o.
Enticer of Baliraja, who smothers the mighty, and fulfills the devotees; the Prince Krishna, and Kalki; the thunder of His army and the beat of His drum echoes across the Universe.
Bard Ga-yand – view Shabad/Paurhi/Salok