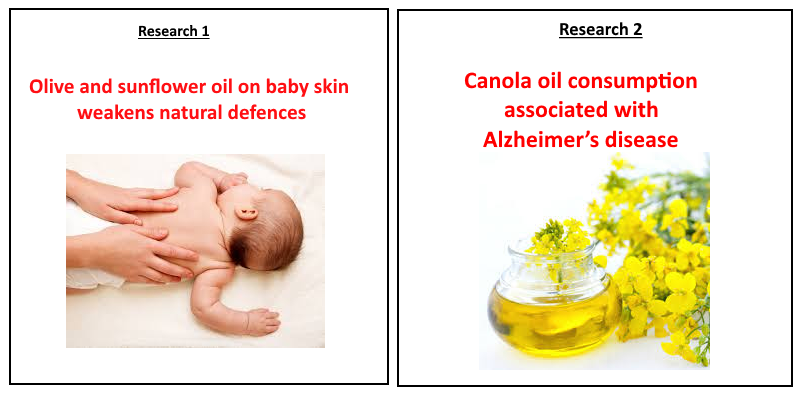 Oil play critical role in our diet. From lubrication to antioxidants, they provide important support to our body cell ecology.
Excess of oil in food is harmful and no oil in food is also harmful. Moderate usage can work as boon. Unrefined oil is must. Avoid packaged and processed oil – it is unhealthy. Avoid refined oil. If possible, find organically grown seeds(groundnuts for Gujarat).
Due to bombardment of all advertisements, consumers are always confused about best selection.
There is simple rule: Eat whatever mother nature can grow in abudance in your environment. As shown in map, if we divide Bharat in three parts and locate your residence, you will find best suitable oil for you. Throw all other brands in dustbin.
Here are few studies discussing dangers of using exotic oils/Processed oil for different purposes.
---
Research
---
Olive and sunflower oil on baby skin weakens natural defences
https://www.medicalnewstoday.com/releases/304059.php?tw
Using olive or sunflower oil on new born babies' skin damages the barrier which prevents water loss and blocks allergens and infections, new research led by The University of Manchester has found.
Despite most midwives recommending olive or sunflower oil for dry skin, as highlighted in a previous University study, there has been little research into the effects of these oils, outside of small studies in the lab.
This is despite changes to baby skin care being linked to a dramatic increase in eczema over the last few decades: from 5 percent of children aged 2-15 in the 1940s to around 30 percent today.
To test the effects of the two oils on babies' skin, the midwives at Saint Mary's Hospital recruited 115 new born infants to the pilot study, which was supported by the NIHR. The babies were divided into three groups – olive oil, sunflower oil and no oil.
At the end of a 28-day trial period where babies in the oil groups were treated with a few drops on their skin twice a day, the lipid lamellae structure in the skin of each baby was investigated and in both oil groups the development of the skin barrier function was delayed compared to the no oil group.
Effect of canola oil consumption on memory, synapse and neuropathology in the triple transgenic mouse model of Alzheimer's disease
https://www.nature.com/articles/s41598-017-17373-3
In recent years consumption of canola oil has increased due to lower cost compared with olive oil and the perception that it shares its health benefits. However, no data are available on the effect of canola oil intake on Alzheimer's disease (AD) pathogenesis. Herein, we investigated the effect of chronic daily consumption of canola oil on the phenotype of a mouse model of AD that develops both plaques and tangles (3xTg). To this end mice received either regular chow or a chow diet supplemented with canola oil for 6 months. At this time point we found that chronic exposure to the canola-rich diet resulted in a significant increase in body weight and impairments in their working memory together with decrease levels of post-synaptic density protein-95, a marker of synaptic integrity, and an increase in the ratio of insoluble Aβ 42/40. No significant changes were observed in tau phosphorylation and neuroinflammation. Taken together, our findings do not support a beneficial effect of chronic canola oil consumption on two important aspects of AD pathophysiology which includes memory impairments as well as synaptic integrity. While more studies are needed, our data do not justify the current trend aimed at replacing olive oil with canola oil.