On first Navaratra of 2018, one of the like-minded friends asked: Is there any relation to number of days i.e. 9, Maa's name and journey from muladhara to subsequent chakra?
I had no answer for this but thought to research on it. Not sure if this right information or not but looks convincing to me.
This is what I found in Gita Press Kalyan article: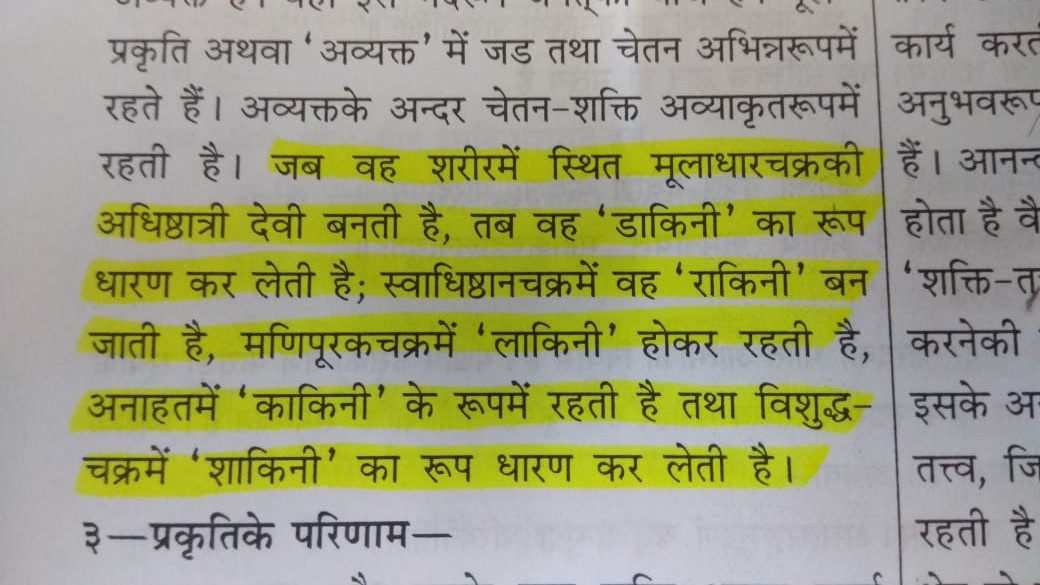 Upon further search, found more information from Kali Tantra
http://www.transliteral.org/pages/z131228051744/view

डाकिनी राकिनी देवि लाकिनी काकिनी ततः ।
शाकिनी हाकिनी संज्ञा सत्व-रूपा ततः प्रिये ।
रजोरूपा तमोरूपा मातृका रूपिणी गुरुः ॥
एतास्तु परमेशानी मृर्त्तिः पंचाशदक्षरम् ।
डाकिनी च महादेवि अणिमा सिद्धि दायिनी ॥
शाकिनी लघिमा सिद्धिदायिनी लाकिनी तथा ।
प्राप्ति सिद्धिदायिनी च काकिनी काम्यदायिनी ॥
शाकिनी माहिमा सिद्धि हाकिनी ततः ।
कामावशायिता सिद्धि जपादेव प्रयच्छति ॥

भावार्थः हे पार्वती ! डाकिनी, राकिनी, लाकिनी, काकिनी, शाकिनी, हाकिनी सतोगुणी देवियां हैं । इनके अतिरिक्त रजोगुणी, तमोगुणी व मातृका रूप व ग्रुरु आदि सब पचासाक्षर ही मूर्ति हैं । हे देवी ! डाकिनी देवी अणिमा सिद्धि प्रदान करती है, राकिनी व लाकिनी लघिमा और काम्यफल प्रदान करती हैं । जबकि काकिनी प्राप्तिरूप सिद्धि देनेवाली व शाकिनी महिमा सिद्धि प्रदान करती है । हाकिनी काम्यकर्म, वशीकरण आदि की सिद्धि प्रदान करती है ।

सत्वरूपा तमोरूपा रजोरूपा तथैव च ।
एताश्चैव महादेवि चतुर्वर्ग ददंति हि ॥
पंचाशद्वर्णरूपा या निर्वाणं सा ददाति हि ।
ग्रुरुर्ददाति सकलं ब्रह्मांड ज्ञानमव्ययम्।
इति ते कथितं भक्या डाकिन्यादि विनिर्णयम् ॥

भावार्थः हे महादेवी ! सतोगुणी, रजोगुणी व तमोगुणी देवियां चारों पदार्थ (धर्म, अर्थ, काम, मोक्ष) प्रदान करती हैं ।५० वर्णींय मातृका देवी मोक्ष देती है । गुरु से ब्रह्मांड का ज्ञान प्राप्त होता है । तुम्हारी श्रद्धाके कारण ही मैंने डाकिनी आदि का वर्णन किया है ।

डाकिनी राकिनी चैव लाकिनी काकिनी तथा ।
शाकिनी डाकिनी देवी वर्णानामंत्र देवता ।

भावार्थः हे देवीः डाकिनी, राकिनी, लाकिनी, काकिनी, शाकिनी, हाकिनी वर्णमंत्र की देवता हैं ।

गुणानां सिद्धि वर्णानां षडेते अधिदेवताः ।
डाकिनादेविना ज्ञानं वर्णे वर्णे पृथक् पृथक् ॥
अज्ञानात् प्रजपेन्मंत्रं डाकिन्यादेश्च भक्षणम् ।
विना वर्ण परिज्ञानम् कोटि पुरश्चरणेन किम् ॥
तस्य सर्वं भवेद् दुःखमरण्ये रोदा नं यथा ।
श्रृणु ध्यानं प्रवक्ष्यामि डाकिनीनां शुचिस्मिते ॥

भावार्थः हे पार्वती ! सिद्धिप्रदाता वर्णों के उपरोक्त छह अधिदेव हैं । प्रत्येक वर्ण का अलग-अलग जाप करने से उस मंत्र का डाकिनी भक्षण कर लेती है । इन अधिदेवों के अभाव में करोडों पुरश्चरण किए जाएं तो वह भी निष्फल ही सिद्ध होते हैं । यही कारण है कि जंगल में रुदन करने के समान ही मंत्र जापक दुख भोगता है । हे सुंदरी ! अब तुम डाकिनी आदि की ध्यान विधि एकाग्र होकर सुनो ।
Further, I also found detailed description Tibetan Buddhist scriptures.
https://vedicgoddess.weebly.com/goddess-vidya-blog/dakini

DAKINI: There is abundant spiritualism behind the sexual iconography of Dakini in which Hindu and Buddhist thoughts overlap. Dakini embodies the female spirit in wrathful form appearing to dance in wild frenzy bent on destruction, chaos and transformation, Kali depiction. Having a Hindu origin, Dakini finds her perfection Tibetian Buddhist tantrism. The Tibetian equivalent to Dakini is 'Khadro' meaning one who moves through the sky.

Understanding her and viewing her form is said to bring transformation of life in a positive manner. Despite her iconic images being available quite freely, it is wide open to cause confusion and misunderstanding by the uninitiated but probing minds. Dakini shares this inferential predicament with tantric Kali and Bhairavi when viewed superficially. All three are not bent on destruction but they are glorifications of wrathful violence particularly as manifest in the female form.

HINDU TANTRISM: Shakti, Yogini, Shakini and Dakini are interchangeably used but not without confusion. Dakinis are the guardians of the inner mysteries of the Self through whom secrets of inner transformation are revealed. Legends have it that Dakini and Shakini were the consorts of Tripurasura. Tripura is a reference to the asura Tarakasura who gets an unusual boon from Brahma. The asura gets three forts which become one in a thousand years and called Tripura, the boon has it that it can be destroyed by a single arrow. The asuras florish but Brahma could render no assistance to the Gods and devas. So they went to Siva. But the asuras had to cause a breach for warranting his interference.
Read more on Muladhara and Dakini here: http://literature.awgp.org/akhandjyoti/1999/July/v2.10
The energy, or shakti, of Brahma is called Dakini. She is in shining pink with four arms holding a skull, a sword, a shield and a trident symbolizing the forces of the creator, the preserver and the destroyer.