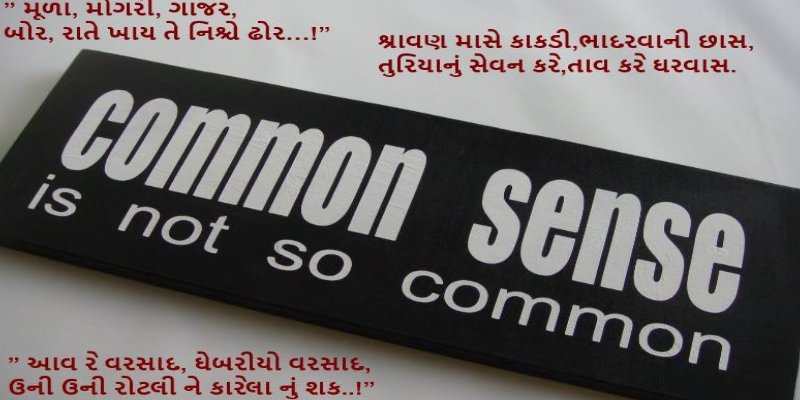 Does your kid's school teach local language phrases, popular cliches and poems? Do they teach Gujarati calendar? (They don't. On the other hand, they teach rhymes written for European culture :D. What a cultural tragedy! )
Does you kid learn same from grand parents? (Difficult as grand parents are also brainwashed by same education system)
What do they miss? Essential life event markers. Common sense.
For example:
શ્રાવણ માસે કાકડી,ભાદરવાની છાસ,
તુરિયાનું સેવન કરે,તાવ કરે ઘરવાસ.
(Translation: Those who eat cucumber in Sravan month(July-Aug), butter milk in bhadarva month(Aug-Sep), and turiyu during monsoon (June-July-Aug-Sept), invites fever (Viral/Bacterial))
ઉની ઉની રોટલીને કારેલાનું શાક.
(Translation: During monsoon, eat fresh and hot chapati with
squirting cucumber shabji)
" મૂળા, મોગરી, ગાજર, બોર, રાતે ખાય તે નિશ્ચે ઢોર…!"
(Translation: Those who eat vegetables like carrot,radish pods,jujube etc in dinner, are dumb animals!)
Now since we, and our kids are kept aloof from this common sense, we will eat anything and everything in all seasons! Like animals! Murder of common sense!
Why do you pay so high fees to schools who cannot even impart common sense? 😀 😀 I will rather prefer not to send my kid to such school. If school is failure, why do you wait? Why can't you cut your time spent behind mindless entertainment and divert it to learn common sense?
Think about it. If we embrace common sense taught by local culture, we can save billions of medical bills every year.
Solution:
1) Keep your child connected to mother tongue. Always speak in your mother tongue at home
2) Do not ignore your grand parents common sense advice
3) Get connected with sources from where you can upgrade your common sense