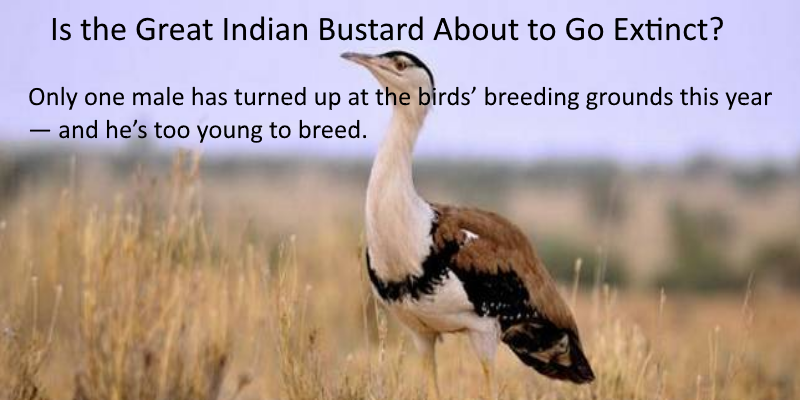 For how long we will sit and observe the show? I repeat again and again, this is not a time to write history about mindless development but restoring the ecology around! We are in do or die phase but alas! That realization is missing!
Problem with India is that it is run by idiot half-baked Babu(s) whose only interest is to exploit the system and feed personal pockets. On top of them, we have equally corrupt ruthless demon politicians. They also consider one point agenda : Vikas and short term political mileage!
If something we need to produce for future, Eco warriors.
How power greed is killing beautiful Iconic bird? Read on
———————
News
———————–
Is the Great Indian Bustard About to Go Extinct?
Only one male has turned up at the birds' breeding grounds this year — and he's too young to breed.
Over the past few years, important bustard habitats in Gujarat, Rajasthan and other states have been crisscrossed with high-voltage power transmission lines, many of which transmit electricity from wind turbines. The Corbett Foundation has documented numerous cases where power lines have been built right next to bustard habitat or in their migratory pathways. Bustards have trouble avoiding these power lines due to their limited field of vision and heavy weight, which limits their maneuverability. At least 10 birds, possibly as many as 15, are known to have been electrocuted by those power lines over the past decade.
Renewable-energy projects in India do not require environmental impact assessments, a loophole that has left the birds particularly vulnerable even as the country races to build its energy capacity. India added nearly 12,000 megawatts of renewable-energy projects between April 2017 and March 2018 and plans to add another 175,000 by the year 2022.
Can the energy grid be made safer for the bustard? "There has to be a will and there has to be a way," says Valli Bindana, director of the new documentary SunGanges, about the environmental impacts of India's energy policies. "People elsewhere have made grids 'avian safe.' Perhaps we need to borrow expertise. But whatever has to be done has to be done quickly."