This is my conversation with 5 years old son. His learning diary. Old posts can be read here : http://prachodayat.in/category/kathan-diary/ or on Facebook tag https://www.facebook.com/hashtag/kathandiary?source=feed_text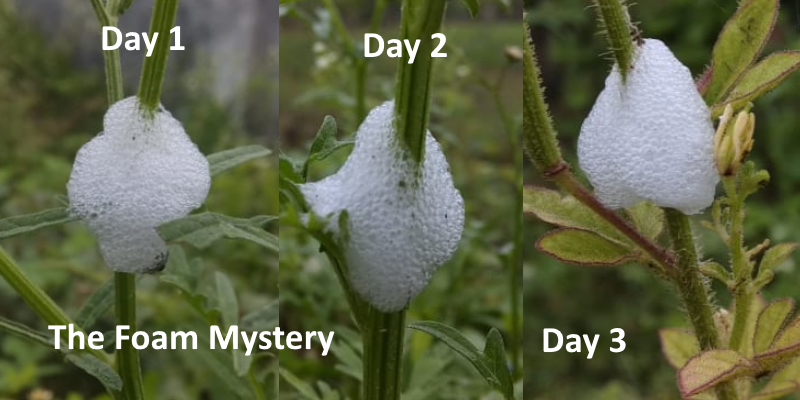 During last Sunday's tree plantation drive, we found several flowers. They were new to Kathan. Since last Monday, we focused on target-oriented morning sessions. Our goal was to explore weeds' flowers in the wild. Everyday, we come home with new set of flowers.
One day, we observed something interesting.
"Pappa! Look at here! This plant is vomiting!"
"What? Plant and vomit? Let me see. Oh there is some foam on this plant!"
"Just like how soap foam is created during bath!? Can I take it on hand?"
"No..don't touch for now. Let us observe it further!"
"Why this foam here? Did someone bath here?"
"lol! Good question! Let us find out. Let's do one thing. Let's come here again tomorrow. We will observe for some more time."
"Ok."
—–Second day——
"Pappa! Look at there! Same foam but on different plant!"
"Oh yes! That means, it is not just one plant! Then what is it? Interesting!"
"Is someone throwing foam here or..is it due to rain?"
"No dear. Look closely. It is on specific branches of plant. And on specific plants. Not all plants. Humans or rain can't achieve such perfection. Must be some bird or animal or insect."
"You find out from office!"
"ok!"
—- Same day evening——
"Kathan!! It is indeed insect! It is nest for this insect. Look at the video!"
"Wow!! Nest?"
"Yes! These insects are common on plants who can imbibe more and more nitrogen from soil. And they are because soil as more nitrogen due to chemical farming in adjacent famrs. This insect sap food from plant while baby-insects grow!"
"woow! But pappa…one more question! What is this chemical word? What all things can be considered as chemical!"
"Very good question! Let's discuss is some other time. Add it in your list of queries!"
———————————-
"પપ્પા, અહી આવો! જુઓ આ શું છે! આ છોડ ઉલટી કરે છે!"
"શું? છોડ અને ઉલટી? લાવ જોવા દે તો! ઓહો…આ છોડ પર ફીણ? આ ઉલટી નથી..કંઇક ફીણ જેવું છે."
"સાબુનું ફીણ થાય છે એવું? હાથમાં લઉં?"
"હા એવું જ પણ હાથમાં ના લઈશ."
"પણ આવું કેમ છે? અહી કોઈ નાહવા બેઠું હશે?"
"હા હા :D! સરસ પ્રશ્ન!મારે પણ જાણવું પડશે. એક કામ કરીએ..કાલે ફરી આવી ને જોઇશ..થોડો વધારે સમય લઈને નિરીક્ષણ કરીશું!"
"સારું!"
—- બીજા દિવસે——–
"પપ્પા! જુઓ જુઓ! આ એકજ છોડ પર નથી..અલગ અલગ છોડ પર છે!"
"અરે હા! એટલે એ આ માત્ર એક છોડ પુરતું નથી! તો શું હોઈ શકે?"
"કોઈ માણસે સાબુનું ફીણ ફેંક્યું હોય?કે પછી વરસાદ પડવાથી થયું હોય?"
"હોઈ શકે! પણ ધ્યાનથી જો બેટા…એ માત્ર છોડની અમુક ડાળી પર જ છે. જો વરસાદકે બીજા કોઈએ માણસે કર્યું હોય તો આટલું ચીવટતા થી ન થઇ શકે! મને લાગે છે…કોઈ પક્ષી કે જીવડું હોઈ શકે."
"પપ્પા…કાલે શોધી લાવજો!"
—- એ દિવસે સાંજે———
"કથન! પેલા ફીણનો જવાબ મળી ગયો!"
"ઓહો!! બોલો બોલો જલ્દી!!"
"એક જીવડું છે! એનો એ માળો છે!"
"માળો?"
"હા એમાંથી એના બચ્ચા નીકળશે! આ જીવડું એવાજ છોડ પર થાયકે જ્યાં જમીનમાં કેમિકલ ખેતીના કારણે Nitrogen વધારે હોય! જો આ વિડીઓ!"
"ઓહો! કેટલા સરસ છે…પણ પપ્પા..નવો પ્રશ્ન! આ કેમિકલ શું છે!"
"સુંદર! એના પર ફરી ક્યારેક! 🙂 "
---
Age 10 and below is the age to cultivate observation skills. Insects and weeds are unknown areas for modern schooling curriculum. Hardly any focus on it. But if we don't expose it to kids, they will never realize system aspect of nature. Role of everyone into mother nature. Nothing is useless – is difficult to grasp developed urban mind.
And foam is not only possible in soap or the soap-toy! Such foam in wild was wealth earned for this little mind. This is possible when we could spend more time with kids in nature. Time well spent in observations and projects.
Our journey to explore wild flowers is continuing. Will share more on it once the project is over.
Some old articles on Weeds and the lesson I wish to teach my son:
"
Mother nature provides common sense sensors and we run to lab for soil testing with soil health card 
😉
Technological arrogance vs Sensible observations
Later is win-win situation.
Weeds were never useless. Those who consider them useless are actually useless."