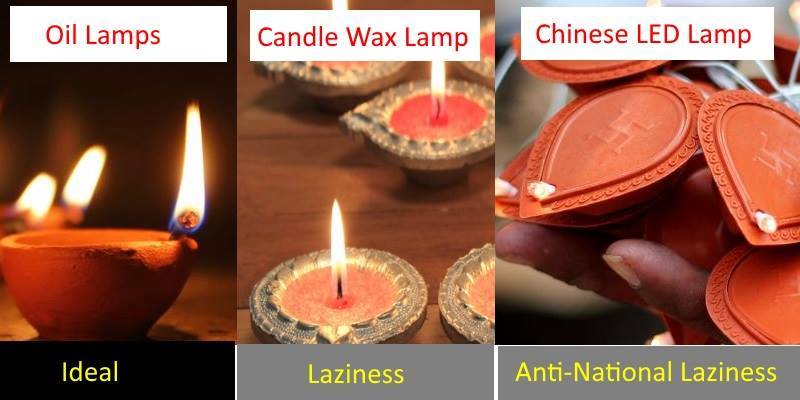 "Pappa, Diwali is also known by other name. I don't recall it. What is it known by?"
"Deepawali"
"What is the meaning of it?"
"आवली means पंक्ति. Series of lamp that we lit. दीपावली : दीप का अर्थ ज्योति प्रकाश आैर आवली का अर्थ माला है. इसका पूर्ण अर्थ प्रकाश पूंजों की माला होता है."
"Then why do people by candles or Chinese lights? You once said that this LEDs are not good for life. Why people lit them on good festival days?"
" 🙂 It depends upon how alive or dead you are. There are different ways of celebration. Ideal, Lazy or Anti-National lazy? सात्विक, राजसिक & तामसिक.
Ideal is when you prepare and lit oil lamps.
Lazy is when you buy wax candles in form of lamps.
Anti-National and lazy is when you prefer Chinese LED lamp.
Festival driven benefits are availed when we celebrate them rooted spirit of the land!"
"We will celebrate the best way!!"
"Definately beta! We will! Glad that you cleared your doubts! Look how your mother had painted lamps already! And you know what? We are also bringing lamps made up of cow-dung!"
"પપ્પા, દિવાળી બીજા કયા નામથી ઓળખાય છે?"
"દિપાવલી"
"એનો અર્થ શું થાય?"
"દીપ-આવલી. આવલી એટલે હરોળ. દીવડાઓની હરોળ! એક સળંગ હરોળમાં દીપ પ્રગટાવવાનો ઉત્સવ."
"તો પછી આ બજારમાં મીણબત્તી અને LED કેમ વેચાય છે?"
"ખરીદવા વાળા છે એટલે?"
"પણ તમે તો કહો છો કે LED તો આપણા સ્વાસ્થ્ય માટે સારા નહિ તો ઉત્સવમાં ખરાબ પસંદ? લોકો આવું કેમ ખરીદે?"
"બેટા, લોકોની પસંદ એમની પ્રકૃતિ પ્રમાણે હોય. મોટા ભાગના આળસુ તામસિક જીવન જીવી રહ્યા છે. ઉત્સવનો સાચો અર્થ ઉત્સાહ સાથે ઉજવણી. આ ઉત્સાહ નથી રહ્યો એટલે બતાવવા ખાતર દેખાડો."
"પણ આપણે એવું નહિ કરીએ પપ્પા!"
"ચોક્કસ બેટા! જો તારી મમ્મીએ કેવા સરસ દીવડા બનાવ્યા છે? અને તને ખબર છે? આપણે આ વખતે, ગોમય દીવા લાવવાના છે!"
"ઓહો!"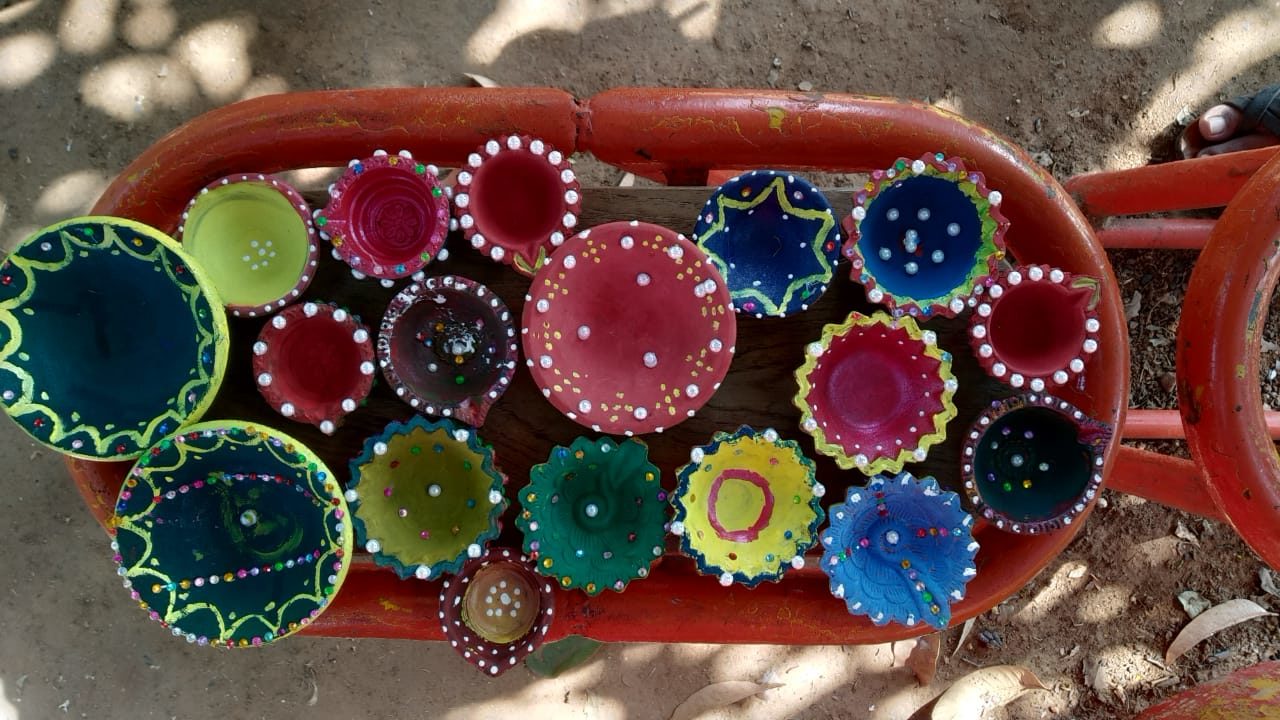 ---
Revive traditions. Sit with grand-parents, learn traditions and try to celebrate in a way that your active involvement can strengthen your perceptions ज्योतिर्मय.
Wax and LED don't fit into it. 
🙂
शुभ दीपावली !