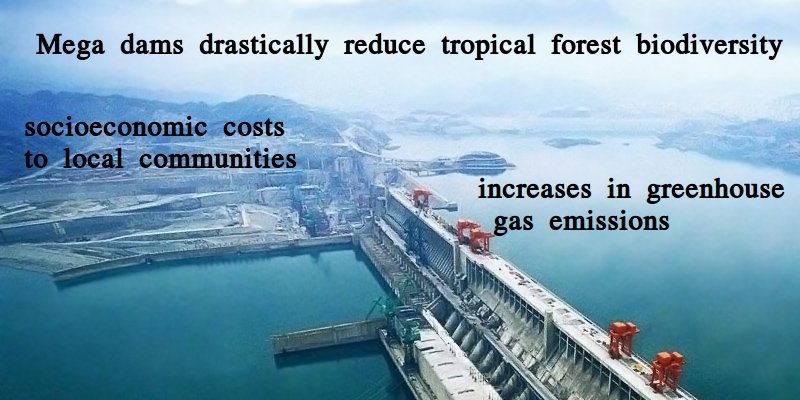 Word 'Green' creates powerful illusion for 21st century humans. You label anything green and it will become sacred and environment friendly. Once labelled, we hardly work on better solution. Take for example : Energy. Solar is new Green Energy. Hydroelectric dams used to be green energy in west for long time. It is still green energy for countries like India. But west is realising the green-delusion of Hydroelectric dams.
Only green energy possible is where we don't break nature's cycle, is decentralised and controlled by either individual or local community. Bio-Gas. Mega-level, industrialised solution are not totally environment friendly.
Following damage by mega-dams are already documented.
severe losses in fishery revenues,
increases in greenhouse gas emissions, and
socioeconomic costs to local communities.
In this research paper, researcher has tried to conclude damage done to diversity of the local ecosystem.
---
Research
---
Hydroelectric dams drastically reduce tropical forest biodiversity
 https://www.uea.ac.uk/about/-/hydroelectric-dams-drastically-reduce-tropical-forest-biodiversity
The Balbina Dam in the Central Brazilian Amazon is one of the world's largest hydroelectric dams in terms of total flooded area. The creation of this dam saw a formerly unbroken landscape of undisturbed continuous forest converted into an artificial archipelago of 3,546 islands.
The research team carried out intensive biodiversity surveys over two years on 37 islands isolated by the hydroelectric reservoir and three neighbouring continuous forest areas. They also surveyed land and tree dwelling vertebrates at these 40 forest sites.
Further research focused on plants and used high-resolution satellite images to better understand the level of forest degradation on the islands.
Key findings:
Clear evidence of widespread loss of animals on forest islands following 26 years of isolation, even under the best-case protection scenario ensured by the largest biological reserve in Brazil.
Large vertebrates including mammals, large gamebirds and tortoises disappeared from most islands formed by the creation of the Balbina Lake.
Of the 3,546 islands created, only 25 are now likely to harbour at least four fifths of all 35 target species surveyed in the study.
Island size was the most important factor predicting the number of forest vertebrate species retained.