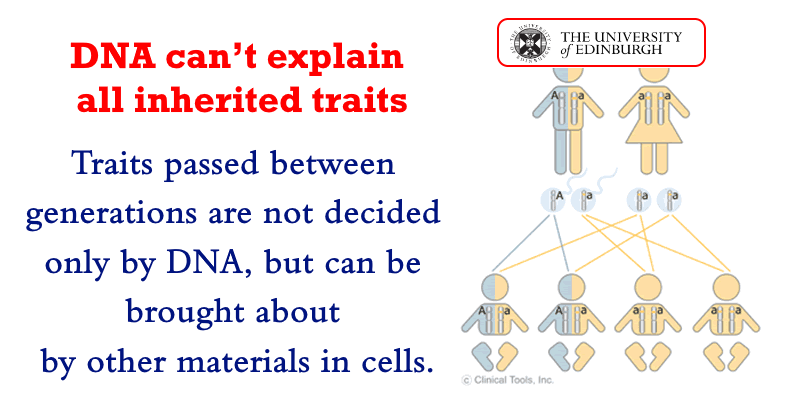 This is the reason why I call engineered crops or obsession with gene-detection as pseudo science. Same way, gene driven therapy is also not full proof care.
Genes do not control any life form. Epigenetics do. Within cell, histone protein to far distant butterfly flying in the garden, all play role in our actions and reactions.
---
Research
---
https://www.ed.ac.uk/news/2015/dna-020415
DNA can't explain all inherited traits
Traits passed between generations are not decided only by DNA, but can be brought about by other materials in cells.
Research avenues
The finding demonstrates for the first time that DNA is not solely responsible for how characteristics are inherited.
It paves the way for research into how and when this method of inheritance occurs in nature, and if it is linked to particular traits or health conditions.
It may also inform research into whether changes to the histone proteins that are caused by environmental conditions – such as stress or diet – can influence the function of genes passed on to offspring.
Theory confirmed
The research confirms a long-held expectation among scientists that genes could be controlled across generations by such changes.
However, it remains to be seen how common the process is, researchers say.
Scientists tested the theory by carrying out experiments in a yeast with similar gene control mechanisms to human cells.
They introduced changes to a histone protein, mimicking those that occur naturally, causing it to switch off nearby genes.
The effect was inherited by subsequent generations of yeast cells.
The study, published in Science, was supported by the Wellcome Trust and the EC EpiGeneSys Network.