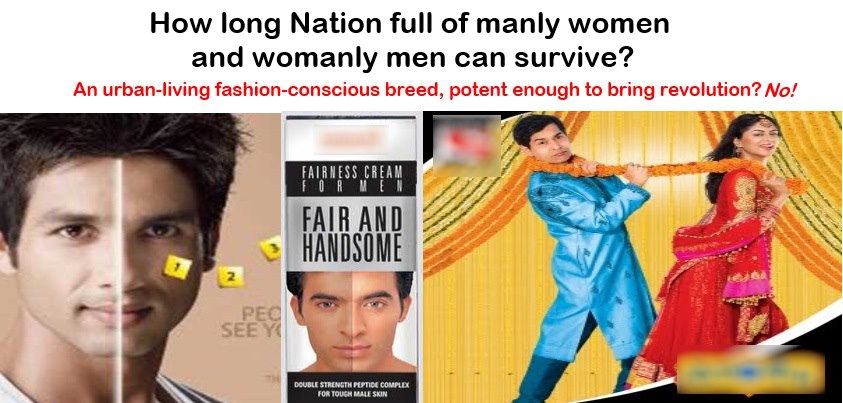 Men are becoming sissies according to Matthew Fitzgerald author of 'Sex-Ploytation'. I would add that not only men, women too are becoming feeble and timid.
The problem is that we are turning into a nation of cross-feed gender hormones. Feminine men and manly women.
The standard held up to men is entirely female. This can be easily witnessed in the rise of the "metrosexual" – the straight man so feminized that, like a woman, he is obsessed with his appearance, daubs on makeup and opts for cosmetic surgery. Pathetic waste of Testosterone!
Testosterone-charged men are rare to find.
On the other hand, women are bitten by objectification virus, turning them into mindless parasites, vulnerable to conspicuous consumption of unnecessary cosmetics. In addition, there is another virus called 'Feminism'. They line in delusion that unless they become testosterone-charged, they won't get their power. For them equality means, free contraceptives, abortions, and a right to walk around in her so called apparels showing freedom.
Balanced estrogen induced aesthetic nature of women – rare entity.
The result? A generation of youth totally bewildered, confused and disoriented. With such confusion, we cannot survive for long. Let us not invite slave nation once again.