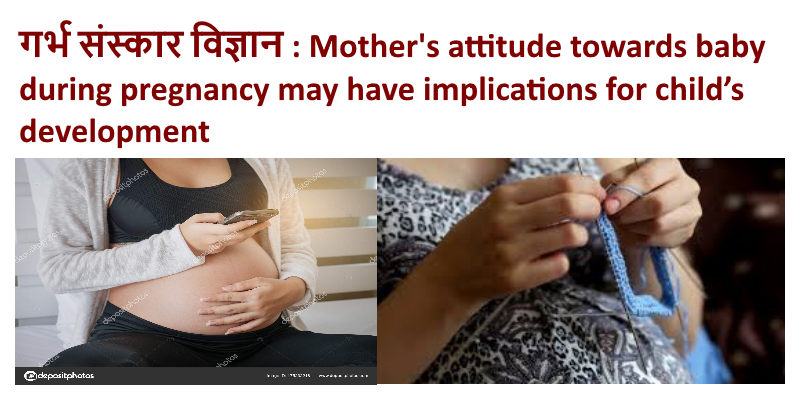 Recently, due to some family emergency, I visited near by hospital. There, I saw expectant mothers waiting for their sonography round! While waiting, all of them were engaged in super critical talk on whatsapp! 🙁
Yes, it may be difficult to spend time but then who stops mothers to divert mind in productive activities like reading Ramayana to the child? If not that, why not learn knitting or other activities related to child?
Child neglect starts very early in life. All in the womb! Modern mothers have hardly any time left to think about the womb. Talk with the child. Conversations! Instead of talking with child in womb, she is driven by entertainment! TV to whatsapp and whatsapp to HotStar! As if, chatting on whatsapp is more important than talking with kid!
No Garbha Sanskar music or seminar or super food will help if you can't connect and communicate with your kid inside!!
I have written in past, how neglect will cause damage to brain. Read them here:
Now, read this latest research
---
Research
---
Mothers who 'connect' with their baby during pregnancy are more likely to interact in a more positive way with their infant after it is born, according to a study carried out at the University of Cambridge. Interaction is important for helping infants learn and develop.
Researchers at the Centre for Family Research carried out a meta-analysis, reviewing all published studies in the field, in an attempt to demonstrate conclusively whether there was a link with the way parents think about their child during pregnancy and their behaviour towards them postnatally.
The results of their work, which draws data from 14 studies involving 1,862 mothers and fathers, are published in the journal Developmental Review.
Studies included in the meta-analysis examined parents' thoughts and feelings about their child during pregnancy through interviews and questionnaires. For example, in interviews expectant parents were considered to have a 'balanced' representation of their child if they showed positive anticipation of their relationship with the child or showed 'mind-mindedness' – a propensity to see their child as an individual, with its own thoughts and feelings. This was contrasted by parents who had a 'distorted' representation of their child, with a narrow, idealised description of their child, and incomplete or inconsistent descriptions of them.
Once the child had been born, researchers in these studies would observe the interactions between parent and child. One measure they were looking for was 'sensitivity' – the ability to notice, interpret and respond in a  timely and appropriate manner to children's signals, for example if the baby was upset.
Combining the results from all 14 studies, the Cambridge team showed a modest association between positive thoughts and feelings about the infant during pregnancy and later interaction with the infant, but only in mothers.
"Studies have shown that parent-child interaction is crucial for a child's development and learning, so we wanted to understand if there were prenatal signs that might predict a parent's behaviour," says Dr Sarah Foley, the study's first author, who carried out the research as part of her PhD.
"Although we found a relationship between a mother's attitude towards her baby during pregnancy and her later interactions, this link was only modest. This suggests it is likely to be a part of the jigsaw, rather than the whole story."
Research has also shown that increased awareness of the baby during pregnancy is associated with healthy behaviours during pregnancy, such as giving up smoking or attending antenatal appointments.
While more work is needed to determine what form such interventions might take, options might include the midwife encouraging the mother to think about what her baby may be like, or asking the mother to imagine activities they think she and her baby might like to do together.
"This is a relatively new area of research, but could have important implications for children's development," adds Dr Foley. "We need more research in this area, but hope it will inform new interventions that could help new mothers engage more with their children."
http://www.cam.ac.uk/research/news/mothers-attitude-towards-baby-during-pregnancy-may-have-implications-for-childs-development