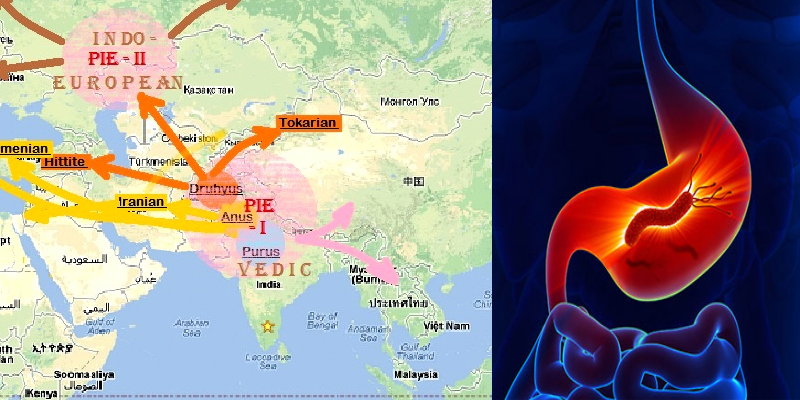 I wrote this note couple of years back:
"The Persians admits that their forefathers were from Bharat bhumi.Egyptians concurs. Greeks (the Pelasgians), The Latians, The Scandinavians, The Druids, The Phoenicians, and The Aztec of South America – they all feel the same.

But some Indians still feel the opposite. They think, their forefathers are from some distant land.Linguistics and anthropology are enough to debunk this theory but I am surprised how cherished but erroneous assumptions in linguistics and anthropology were accepted without question.

Aryan Invasion? No way.
Migration – yes, of two kinds.
1) Inbound migration of culturally challenged tribes to culturally super rich land and civilization.
2) Outbound migration of sages, merchants and kings to realize Vasudhaive Kutumbakam."

Here is the biological evidence supporting outbound migration of humans from Indian subcontinent.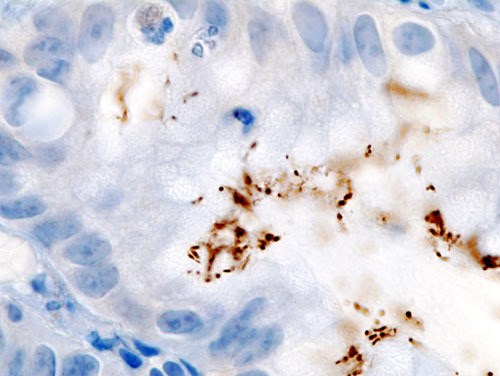 This is not a picture of a galaxy, but of your stomach. What you see is Helicobacter pylori or H. pylori, a bacterium found in our stomach. This particular bacterium is found in the stomach of half of the world's population and is more than 100,000 years old.
A recent study, which looked at the gastrointestinal tract of a 5300 yr old iceman has revealed some interesting information about this person. This iceman lived in the Italian Alps and was probably a European farmer. When he was between 40 and 50 years old, he was murdered by someone using an arrow. He is called an iceman because his body was preserved  by freeze drying in a glacier.
Analysis of the bacterium revealed that he did not have the strain that most modern Europeans have. His strain was from India, especially North India. This strain was also the co-ancestor of the current European strain.  What this tells us is that the India strain was present in Europe during the copper age; there was a movement of people into Europe  during that period.  This strain, which was found in the iceman's body is also different from the strain that modern Indians have. This tells us that that people went from India to Europe, stayed there and were genetically isolated from the Indian population. This isolated group became ancestral to the European strain. [1]
H. pylori in humans was nearly omnipresent until recently. Now with Antibiotics, these form of Prana (प्राण) has surrendered. 58,000 years is the longest possible relation with human stomach.
Most microbes' origin would be traced to tropic of cancer line as this is the Muladhar chakra (मूलाधार चक्र) for mother Earth. Sometimes they find African origin, sometimes Asian and sometimes Mayan origin for XYZ gene or ABC microbe ;).
Check link[2] to know why H. Pylori is disappearing and what havoc its absence will cause/is causing.
—————
References
———————
[2] Disappearing Microbiota: Helicobacter pylori Protection against Esophageal Adenocarcinoma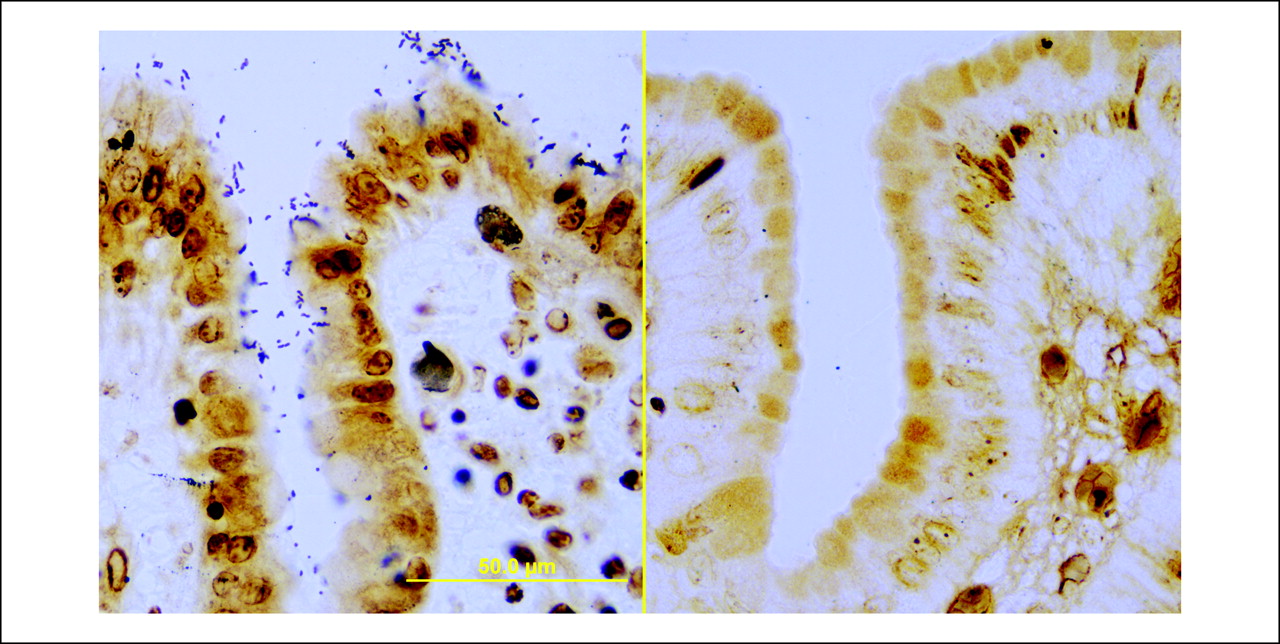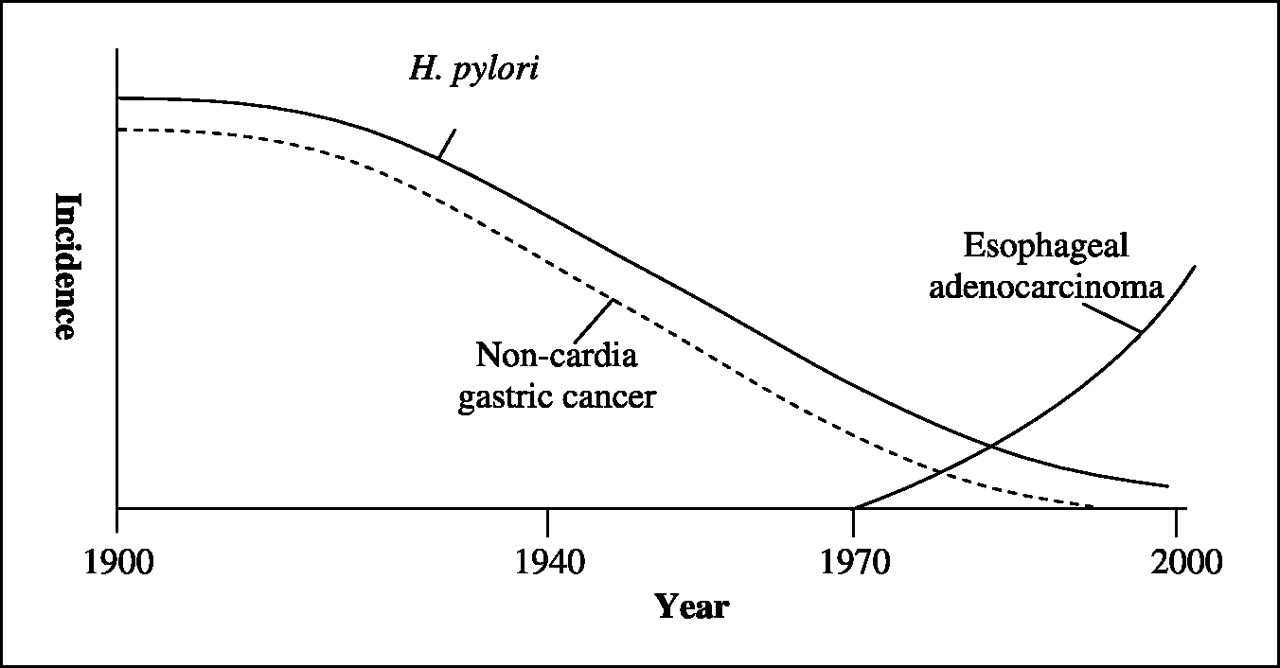 Once rare, esophageal adenocarcinoma (EAC) is the most rapidly increasing malignancy in many developed countries, such as the United States, United Kingdom, Australia, and Norway, and now is surpassing esophageal squamous cell carcinomas in certain populations (1, 2). EAC has very specific clinical and epidemiologic characteristics: It involves the distal but not proximal esophagus, preferentially affects males and people of higher socioeconomic status, and unlike esophageal squamous cell carcinoma, is not related to drinking alcohol or smoking (3). The rapid increase in EAC is not an artifact of surveillance or classification (4); it is real and frightening. A smaller increase in adenocarcinomas involving the gastric cardia is probably related to the increase in EAC (5); however, this relationship is unclear because the origin of cardia tumors, which frequently are advanced when diagnosed, could be esophageal or gastric.
In recent years, it has become clear that EAC is a consequence of long-term gastroesophageal reflux disease, an inflammatory condition of the distal esophagus (6), often through progression to Barrett's esophagus, a metaplastic malady that may become dysplastic (7, 8). The three progressive and related conditions—gastroesophageal reflux disease, Barrett's esophagus, and EAC—have been increasing over the past several decades in developed countries; their substantial increase is a late 20th century phenomenon; and they were essentially unknown before 1900 (9).
Read more : http://cancerpreventionresearch.aacrjournals.org/content/1/5/308