Reason why I now grow my own wheat and all other staple food.
The chart below is from a December 2013 study published in the Journal Interdisciplinary Toxicology examining glyphosate pathways to modern diseases such as celiac and gluten intolerance. [1][2]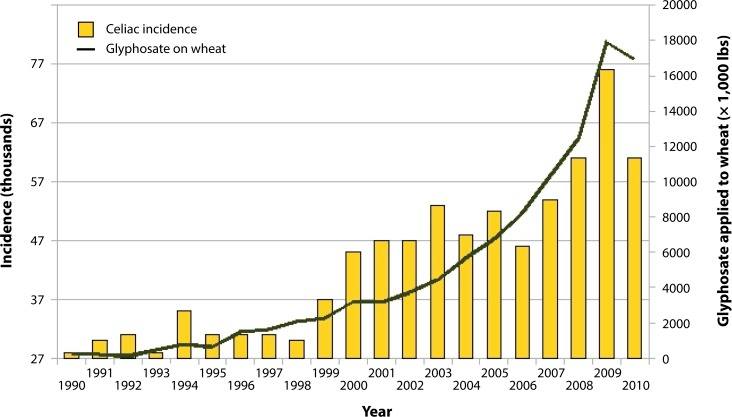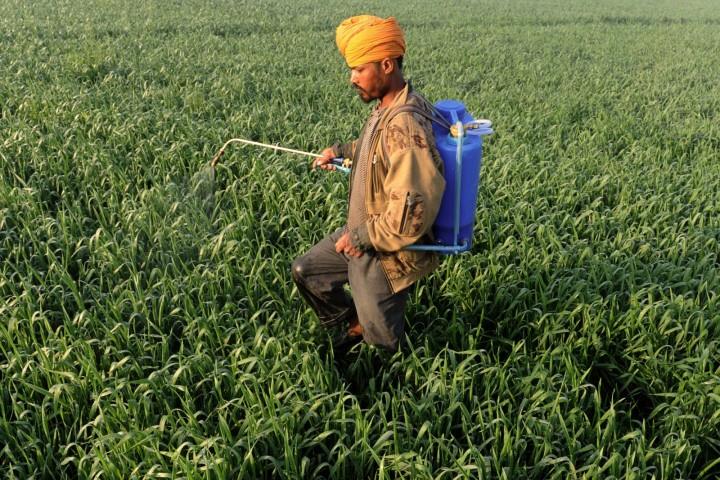 Using Roundup on wheat crops throughout the entire growing season and even as a desiccant just prior to harvest may save the farmer money and increase profits, but it is devastating to the health of the consumer who ultimately consumes the glyphosate residue laden wheat kernels.
Pesticides and herbicides are making their ways to our dinner tables since 1980s. Just because Roundup doesn't kill you immediately doesn't make it nontoxic. In fact, the active ingredient in Roundup lethally disrupts the all important shikimate pathway found in beneficial gut microbes which is responsible for synthesis of critical amino acids. After 30 years, effectsare on surface. We are now in the dark zone. What follows from here is painful.
And this is not just wheat story. Same model is now replicated in other crops too. 🙁
Better we inspire our farmer brothers to get rid of such moron farming and bring mother (Gau mata) home back. They may experience reduction in profit but nothing better than disengaging from horrible karma of serving poison to all consumers 🙁.
It is not mere coincidence that Punjab is having highest number of cancer cases post green revolution euphoria. Karma. 🙁
---
Research
---
[1] http://www.ncbi.nlm.nih.gov/pmc/articles/PMC3945755/
[2] http://www.thehealthyhomeeconomist.com/real-reason-for-toxic-wheat-its-not-gluten/
The Real Reason Wheat is Toxic (it's not the gluten)
Common wheat harvest protocol in the United States is to drench the wheat fields with Roundup several days before the combine harvesters work through the fields as the practice allows for an earlier, easier and bigger harvest 
Pre-harvest application of the herbicide Roundup or other herbicides containing the deadly active ingredient glyphosate to wheat and barley as a desiccant was suggested as early as 1980.  It has since become routine over the past 15 years and is used as a drying agent 7-10 days before harvest within the conventional farming community.
According to Dr. Stephanie Seneff of MIT who hasstudied the issue in depth and who I recently saw present on the subject at a nutritional Conference in Indianapolis, desiccating non-organic wheat crops with glyphosate just before harvest came into vogue late in the 1990's with the result that most of the non-organic wheat in the United States is now contaminated with it.  Seneff explains that when you expose wheat to a toxic chemical like glyphosate, it actually releases more seeds resulting in a slightly greater yield:   "It 'goes to seed' as it dies. At its last gasp, it releases the seed" says Dr. Seneff.
Glyphosate, pathways to modern diseases II: Celiac sprue and gluten intolerance
Celiac disease, and, more generally, gluten intolerance, is a growing problem worldwide, but especially in North America and Europe, where an estimated 5% of the population now suffers from it. Symptoms include nausea, diarrhea, skin rashes, macrocytic anemia and depression. It is a multifactorial disease associated with numerous nutritional deficiencies as well as reproductive issues and increased risk to thyroid disease, kidney failure and cancer. Here, we propose that glyphosate, the active ingredient in the herbicide, Roundup®, is the most important causal factor in this epidemic. Fish exposed to glyphosate develop digestive problems that are reminiscent of celiac disease. Celiac disease is associated with imbalances in gut bacteria that can be fully explained by the known effects of glyphosate on gut bacteria. Characteristics of celiac disease point to impairment in many cytochrome P450 enzymes, which are involved with detoxifying environmental toxins, activating vitamin D3, catabolizing vitamin A, and maintaining bile acid production and sulfate supplies to the gut. Glyphosate is known to inhibit cytochrome P450 enzymes. Deficiencies in iron, cobalt, molybdenum, copper and other rare metals associated with celiac disease can be attributed to glyphosate's strong ability to chelate these elements. Deficiencies in tryptophan, tyrosine, methionine and selenomethionine associated with celiac disease match glyphosate's known depletion of these amino acids. Celiac disease patients have an increased risk to non-Hodgkin's lymphoma, which has also been implicated in glyphosate exposure. Reproductive issues associated with celiac disease, such as infertility, miscarriages, and birth defects, can also be explained by glyphosate. Glyphosate residues in wheat and other crops are likely increasing recently due to the growing practice of crop desiccation just prior to the harvest. We argue that the practice of "ripening" sugar cane with glyphosate may explain the recent surge in kidney failure among agricultural workers in Central America. We conclude with a plea to governments to reconsider policies regarding the safety of glyphosate residues in foods.