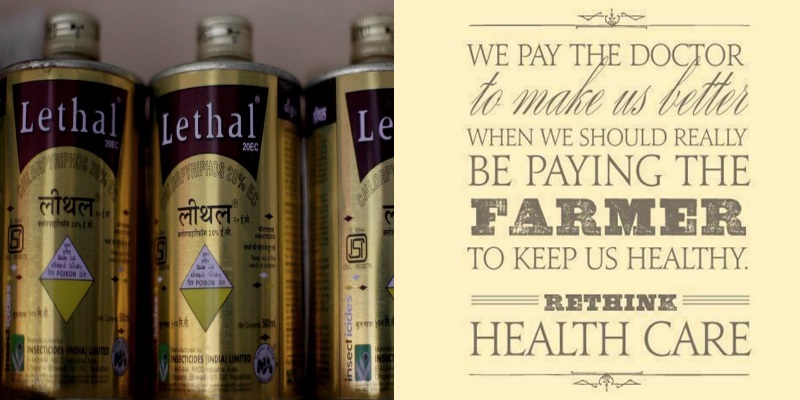 First picture is about pesticides. Our consuming habits have turned farmers into greedy blind soil-exploiters. This is going on for last 45 years (since so called green revolution).
After 2-3 generations, farmer's son land up in urban slum, working for construction work like a slave, spending evenings at bar and consuming poison.
First poison the land and then poison the inner land.
And the sin is upon us. Yes, upon us who are disconnected from the food producers.
Some trivial reasons why urban citizens deny original food sources: (I am farmer and a community helper so I come across many such silly denials)
1) Oh, why should I travel 25 kms to get food. I can get it in super market next to my office.
This very same breed go for 50 kms long drives without any purpose! 😀
2) Oh, it is very raw food. Not packaged in fancy covers! 😀 Unclean. I have to spend time in cleaning it!
The very same breed spend hopelessly insane time for personal entertainment which actually is anti-life! 😀
Well, it is cheaper than inflated over-hyped movie tickets! 😀
Think sincerely! Connect with farmer communities in near by villages. Inspire them to do gau-seva and Gau-based farming. Be part of the process. Expose your kids to nature and strengthen their immunity!
One more thread on same topic by
Madhava Pashupati
"Yes, ur absolutely right…infact our network is aiming to do the same..decentralise… and direct link up with procurers. But, we do face hurdles to explain this to procurers the need of doing so. Urban mindset is still towards mono-culture. We have been hurdled with urban mindset that DESI GHEE must be of same standard…not possible..the Local Breed (Hallikar) from different places yeild different type of A2 milk according to the fodder intake..as most are FREEGRAZERS !… urban people do not understand about freegrazing much…so if milk is different according to fodder..like in Kadatur area we have same hallikar which seems to be more healthier than that of Chamarajanagar in Karnataka… as Cnagar is more dry on southern side !..how do we explain this ?… Urbanites google the cinema halls… or best at gopalan mall… but most fail to google the rural areas…except if they want to throw bottle at Kabini or Cauvery !… so, coming back to the point…ghee produced at Kadatur is little different than at Kanakapura !… and we have urban procurers with half ken about climatic zones asking for standardization procedures… ditto fruits and vegetables.. all grown with gau ka gobar !… stating one more example, as we are nearing MANGO season…and most of our farmers who supply A2 milk have small orchards…we tell then not to sell it to mango mafia..and we mostly give (supply not sell) a kg of mango free to our A2 milk procurers in urban areas… and our procurers (some of them) compare it with ALPHONSO or APPUs ! dang ! dang ! bang ! bang ! – now we have to explain… 100 years back… Mumadi Krishnarajaj Wodeyar – Royal Scion of Mysuru…who was science bent… got saplings of Ratnagiri (which has lots of iron ore beneath the soil) and planted it all over karnataka mango zones like Ajampur, Mysuru, Kanakpura…. and those mangos are called BADAM out here !….and have less IRON content..!…and by then our telephone bills will run so high…lolzapz !..so awareness is not enuf… AWAKENING…AWAKENING….for most of our info today comes in the FLATSCREEN samsung…oh no SONY…no ONIDA…no IDIOT BOX and well opiate substance creator…WWW."