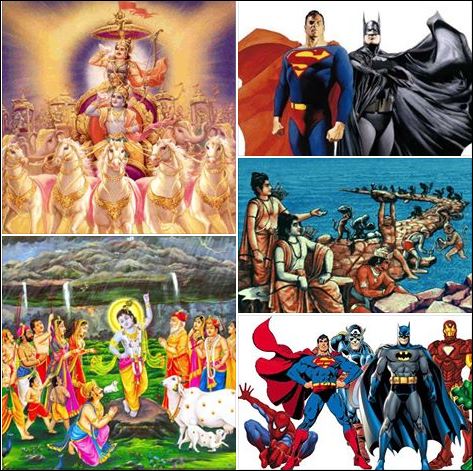 Western Superhero -> "I am capable enough of doing everything. I can save the world. I am center of the universe. I can destroy all evils."
Our Superhero -> He takes the driver's seat. He navigates. He directs. He inspires. He believes in collective actions. He believes in awakened mass. To his best friend, he says: "Do not become a coward, O Arjuna, because it does not befit you. Shake off this trivial weakness of your heart and get up for the battle, O Arjuna."
Rama was capable to slay Ravana alone but he did not. He did Nation-wide Van-yatra, awakened the mass, took their help and collectively fought.
Look at the go-vardhan picture. It is not just Krishna that is participating.
This universe runs by collective actions. Even Avatar demands it.
So when your child is raised by the stories of Batman and Superman, it is difficult to instill this valuable learning about collective actions. And child may develop false delusion of super-ego.
I would any day prefer stories of Rama and Krishna over Batman and Superman.