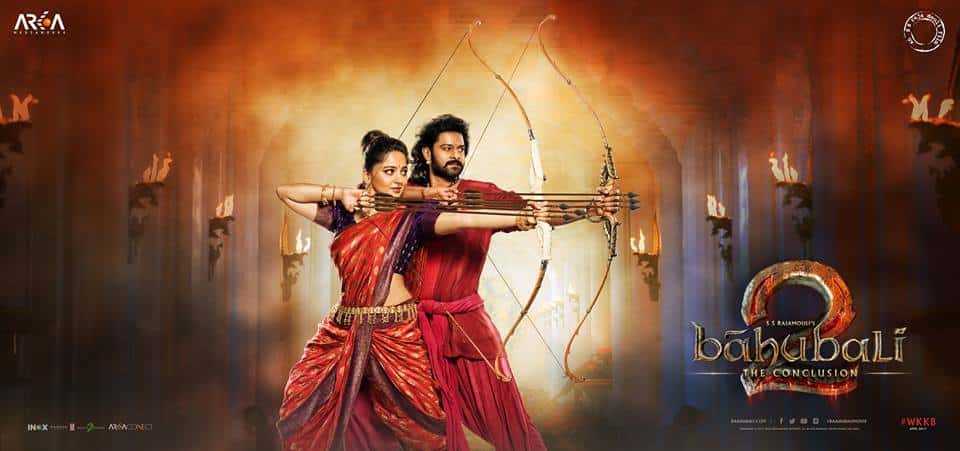 Many friends groomed by modern education, made fun of this poster. Calling it fake and impossible. Three arrows together? Yes, it is different thing that technical aspect of bow-arrow handling is not followed perfectly, this art of shooting three arrows is not Utopian or imaginary or larger than life!! We had one such example alive in last century!
---

The tradition of ancient Indian archery is kept alive even today by a handful of display archers in the country. In the early years of the current century a famous archer from South India, nicknamed Kaliyugi Arjuna, shot a number of tigers and other wild beasts with his bow and arrows. Possessed of a powerful physique and an uncanny aim, he did great things with his favorite weapon, and for some time taught archery to the students of the Prem Maha Vidyalaya, Brindaban.
He could shoot four arrows simultaneously from the same bow and hit four difficult and different targets all at once. He made people put up spectacle frames fitted with silver rupees instead of glasses, which he shot down with two arrows of such an impeccably calculated force as to displace the little discs without injuring the man. He smeared exceedingly sharp arrow-tips with chalk dust and shot them at the bare backs of students with a perfect delicacy of control, so that they left only chalk marks on their tender targets without even grazing them. But he could also shoot powerful shafts that ripped through copper and iron plates. He could easily support a football in mid air for more than five minutes with a continuous shower of arrows.

Imprisoned for seditious activities during the first world war, under the British Rule, he died in jail.
This last century's archer is micro version of Arjun. This glorious part of history was never taught to you so that you would never believe that there was mighty warrior named Arjun. And since you wouldn't believe existence of Arjun, you will never strive to become of such. To add a fuel to your imagination, B of Backward class (BC – Bollywood + Cricket) manifested several fight sequences using camera techniques in last 50 years, giving you proof that such fighting skills are only possible in imagination and you are dumb weak Indian who can never excel. You just watch on screen and get satiated by virtual feast of warrior skills (or any extra ordinary skill for that matter).
And potency (पुरुषत्व), Intelligence and skills of Arjun's level remains like a impossible dream sequence. If you don't strive for excellence, you live mediocre life. That is what precisely cunning lords(Britishers and cunning foxes of India) of this land wants.
Ref: appendix – Ancient Indian Warfare with Special Reference to the Vedic Period – By Sarva Daman Singh
Original: https://books.google.co.in/books?id=bp6he8Roj_UC&q=Kaliyugi+arjuna#v=snippet&q=Kaliyugi%20arjuna&f=false