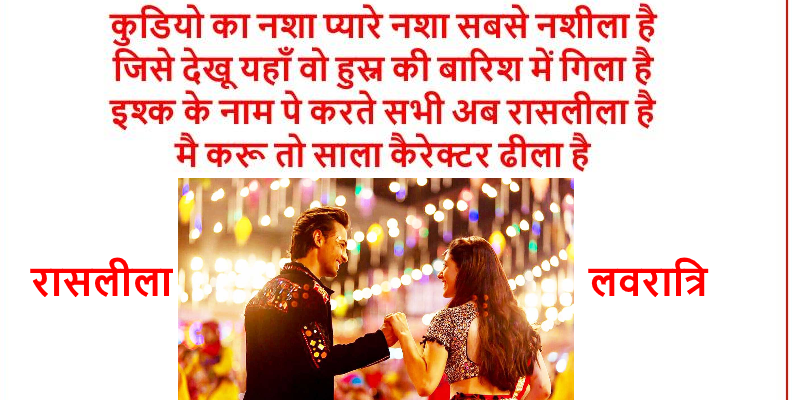 So, now they are coming with more pervertness. What is going on in name of Navratri in Gujarat is not praise-worthy. Cultural derangement where abortion cases increase after Navratri.
This is what I wrote 3 years back:
मूढ़ हिन्दू (Mudha Hindu – MH) is very special category. Unfortunately, they are in majority among the hindus. No self-respect, no strength. Timid and insect-type.
Adult MH idiots under the influence of Bollywood are worse. They are gone case but they corrupt future generations as well. They will, with their children, dance on these idiotic lyrics in family functions and parties.
कुडियो का नशा प्यारे नशा सबसे नशीला है
जिसे देखू यहाँ वो हुस्न की बारिश में गिला है
इश्क के नाम पे करते सभी अब रासलीला है
मै करू तो साला कैरेक्टर ढीला है
हो मै करू तो साला कैरेक्टर ढीला है
लडको का नशा प्यारे नशा सब से नशीला है
जिसे देखू यहाँ वो हुस्न की बारिश में गिला है
इश्क के नाम पे करते सभी अब रासलीला है
मै करू तो साला कैरेक्टर ढीला है
हो मै करू तो साला कैरेक्टर ढीला है
These मूढ़ give Janamasthami wishes like "Happy Birthday Casanova"
I really don't consider them Hindu anymore. And hence, we are in minority.
No community with self-respect would glorify insults to their soul, their hero, their essential तत्वज्ञान. Even if I don't understand depth of रासलीला , I won't tolerate this.
Yes, you may not be able to ban this shit but you can at least let it die without publicity.
———————
Remember one thing: रासपञ्चाध्यायी – the five chapters of श्रीमद्भागवत पुराण दशमः स्कन्धः are intense! They ends with this "हृद्रोगमाश्वपहिनोत्यचिरेण धीरः" – it means, whoever will read them, will become काम मुक्त| And you mock your God as कामोद्दीपक ?
Think about it. Educate fellow Hindus. Cultural and moral degradation happen silently. By the time we will realize, it will be too late.