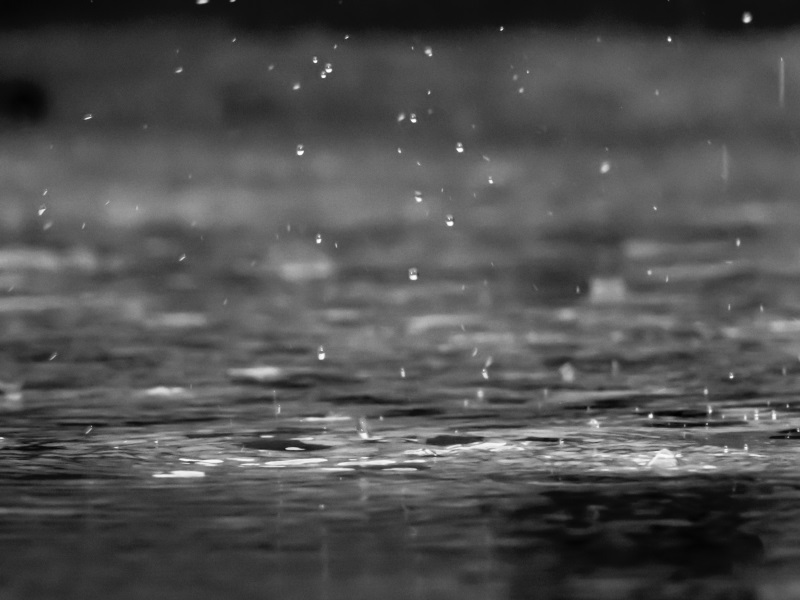 Didn't I share here few days back? Rain is not just about receiving water but about the flow and chaos!
Just a right chaos and soil will be flourished by healthy bacteria!
But data-driven society considers it a good monsoon if total rain spikes amount 90% water! 😀
When we worship rain-god, we worship for rain that is of the form पर्जन्य. पूर्ति + जन्य: = न्यूनता दूर करके पूर्णता लानेवाला!
Due to year long crops, soil is devoid of Prana. It is the rain at right speed that acts as पर्जन्य
१० भौमोऽत्रिः। पर्जन्यः। त्रिष्टुप्, २-४ जगती, ९ अनुष्टुप्।
अच्छा॑ वद त॒वसं॑ गी॒र्भिरा॒भिः स्तु॒हि प॒र्जन्यं॒ नम॒सा वि॑वास ।
कनि॑क्रदद् वृष॒भो जी॒रदा॑नू॒ रेतो॑ दधा॒त्योष॑धीषु॒ गर्भ॑म् ॥१
वि वृ॒क्षान् ह॑न्त्यु॒त ह॑न्ति र॒क्षसो॒ विश्वं॑ बिभाय॒ भुव॑नं म॒हाव॑धात् ।
उ॒ताना॑गा ईषते॒ वृष्ण्या॑वतो॒ यत् प॒र्जन्य॑: स्त॒नय॒न्हन्ति॑ दु॒ष्कृत॑: ॥२
र॒थीव॒ कश॒याश्वाँ॑ अभिक्षि॒पन्ना॒विर्दू॒तान् कृ॑णुते व॒र्ष्याँ॒३ अह॑ ।
दू॒रात् सिं॒हस्य॑ स्त॒नथा॒ उदी॑रते॒ यत् प॒र्जन्य॑: कृणु॒ते व॒र्ष्यं१ नभ॑: ॥३
प्र वाता॒ वान्ति॑ प॒तय॑न्ति वि॒द्युत॒ उदोष॑धी॒र्जिह॑ते॒ पिन्व॑ते॒ स्व॑: ।
इरा॒ विश्व॑स्मै॒ भुव॑नाय जायते॒ यत् प॒र्जन्य॑: पृथि॒वीं रेत॒साव॑ति ॥४
यस्य॑ व्र॒ते पृ॑थि॒वी नन्न॑मीति॒ यस्य॑ व्र॒ते श॒फव॒ज्जर्भु॑रीति ।
यस्य॑ व्र॒त ओष॑धीर्वि॒श्वरू॑पा॒: स न॑: पर्जन्य॒ महि॒ शर्म॑ यच्छ ॥५
दि॒वो नो॑ वृ॒ष्टिं म॑रुतो ररीध्वं॒ प्र पि॑न्वत॒ वृष्णो॒ अश्व॑स्य॒ धारा॑: ।
अ॒र्वाङे॒तेन॑ स्तनयि॒त्नुनेह्य॒पो नि॑षि॒ञ्चन्नसु॑रः पि॒ता न॑: ॥६
अ॒भि क्र॑न्द स्त॒नय॒ गर्भ॒मा धा॑ उद॒न्वता॒ परि॑ दीया॒ रथे॑न ।
दृतिं॒ सु क॑र्ष॒ विषि॑तं॒ न्य॑ञ्चं स॒मा भ॑वन्तू॒द्वतो॑ निपा॒दाः ॥७
म॒हान्तं॒ कोश॒मुद॑चा॒ नि षि॑ञ्च॒ स्यन्द॑न्तां कु॒ल्या विषि॑ताः पु॒रस्ता॑त् ।
घृ॒तेन॒ द्यावा॑पृथि॒वी व्यु॑न्धि सुप्रपा॒णं भ॑वत्व॒घ्न्याभ्य॑: ॥८
यत् प॑र्जन्य॒ कनि॑क्रदत् स्त॒नय॒न्हंसि॑ दु॒ष्कृत॑: ।
प्रती॒दं विश्वं॑ मोदते॒ यत् किं च॑ पृथि॒व्यामधि॑ ॥९
अव॑र्षीर्व॒र्षमुदु॒ षू गृ॑भा॒याऽक॒र्धन्वा॒न्यत्ये॑त॒वा उ॑ ।
अजी॑जन॒ ओष॑धी॒र्भोज॑नाय॒ कमु॒त प्र॒जाभ्यो॑ऽविदो मनी॒षाम् ॥१०
RV 5.083.01
Sing with these songs thy welcome to the Mighty, with adoration praise and call Parjanya.
The Bull, loud roaring, swift to send his lays in the plants the seed for germination.
RV 5.083.07
Thunder and roar: the germ of life deposit. Fly round us on thy chariot waterladen.
Thine opened water-skin draw with thee downward, and let the hollows and the heights be level.
By the grace of Parjanya, plants shoot up and food springs abundant for all living creatures. At his behest, the plants assume all colours.
RV 5.083.04
Forth burst the winds, down come the lightning-flashes: the plants shoot up, the realm of light is streaming.
Food springs abundant for all living creatures, what time Parjanya quickens earth with moisture.
RV 5.083.05
Thou at whose bidding earth bows low before thee, at whose command hoofed cattle fly in terror,
At whose behest the plants assume all colours, even thou Parjanya, yield us great protection.
By his beneficence, desert lands become habitable and life saving herbs grow.
RV 5.083.10
Thou hast poured down the rain-flood now withhold it. Thou hast made desert places fit for travel.
Thou hast made herbs to grow for our enjoyment: yea, thou hast won thee praise from living creatures.
In verse 8 of this hymn, Atri Bhauma, pleads with the god to lift up the mighty vessel and pour down water so the liberated streams can rush forward, that both earth and heaven be saturated with fatness.
RV 5.083.08
Lift up the mighty vessel, pour down water, and let the liberated streams rush forward.
Saturate both the earth and heaven with fatness, and for the cows let there be drink abundant.
And when Parjanya delivers, the universe exults in unison.
RV 5.083.09
When thou, with thunder and with roar, Parjanya, smitest sinners down,
This universe exults thereat, yea, all that is upon the earth.
————-
Research
————-
A light rain can spread soil bacteria far and wide, study finds
Global precipitation may account for 1 to 25 percent of bacteria emitted from land.
http://news.mit.edu/2017/light-rain-spread-soil-bacteria-0307
A good rain can have a cleansing effect on the land. But an MIT study published today in Nature Communications reports that, under just the right conditions, rain can also be a means of spreading bacteria.
Using high-resolution imaging, researchers from MIT's Department of Mechanical Engineering observed the effect of raindrops falling on dry soil laden with bacteria. When falling at speeds mimicking those of a light rain, at temperatures similar to those in tropical regions, the drops released a spray of mist, or aerosols. Each aerosol carried up to several thousand bacteria from the soil. The researchers found the bacteria remained alive for more than an hour afterward.
If this airborne bacteria were lofted further by wind, it could travel a good distance before settling back on the ground to colonize a new location, says Cullen Buie, associate professor and the Esther and Harold E. Edergton Career Development Chair in the Department of Mechanical Engineering.