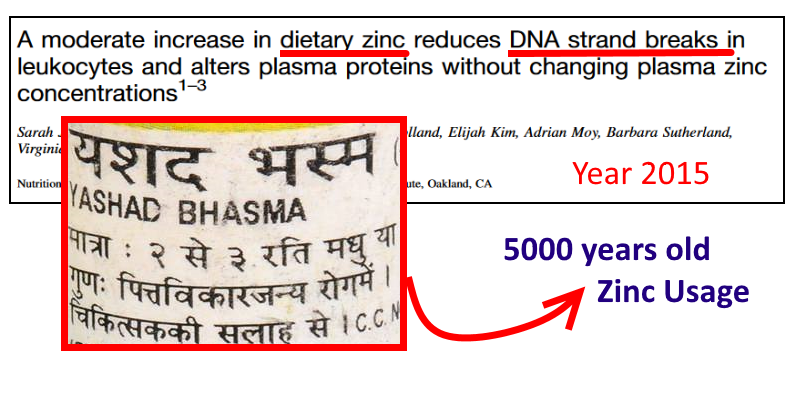 If you remember, few days back, I shared how Ayurveda embraces Zinc! And how it can prevent Type 2 Diabetes!
Reproducing it from Nov 26, 2016 status:
"Yashada Bhasma (calcinated Zinc) is shashtric prescription for Diabetes Type 2 type immune disorders, known to Indians for 50000+ years.
Modern medicine finds its utility in 2015. Just now! Last year!
😉
And Ayurveda is blamed for using heavy metals!! What an insult to the real science!"
Now, we find Today, that Zinc also have a profound, positive impact on cellular health that helps fight infections and diseases. It also protects against DNA wear and tear stress!!
Sooner we realize importance of our roots and align life with it, better for our future! For that to happen, we must come out of slavish mindset who see anything Hindu/Indian with doubt but appreciate Ivy League studies blidnly!
https://www.ncbi.nlm.nih.gov/pubmed/26020622
http://www.childrenshospitaloakland.org/Uploads/Public/Documents/Media/PDF-Media/Am%20J%20Clin%20Nutr-2016-Zyba-ajcn.116.135327.pdf